Restorative Practices Program
Restorative Practices at SPS
This page is for students, families, and staff who seek more information about restorative practices and how these practices are contributing to the culture of Seattle Public Schools and the greater Seattle community.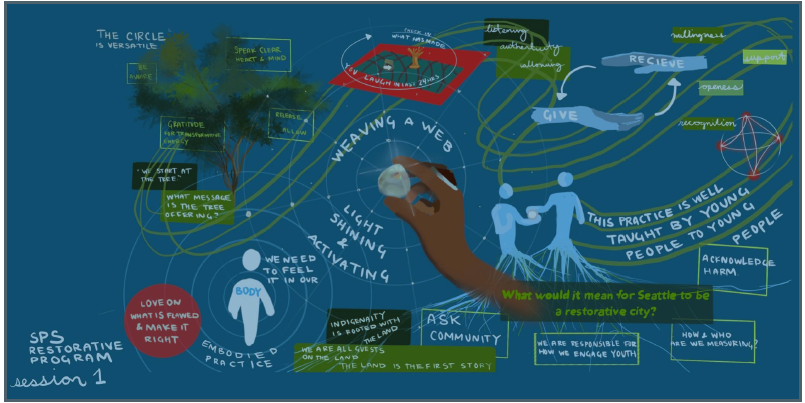 Events & Training Opportunities
Recurring Events & Training Opportunities
---
Resources for Restorative Practices
The resources below are intended to provide you with a range of tools and strategies to support your efforts of strengthening the restorative presence at your school. Gradually, with perseverance, Seattle Public Schools will become a restorative district where all young people may experience community harmony at the center of their learning endeavor and each school will foster a restorative culture in their school community.
The following resources are organized into two groups:
Examples and materials that are specifically connected to SPSSeattle Public Schools More schools and their restorative practice and justice activity.
General examples and general information related to restorative practices and justice.
*Note: These resources are intended to supplement training and ongoing practices that reflect a restorative culture (or aspiring culture) in your school community. They are not intended to be used as "restorative" responses to a situation in a culture that lacks community connection and belonging.
---
Meet the Restorative Team
Lian Caspi, She/Her/Hers
Restorative Program Manager
lacaspi@seattleschools.org
Jay Upshaw, He/Him/His
Consulting Teacher
Jill Colasurdo, She/Her/Hers
Consulting Teacher
Polo DeCano, He/Him/His
Consulting Teacher
Ryan Healy, He/Him/His
Consulting Teacher
Tricia Hagerty, Sher/Her/Hers
Consulting Teacher
Learn more about the Restorative Team members
---
Community Organizations and Partners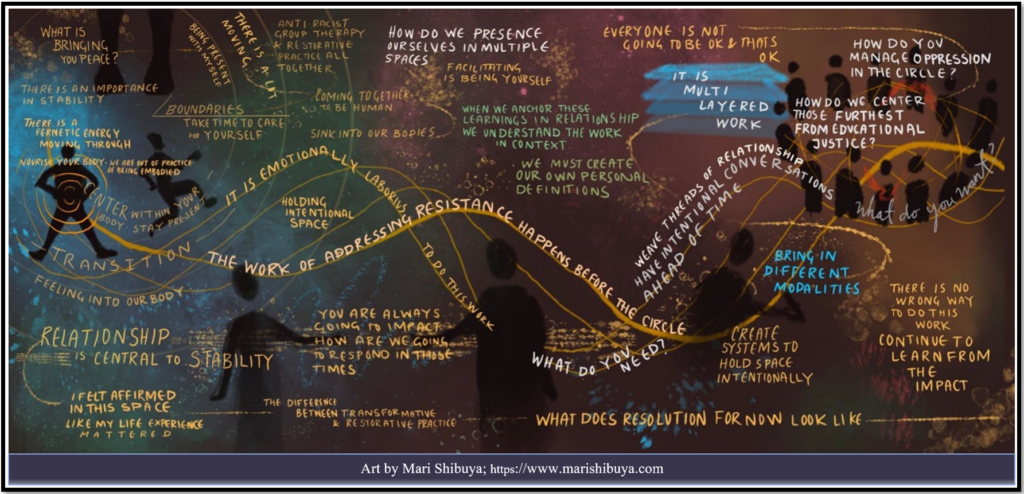 The SPSSeattle Public Schools More Restorative Team recognizes that while the school district has a meaningful footprint and reach, this work is inherently about community-building and partnership. Further, there are others who have been leading this body of work in the Seattle area and in Seattle schools with whom, only in partnership, will the SPSSeattle Public Schools More Restorative Team achieve its aims to foster a restorative culture throughout Seattle Public Schools.
Learn more about the community organizations and how they are showing up for SPS.
---
Feedback, Suggestions, and Requests
We recognize that we are only our best when our collective wisdom informs what we all experience.
Please fill out this form to share feedback, suggestions and/or requests.
Your information will not be shared unless you decide to share it yourself.