New Student Enrollment
Posted on: December 6, 2023
Summary: Will your child be 5 by August 31? Will your family be new residents of Seattle? Registration will open for the 2024-25 school year on January 2.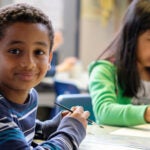 Enroll at Seattle Public Schools for 2024-25
Registration for New Students
New Student Registration begins Jan. 2, 2024 for the 2024-25 school year. All registration is completed online.
Have Questions? We can help. Visit us at the John Stanford Center, 2445 3rd Ave S, Seattle, 98134. Monday – Friday, 9 a.m. – 5 p.m.
Language assistance in Spanish, Oromo, Chinese, Vietnamese, Amharic, and Somali is available.
Register New Students
Items you will need to register new students
Parent or guardian photo ID
Child's passport or birth certificate
Two (2) proofs of home address dated within past eight (8) weeks
Child's immunization (shots) record
Why Enroll Early?
Early registration for kindergarten starts a connection to your school community.
You will meet other families and learn about:
School activities and events
Before and after-school programs
Drop off and pickup schedules
Free and reduced-price meals
Tutoring and enrichment activities
Schools can prepare better for new students when they know in advance who has registered.
Students living in Seattle are guaranteed an assignment based on their address or at the school best able to serve their needs. Read more about location of student services and programs such as multilingual students and students who need special education services.
Key enrollment dates
January 2 New registrations for 2024-25 school year begins.
February 1 – February 29 Open Enrollment School Choice priority applications will be accepted (tiebreakers apply).
March 1 – May 31 School Choice late applications will be accepted (NOT eligible for tiebreakers).
April 16 Open Enrollment results will be available online.
June 3 – August 31 Non-resident applications will be accepted.
August 31 Waitlists for the 2024-25 school year will dissolve.
September 4 First day of school for 2024-25 school year
Open Enrollment and School Choice
By registering early, families and students have access to lots of benefits. One benefit is families can participate in Open Enrollment and the School Choice Process.
Each student in Seattle Public Schools is assigned to a school based on where that student lives. Students may apply to attend a different school through the School Choice Process. Open Enrollment and School Choice begins on February 1. Read more about Open Enrollment for School Choice.
Attendance Area Maps
Seattle Public Schools assigns students based on the address where their primary residence is located. Click the Address Lookup tool below to see which school your student would be assigned to according to your address.
Please visit our Enrollment Planning webpage for Attendance Area Maps.
Fast Facts about Seattle Schools
Grades offered: Preschool – 12th Grade
1 to 1 Technology for K-12 students.
Our teachers have an average of 11 years of teaching experience.
Nearly 80% of Seattle voters said YES to continuing the recent school levies.
Our students and families come to Seattle from 154 countries and speak 155 languages and dialects.
Neighborhood Schools and Open Enrollment for School Choice
While most students attend their neighborhood school, families are welcome to apply for one of our 22 option schools. SPS offers a variety of programs and services to meet a range of student needs, including multilingual and special education services.
104 Schools: Our schools include neighborhood, option, and service schools.
18 high schools
12 middle schools
11 K-8 schools
63 elementary schools