Parent-Teacher Conferences
Posted: | Updated:
Summary: Elementary parent-teacher conferences will be held remotely this November. We have gathered a few tips to help families prepare.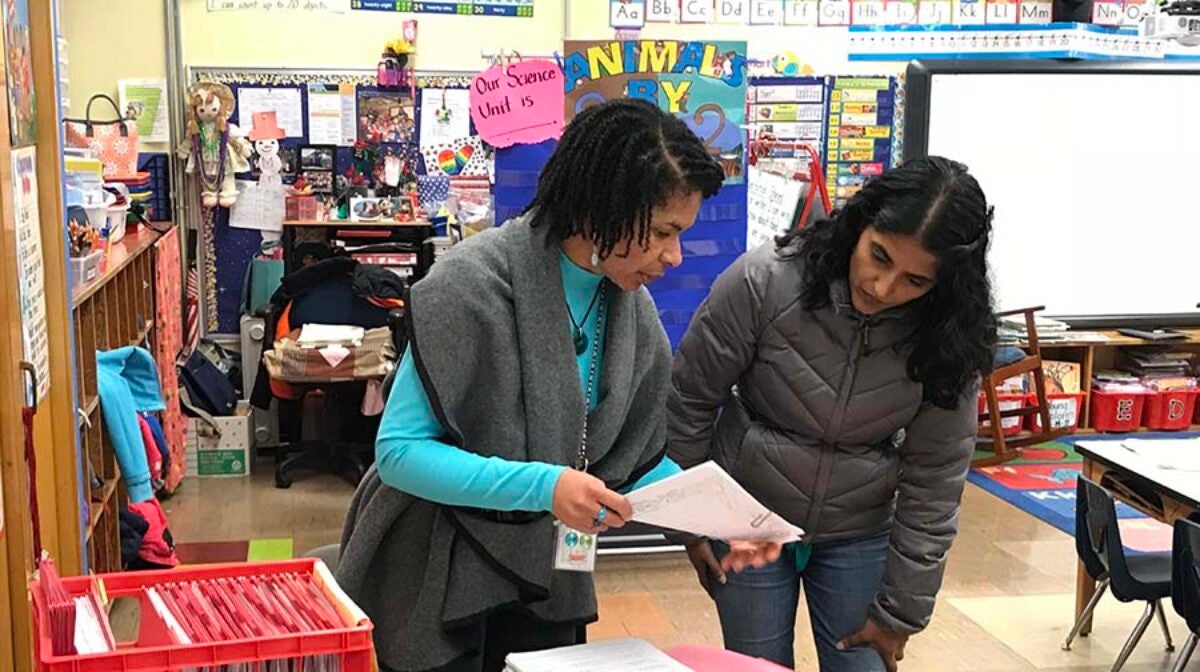 Tips for Fall 2021 Parent-Teacher Conferences
Superintendent Brent Jones has approved holding November 2021 parent teacher conferences remotely.
Authentic family engagement is critical to student success. Families are children's first and most important teachers. Together, parents and classroom teachers are partners in ensuring student's academic and social-emotional strengths and needs are supported.
Parent-teacher conferences for student in grades PreK-5 offer an opportunity for you and your child's teacher to communicate about academic progress, build a supportive partnership and for you to provide the teacher with important information about your child.
Here are a few tips to help families prepare for the meeting and conversation.
Prepare
If you need accommodations during your conference, such as a translator or ADA access needs, please be sure to inform your school staff or teacher so they can take the necessary steps to assist.
Conferences at each school are run a little differently. At some schools students lead the conference and at others students aren't part of the conversation. Please check with your child's school regarding the structure and expectations.
Log in to The Source to view your child's progress report. All Elementary Progress Reports, along with other family resources, can be accessed through The Source. Parents and guardians of students actively enrolled in SPS can set up an account.
Please note: The First Trimester for elementary students ends on December 1, 2021. Grades will be entered after the end of the trimester and progress reports will be available to families in The Source in December.
Spend a few minutes talking with your child before the conference to get ready. Some students are nervous about parent-teacher conferences. You can put your child as ease by ensuring they understand the goal is to help them be successful.
A couple questions to ask your child before the conference could include:
Is there anything specific you would like me to discuss with your teacher?
What do you especially like or dislike about your class or school?
In what areas are you experiencing the most success?
Are you experiencing challenges in any areas?
Preparing Notes Before the Conference
Prepare a few notes and questions for the teacher. Prioritize these items in case you run out of time during the conference.
A couple questions to learn more about your child's progress could include:
What are the key concepts or skills my child is expected to learn this year?
How will I learn about my child's progress?
Are there questions you would suggest I ask my child on a daily basis about school?
What are the best school or district resources that I could use to support academic progress?
How can I best support you as my child's teacher?
English Language Arts
What is my child's reading level?
What are my child's independent reading goals?
How is my child progressing in terms of meeting standards in reading, writing, speaking and listening?
Math and Science
Is my child on track?
Can you please show me a sample of my child's work?
Topics you may want to share with your child's teacher could include their gifts and what they enjoy learning about, major changes in your family or your child's home life, or issues at school that your child is worrying about.
Social Emotional Learning (SEL)
Teachers provide instruction, coaching, and opportunities to practice the following social emotional skills:
identifying strengths, feelings and needs
seeking to understand others
building cooperative relationships
critical thinking
decision making
following safety standards
working through challenges
SEL questions
What are some of your child's strengths?
In what ways do your child's feelings affect their schoolwork?
How well is your child able to keep trying and ask for help when schoolwork becomes challenging?
In what ways does your child show kindness to others?
During the Conference
Conferences help you and your child's teacher collaborate to support academic success. You have an opportunity to discuss progress and opportunities for support. You and the teacher can share what each of you see as your child's strengths and areas of growth.
You will have the chance to learn about the lessons taught in class as well as how your child is progressing academically, socially and emotionally. If necessary, you and the teacher might create a specific plan to help support academic success and or social success.
Refer to your notes and questions to help prompt topics you want to be sure to cover. Ask the most important questions early in the conference. Remember, you can follow up with the teacher to discuss points or gather information you did not have time to cover.
Ask for clarification. Asking questions helps ensure that you and your child's teacher are on the same page.
Discuss differences of opinion. If you disagree with your child's teacher, engaging in constructive, respectful conversation about these differences can help both of you find an effective way to partner and support your child. It is OK to ask for evidence or more examples if you have a different opinion on a topic.
Write down an action plan that summarizes the steps and strategies discussed during the conferences that will help support your child. Establish the best way to track progress and best methods to stay in touch throughout the year.
Ask how you can support the teacher! There may be ways at home you can help reinforce classroom concepts and expectations. It is important for students to know parents and teachers are partnering to support them.
After the Conference
Share with your child what was discussed during the conference. Start with and emphasize the positive points and be direct about area of needed growth. If you and your child's teacher created an action plan, explain the plan. Make sure to share that together, the teacher and you will be supporting their success!
Follow up on a regular basis. If you have an action plan – set it in motion. Ask your child how they are feeling about school and schoolwork on a regular basis.
Let the teacher know how things are going. Being a role model for positive collaboration with your child's teacher will help stress the importance of education. Clear communication with the teacher will also make sure everyone is tracking progress.
Elementary Family Learning Guides
The November parent-teacher conferences are an excellent opportunity for conversations to discuss student strengths and areas for continued growth.
Kindergarten – 5th grade student progress reports are issued three times a year, at end of each trimester. The first trimester will end December 1.
The information on our Family Learning Guides can help you understand the subject standards your child is learning. These guides can help you prepare for your conference.