Early Learning
SPS Early Learning
Why is Early Learning Important?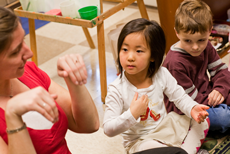 Research has firmly established that investing in early learning yields powerful benefits for children, both in early elementary and as a cornerstone to their overall educational success with life long benefits. High-quality preschool programs have the potential to close opportunity gaps, provide substantial learning gains, and prepare children for success in the classroom and beyond.
At Seattle Public Schools our Early Learning Vision is that all families and children have access to high-quality, culturally responsive, and inclusive learning experiences from preschool through fifth grade. Every child deserves high-quality instruction that meets their individual needs. Early childhood education promotes the holistic development of a child's social, emotional, cognitive, and physical needs in order to build a solid and broad foundation for lifelong learning and wellbeing.
---
Child Find: Special Education Referrals
Child FindThe process used to locate, evaluate and identify youth, age birth to is a district process to identify children birth-21 suspected of having a disability to evaluate and identify need for Special Education and Related Services. Learn more about Child Find.
Contact Seattle Public Schools Child Find at 206-252-0805 or email childfind@seattleschools.org
---
Preschool Enrollment
2021-22 Preschool Enrollment : Seattle Public Schools offers three different preschool options for children ages 3 – 5 years old.
To Enroll in Preschool, please click on the links above for more information or contact the phone numbers listed.
_____________________________________________________________________________________
Kindergarten Enrollment
2021-22 Kindergarten Enrollment: Will your child be 5 years old by August 31, 2021? If YES, your child is eligible to enroll in kindergarten. Register today for the 2021-22 school year.
Learn more about Kindergarten:
---
Jump Start and Family Connections
Helping Students Get Ready for Preschool and Kindergarten
Jump Start
Jump StartJump Start is a free transition to kindergarten program offered at most, held at participating schools, is a free kindergarten transition program to help children make a positive adjustment to school.
Like a short "day camp" to orient students to their new school, it gives students an unhurried low-key opportunity to meet staff and peers and practice kindergarten routines. Students must be assigned to a school offering Jump StartJump Start is a free transition to kindergarten program offered at most to attend.
Family Connection Conferences
Preschool and Kindergarten Family Connection Conferences: September 1-3. These one-on-one meetings are intended to welcome families to school and provide a safe environment for families to speak freely with the teacher, share information about their child, and ask questions.
Preschool and Kindergarten Connects: September 7-8 Additional time for teachers, families, and students to meet individually.
In support of a strong start, families will be provided more time for a wellness and readiness check-in to discuss technology distribution and setup, social emotional learning, and health and safety procedures. These meetings are optional. No instruction is offered during PreK-K Connects.
---
Child Care Options
Finding a quality child care arrangement for your child is a big decision for families. We have collected a list of child care providers who provide before and after school child care as well as preschool programs at schools in the district. Please contact the provider directly to learn more about enrollment and their programs. Read more about school-based Child Care Providers.
---
Early Learning Dates
Jump StartJump Start is a free transition to kindergarten program offered at most for Incoming Kindergarten Students August 17-18 * Please note check with your student's school for confirmation of dates and times Learn more about Jump Start
Family Connections September 1-3
PreK-K Connects September 7-8
First Day of School for Preschool and Kindergarten Students September 9
First Day of School for 1st-12th Grade Students September 1
Early Learning Department
Contact Us
Office Hours 8 a.m. – 5 p.m.
Phone: 206-252-0600