Early Learning
The Early Learning Department
Important Dates
Seattle Preschool Program and Head Start Applications: Open March 15
Open Houses and School Tours: January through May
Open Enrollment for School Choice: February 1 – 28
School Choice Forms Accepted Until: May 31
Early Childhood Special Education Interest Forms: March 6 – April 30
Sign up for Kindergarten if your child will be 5 by August 31
Kindergarten Transition Activities: Late August through Early September
Family Connections for Preschool & Kindergarten: September 6 – 8
First Day of School for Preschool & Kindergarten: Monday, September 11
Why is Early Learning Important?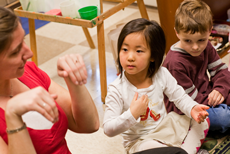 Research has firmly established that investing in early learning yields powerful benefits for children, both in early elementary and as a cornerstone to their overall educational success with life long benefits.
High-quality preschool programs have the potential to close opportunity gaps, provide substantial learning gains, and prepare children for success in the kindergarten classroom and beyond.
At Seattle Public Schools our Early Learning Vision is that all families and children have access to high-quality, culturally responsive, and inclusive learning experiences from preschool through fifth grade.
Every child deserves high-quality instruction that meets their individual needs. Early childhood education promotes the holistic development of a child's social, emotional, cognitive, and physical needs in order to build a solid and broad foundation for lifelong learning and wellbeing.
---
Child Find: Special Education Referrals
Child Find is a district process to identify children birth-21 suspected of having a disability to evaluate and identify need for Special Education and Related Services. Learn more about Child Find.
Contact Seattle Public Schools Child Find:
---
Preschool Enrollment
2023-24 Preschool Enrollment
Seattle Public Schools offers three different preschool options for children ages 3 – 5 years old.
Seattle Preschool Program and Head Start Applications open for the 2023-24 school year March 15, 2023.
---
Experimental Education Unit (EEU)
Seattle Public Schools contracts with the Experimental Education Unit (EEU) at University of Washington for a limited number of special education slots to provide SPP Plus Preschool and Kindergarten Special Education Services.
Who is eligible to apply for EEU?
Please note:
Please visit SPS School choice and Open Enrollment to apply for preschool or kindergarten at the Experimental Education Unit (EEU) at the University of Washington.
---
Kindergarten Enrollment
2023-24 Kindergarten Enrollment
Will your child be 5 years old by August 31, 2023? If YES, your child is eligible to enroll in kindergarten. Register today for the 2023-24 school year.
Learn more about Kindergarten:
---
Kindergarten Transitions and Family Connection Conferences
Helping Children Transition to School
Many elementary and K-8 schools are planning Kindergarten transition activities to help with a smooth start to elementary school. Find out more about Helping children transition to school . Please note that all SPS schools will offer Family Connection visits the week of Sept. 6-8.
Tell Us About Your Incoming Kindergarten Student
An important part of helping children make an easy transition to Kindergarten is for the important adults in their lives to connect. Parents, preschool teachers, guardians, and other caregivers are invited to complete this Preschool Transition Summary form available in Amharic, English, Simplified Chinese, Spanish, and Vietnamese (Somali and Tigrigna translations in list below). SPS Early Learning will collect and forward completed forms to children's new school to help their Kindergarten teachers prepare and welcome their new students.
Preschool Transition Summary Form – Somali
Preschool Transition Summary Form – Tigrigna
Preschool and Kindergarten Family Connection Conferences
These one-on-one meetings, held during the first short week of school, are intended to welcome Preschool and Kindergarten families to school and provide a safe environment for families to speak freely with the teacher, share information about their child, and ask questions.
---
Child Care Options
Finding a quality child care arrangement for your child is a big decision for families. We have collected a list of child care providers who provide before and after school child care as well as preschool programs at schools in the district.
Please contact the provider directly to learn more about enrollment and their programs. Read more about school-based Child Care Providers.