Kindergarten
Enrolling in Kindergarten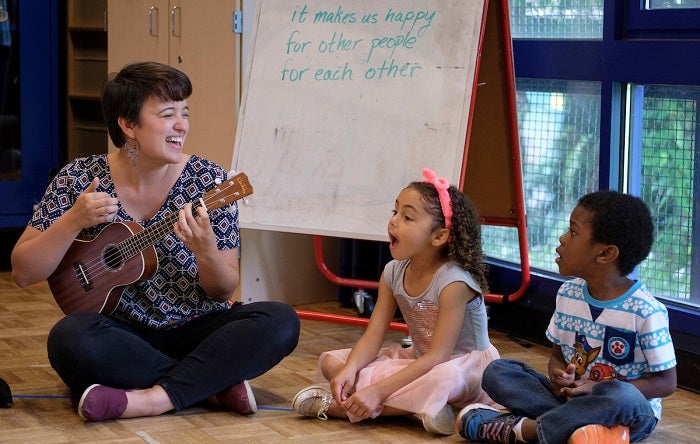 If your child turns 5 by August 31, it's time to register for kindergarten. Enrollment for the next school year typically begins in January! Enroll on Enrollment Services webpage.
Early registration for kindergarten starts a connection to your school community. You will meet other families and learn about:
School activities and events
Before and after-school programs
Drop off and pickup schedules
Free and reduced price meals
Tutoring and enrichment activities
Schools can prepare better for new students when they know in advance who has registered.
Family Connection Visits
Before starting school, each new kindergartner's family is offered the chance to meet with their student's teacher to begin building a home-school partnership. These meetings will be schedule by your student's teacher and will take place during the first days of the school year.
Kindergarten Readiness Guidelines
Parents and families have a very important role as their child's first teacher. Children learn in different ways and at different rates. They come to school with varying skills.
Playing, reading, counting and talking together (in your home language) and helping your child learn some basic self-care skills will help him or her to be ready for school.
Learn more about preparing for Kindergarten. See a list of skills (translated into 12 languages) that most 5 year olds are developing that you can help your future kindergartner practice.
WaKIDS
Washington Kindergarten Inventory of Developing Skills (WaKIDS) is a process of connecting families, elementary schools and early education programs so that new kindergartners can be ready to start school.
All Washington public elementary schools participate in WaKIDS, which includes 3 elements:
Public Libraries
Reading, talking and singing with your child is an easy way to build their vocabulary and help them get ready for school. Visiting public libraries, even before children can read, helps them to love and appreciate language books, and other media. Libraries provide free virtual story times and activities in different languages. Checking out books and music is free. You can get a library card for your child from birth onward. Visit your local public library for more information.
Early Entrance to Kindergarten
Apply March 1-21, 2024
According to Washington State school attendance rules, a child must be five years old by August 31 to attend kindergarten. For a fee (waived for families with financial need), Seattle Public Schools offers the opportunity for parents of students who show advanced levels of social and cognitive readiness to apply for an exception to this rule.
Students whose fifth birthday occurs between September 1 and October 31 may apply to be evaluated for a one-month trial in kindergarten. After this trial period, the school principal makes the final decision about the appropriateness of continuing or delaying kindergarten.