Well-Resourced Schools and Budget Planning
Superintendent Brent Jones shared his plan to balance the budget and create a system of well-resourced schools with the Seattle School Board.
Learn more
Safe and Welcoming Schools
Safety and wellness is a top priority for Seattle Public Schools. Students are more likely to be successful when they feel safe and welcome at school.
Learn more
New Student Enrollment for Seattle Public Schools is Open
News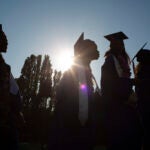 View Seattle Public Schools high schools graduation ceremonies dates for Class of 2024.
---
Calendar