Culinary Services
Culinary Services Meal Services for SPS Students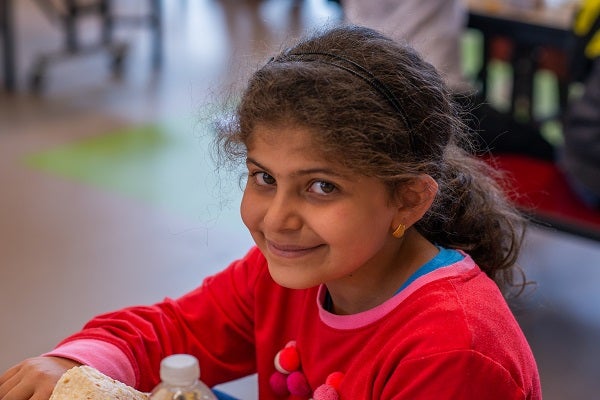 School Menus
A greater focus on fruits and vegetables at breakfast.
More whole-grain rich items.
Meals contain less sodium.
Read more about food selection and meal highlights on our menus webpage.
Free and Reduced-Price Meals
There are many benefits for students approved for free and reduced price school meals including reduced fees for field trips, Associated Student Body fees, and pre-college exams (PSATPreliminary Scholastic Aptitude Test (PSAT) helps juniors prepare for the SAT and/SAT/ACT).
Learn more about free and reduced-price meals and how to apply!
Special Programs for Schools
Seattle Public Schools has several special programs based on school community demographicsDemography is the scientific study of population that focuses on four basic. Programs, such as Community Eligibility Provision, are intended to support vulnerable students and their families. Read more about these special programs for designated schools.
FAQ
How do I apply for free or reduced priced meal benefits for my student(s)?
Families can now apply for Free and Reduced-Price meals online. The process is safe, secure, private and available through www.paypams.com/onlineapp

Applications are available for download in early August. Additionally, applications are available on the Culinary Services webpage. Applications are provided in English and the top eight translations.
Applications are also available at your school's lunchroom, main office or the Enrollment Services department located at the John Stanford Center.
Applications, once completed can be dropped off at the school lunchroom for forwarding to the department central office for processing or mailed to:
Culinary Services
MS 32-372;
PO Box 34165;
Seattle, WA 98124
The US Department of Agriculture (USDA), Supplemental Nutrition Assistance Program (SNAP), called Basic Food in Washington, helps low income people make ends meet by providing monthly benefits to buy food. Participating in Basic Food has other benefits including enrollment in free school meals for school]aged children.
Once processing is completed, families are mailed a letter identifying students eligibility for free, reduced or paid meals. Families are encouraged to save this letter for other benefit purposes such as discounts on field trips, athletic or testing fees, etc. From mid-August to late October, processing of meal benefit applications may take 7-10 days once received due to the large volume of forms received.
Families are encouraged to complete the current year application as early as possible to ensure that a students eligibility status is properly established early in the school year. Families requesting a replacement eligibility letter for sports or academic purposes may contact Culinary Services.
Yes. Students returning to a Seattle Public School start the first 30 days of the school year retaining their prior years eligibility for free or reduced priced meals. Families are encouraged during that initial time period to submit a current year application for processing. Families who do not submit a current year application for their student during the first 30 school days will rollover to the paid status on the 31st school day which is typically mid-October.
Families are responsible for the cost of meals provided to a student prior to eligibility for free or reduced priced meals being established.
Yes. While applications for the current year are typically submitted between August to October, if a family's income or household size changes during the year an application can be submitted to determine eligibility for free or reduced priced meals.
Breakfast is provided at no cost to students enrolled in schools where 80% or more of the enrolled student's qualify for free or reduced priced meals during the previous school year.
Under a new federal Community Eligibility Provision (CEP), all students at specific schools are provided breakfast and lunch at no cost during the school year.
In all Seattle schools, students who qualify for free or reduced price meals receive meals at no cost. Culinary Services does not collect a copay from students eligible for reduced priced meals.
Culinary Services offers a variety of convenient ways to pay for school meals. Checks and cash are accepted by the school's Lunchroom Manager either as a pre-paid deposit to a student's account or for purchasing individual meals, milk or other a la carte item. Checks should be made payable to Culinary Services.
Student meals may also be paid for with a credit card online at PayPams, www.paypams.com. PayPams require the Student's ID number or meal account pin number (provided by the school) to create an account. The Student ID number can be found on report cards or by accessing The Source. PayPams charges users a payment transaction of $ 1.95 per student for each transaction.
Breakfast and lunch is served each day in all Seattle schools.
Exceeding the nutrition standards of the USDA's 2010 Healthy Hunger-Free Kids Act is easy when students have unlimited access to fresh fruits and vegetables. School meals also feature locally sourced grain-rich bread, hamburger and hot dog buns and hormone free milk from Washington State. To meet important nutrient needs for calcium, vitamin D and protein, students can choose 1% low fat milk or nonfat plain or chocolate milk with lunch each day. (Only 1% low fat and nonfat white milk are served at breakfast).
Yes, but a Diet Prescription must be submitted to Culinary Services to ensure that proper foods are provided. Under federal regulations, a Diet Prescription must be completed by a Licensed Physician (when identifying a disability such as a life threatening food allergy or diabetes) or a Recognized Medical Authority (RMA) when identifying a non-disabling medical condition such as a food intolerance. For Diet Prescription purposes, a RMA includes a Licensed Physician, Doctor of Osteopathy, Licensed Physician's Assistant, ARNP or Licensed Naturopathic Physician.
Families and students can access nutritional fact and allergen information on the Culinary Services department's School Meals webpage.
Personal or religious food preferences such as vegan, vegetarian or halal, do not meet the definition of a disabling or non-disabling medical condition for which a special school meal will be provided. Families and students are encouraged to become familiar with the school meal menu to identify days in which these menu options are readily available. Diet Prescription forms may be downloaded from the main SPSSeattle Public Schools Culinary Services webpage. Forms may also be requested by contacting Culinary Services main office at 206-252-0675.
Elementary schools in Seattle have been awarded grants to serve a mid‐morning or mid‐afternoon fresh fruit or vegetable snack to students. The purpose of the program is to increase the variety and frequency of fruits and vegetables that children eat and to positively influence their life‐long eating habits.