Seattle Public Schools Shout Outs
Posted on: October 25, 2023
Summary: From award-winning teachers to national ambassadors, we're shouting out our superstars.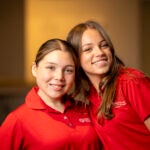 Seattle Public Schools Shout Outs
SPS students and staff are making big moves. From award-winning teachers to national ambassadors, we're shouting out our superstars.
We're only two months into the school year, and SPS students and staff have already racked up some prestigious honors.
John Stanford International Gets New Mural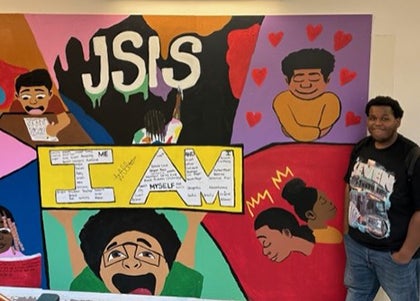 With the help of family and staff racial equity committees and other staff members, John Stanford International is celebrating Black excellence, inclusion and intersectionality with the installation of a new mural.
After almost three years in the making, the "I AM EVERYTHING" mural was unveiled to the John Stanford International school community on Nov. 1. Willie McIntyre, a Franklin High School alumnus, painted the mural.
Principal Sarah Jones said the project and mural are at the core of their work at the school.
"We have an intentional focus on integrating racial equity and ethnic studies into all classrooms," she said. "We are utilizing the ethnic studies themes, one of which is identity, and the idea of belonging. One way we did this was to use the colors of the Pride flag in the background and to use Spanish, Japanese and Lushootseed (a Native language that is part of the Salish language group)."
Principal Jones expressed her pleasure with how the mural turned out.
"I am so proud of … all the work our teachers are doing in the classroom, and the support and collaboration our families share with us to further our goals."
West Seattle High School Unified Athletes Selected as U.S. Youth Ambassadors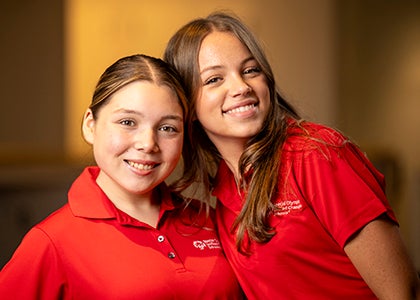 West Seattle High School sophomores Lizzy Greene and Izzy McKamey were selected as a Unified Pair for Special Olympics U.S. Youth Ambassadors. They are working with Special Olympics North America and 10 other pairs of Youth Ambassadors to help promote inclusion in schools throughout the U.S.
The two spent four days in Washington, D.C. learning from previous youth leaders and developing connections for the next two years of work.
Being a part of Unified Sports has brought out a new side to Izzy. The once-nervous student has taken on a leadership role and has made it her mission to make students feel included. 
"I am truly passionate about the work I am a part of through Unified Champion Schools and programming," she said. "I have learned that I am passionate about spreading inclusion and creating a safe space where all students with all abilities are valued, respected, and their voices heard."
Lizzy shares a similar experience when it comes to Unified Sports. She loves Unified's mission of spreading inclusion throughout the school and giving athletic and leadership opportunities to people who might not usually have those opportunities.
"The work that Unified and Special Olympics does within our schools and communities is so important," Lizzy said. "Unified educates our student body about disability awareness, inclusion, and acceptance … We're all there to make an impact; it makes me feel so happy."
Lizzy thinks students of all abilities should get involved with Unified Sports because it's a place where everyone is welcome.
"It doesn't matter what your race, gender, sexuality, or ability is … Everyone is working together; everyone is having fun. There are only so many things you can do in high school that make an impact, and Unified is one of them. Unified has brought so much meaning and understanding of others into my life, and I would love for someone else to experience that!"
Bike to Books at Dunlap and South Shore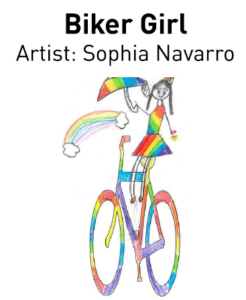 Bikes and books both expand your world, and now the two are coming together on a street in south Seattle with the help of students from Dunlap Elementary and South Shore PreK-8!
Students from both schools submitted designs for an art competition last spring. The Seattle Department of Transportation (SDOT), in partnership with Seattle Public Library, launched the competition through the Safe Routes to School program. The contest called for students to come up with fun and creative designs for bike symbols that SDOT will install between Dunlap and South Shore.
The path runs for 1.2 miles from Othello Park to the Rainier Beach library and will have space for multiple designs. SDOT is slated to install the artwork in 2024.
Learn more about the Bike to Books project

Pump it Up for Physical Education at Eagle Staff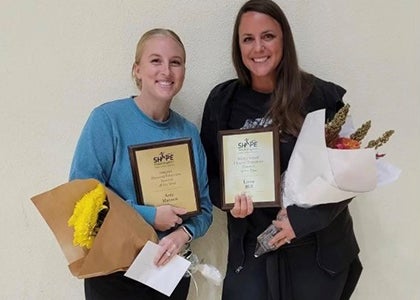 Two Robert Eagle Staff Middle School Physical Education specialists have been named Physical Education Teacher of the Year at the 2023 SHAPE Washington convention.
Linse Hill was named Middle School Physical Education Teacher of the Year, and Amy Matsen was named Adapted Physical Education Teacher of the Year. Both Hill and Matsen are thrilled to be selected, saying they are proud to serve the students at Eagle Staff.
"We adore our students and their strengths and abilities and being able to watch them grow and learn skills … Every student is unique and brings their own amazing qualities.
The teachers said being able to create an inclusive environment where all students can be successful, learn lifelong habits, games, activities, and have fun is what they strive for each day in Physical Education.
SHAPE Washington is an organization for Health, Physical Education, Recreation and Dance educators. They advocate locally, statewide and nationally to ensure all teachers can provide a high-quality program for students to become health- and physically literate adults.
---
July Shout Outs
SPS Math Teacher Nominated for National Award
The Presidential Award for Excellence in Math and Science Teaching recognizes educators each year from across the country for their deep knowledge of the subjects they teach as well as their ability to enable students to be successful in those areas.
Sara Rubio, a math teacher at Robert Eagle Staff Middle School, is one of four finalists from Washington state.
"These outstanding educators are creating learning experiences guided by their students' own curiosity about the world around them," said State Superintendent Chris Reykdal. "Engaging students with math and science in relatable, real-world ways cements their learning and prepares them for lifelong success."
National awardees will be announced by the National Science Foundation and the White House at a later time. Those selected as national awardees will travel to Washington, D.C., to attend a series of recognition events and professional learning experiences, receive a certificate signed by President Joe Biden, and accept a $10,000 award from the National Science Foundation.
UW Presidential Scholars
Three SPS students were named University of Washington Presidential Scholars! Haleemah Abdullah (Franklin), Trevon Mitchell (Cleveland STEM), and Kulane Adem (Lincoln) are recognized as young people who focus on the welfare of their communities and those around them.
In addition to possessing a strong orientation towards the common good, all of these scholars demonstrate exceptional promise to become leaders in fields of public service, business, not-for profit organizations, and education. We have high hopes for these scholars as future leaders.
Go Garfield Go!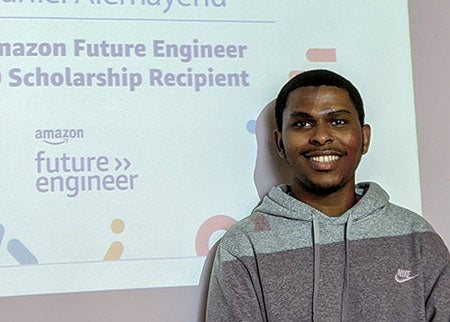 Congratulations to Garfield High School graduate Daniel Alemayehu, who is now the third Garfield senior to be awarded a 2023 Amazon Future Engineer Scholarship. Daniel joins classmates Vicente Anyaegbu and Chelsea (Hai Yi) Li in receiving the $40,000 scholarship and a paid internship at Amazon after his freshman year of college.
Daniel learned about the award from one of his teachers who added the announcement to the end of a presentation.
The district's total is now seven graduates in the Class of 2023 to receive the Amazon Future Engineer Scholarship.
What's That Spell? S-U-C-C-E-S-S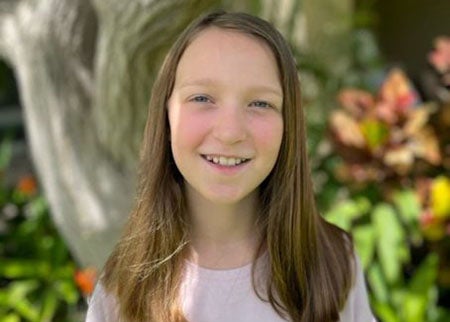 Fourth grader Daisy "Raven" Amrhein, from Cascadia Elementary, placed 4th in the Stride National Spelling Bee in Washington D.C.
Students had the chance to show off their spelling skills in an epic word game with multiple levels. The competition enabled thousands of eligible students in grades 3–12 nationwide to show their knowledge.
Watch Raven in action. (The elementary spelling bee begins at 5:05:56)
---
June Shout Outs
Spitzer Named School Counselor of the Year
The College and Career Readiness Department selected Carley Spitzer from Robert Eagle Staff Middle School as the SPS School Counselor of the Year. This program honors counselors who are providing excellent service in their comprehensive school counseling programming. Nominations for Counselor of the Year are submitted by the community and voted on by other district counselors.
"Carley has been with Robert Eagle Staff since the doors opened and has consistently championed equity," one of the nomination letters said. "She is one of the tone setters for our building; the leader that the support team could not perform without."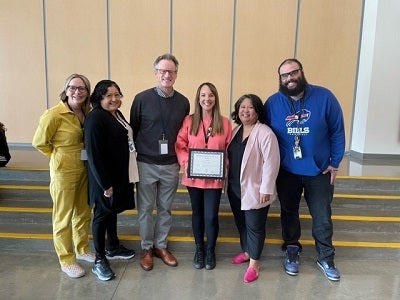 Hazel Wolf K-8 teacher Named Inspiring Teacher
Congratulations to Hazel Wolf K-8 teacher Crystal Allenton, who was named one of Disney's 100 Inspiring Teachers!
Allenton was among 100 educators from 39 different states selected from more than 7,900 applicants to attend the Disney Imagination Campus Celebration at the Disneyland Resort in California. The teachers chosen demonstrate the spirit of creativity and imagination in their classrooms to inspire students and play a key role in shaping the minds of America's future leaders. Read more about this magical celebration.
51 Seniors Awarded SPS Scholarships
Seattle Schools Scholarship Fund awards ceremony honored 51 graduating seniors on May 11. The award recipients represented every SPS high school and were recognized for their personal tenacity, contribution to their community, and academic accomplishments.
Stim Bullitt Civic Courage Scholarship Winners
The Seattle Public Library Foundation awarded three SPS students the 2023 Stim Bullitt Civic Courage Scholarship.
First-place winner Sonia Kamineni (Ingraham High School) and runners-up Cecelia Pyfer (West Seattle High School) and Anne Welman (Ballard High School) each won tuition support from the Foundation by writing essays on courageous Washingtonians who improved their communities by fighting for their ideals.
Each year, $10,000 is divided among three outstanding students, and their essays are permanently cataloged in The Seattle Public Library's Seattle Room.
This year, the foundation received 26 qualified essays representing students from seven SPS high schools: Garfield (2), West Seattle (4), Chief Sealth, Lincoln (2), Ballard (2), Ingraham, Cleveland STEM.
Meet the winners and read their winning essays
SPS Students Participating in Summer Internships
Several SPS students will join T-Mobile this summer and the following summer for internships in Cybersecurity, User Experience, and Full-Stack Web Development! Upon successful completion of a coding certificate from Edmonds College or Seattle Colleges, these students will have the chance to interview for an entry-level engineering position at T-Mobile's Bellevue Campus. Congratulations to these students and the others who will be joining this exciting program!
Full-Stack Web Development Program: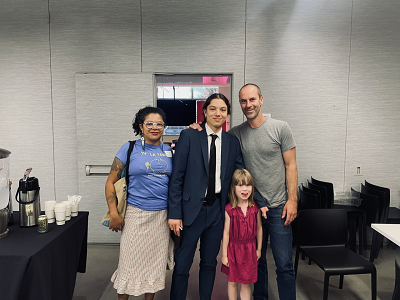 Alexis Krueger, Ingraham High School
Cameron Fernandes, Lincoln High School
Harry Son, Chief Sealth International High School
Jasper Boutte, The Center School
Paul Rosales, Lincoln High School
Cybersecurity Program:
Louis Elijah "Eli" Smalls
Salsabila Abu
UX/UI Program:
---
March Shout Outs
The Backbone of School Buildings: SPS Recognizes Classified School Employee Appreciation Week
Seattle Public Schools salutes the important contributions of classified school employees during Classified School Employee Week, March 6-10, 2023.
Classified employees are the backbone of our education system and are involved in nearly every aspect:
maintaining buildings and grounds
preparing and serving meals
keeping school facilities clean and orderly
assisting in the classroom
performing and conducting research activities
providing information technology and media services
administrative support functions
providing safe transportation
offering secure and healthy environments
and many other specialized services
These dedicated individuals deserve recognition and thanks for the outstanding work they are doing for our school communities. They are instrumental in fulfilling the district's paramount duty to educate all students. By supporting the learning environment, classified school employees are crucial partners with teachers, families, and administrators.
Shout out a classified school employee from your school community.
Elliot Flavors, Tier 2 Counselor – Lincoln High School
"Elliot brings an enthusiastic energy that both students and staff respond to in positive ways. He makes a point of getting to know students individually starting with their names. Though he is tasked with supporting some of our most at-risk students, he is essentially counselor to the whole school, so getting to know all the students is not an easy task, but he is doing it. In a recent conversation between students after Mr. Flavors had interacted with them, one student asked, "Who was that guy?" One of the other students responded, "Oh, that's Mr. Flavors. He's basically a second dad to every student."
A better endorsement could not be found. To use his own words, Lincoln is "blessed" to have Elliot on staff and working with students."
– Miste Chandler, Registrar
Gary Bolma, Counselor – Denny International Middle School
"Gary has worked 40-plus years in this field, most of those in this district. He is fabulous with the kids; always makes himself available to them. Getting them into the right classes, helping in the Lunchroom every day, taking time to listen and just be there for them. He is the jewel of our school."
– Doree Fazio Young, Kitchen Manager
Karla Stanley, Culinary Services – Magnolia Elementary
"Karla cares about our school's children and making sure their basic need of food is met. She tries her best to make sure no one goes hungry."
– Benita Hsueh
Ben Forbush & Dave Bjornstedt, Major Preventative Maintenance Department – Seattle Public Schools
"These two are great. We asked for the glazing on the door to Nathan Hale's KNHC public radio to be repaired. They came quickly, did an amazing job, and were super friendly and personable the entire time. They related to the staff and answered our questions about their jobs so we could better understand their roles. They both deserve 'hi- fives' for being not only skilled tradespeople, but awesome individuals."
– June Fox, KNHC Broadcast General Manager
The Social Emotional Learning (SEL) team – Seattle Public Schools
"The SEL team develops materials, supports schools, provides staff training, and leads practices in support of social and emotional skills instruction. The small, but mighty team of two and a half SEL staff have been running 100 miles an hour from the day they were hired. Hyam Elsaharty, Kai Kunkel, and Mila Paige have all been supporting students, staff, and families through student drug overdoses, violence in schools and community, student suicides, and more. They continue to support staff and school leaders with guidance for student and staff wellness. This skilled and talented team is all heart. They know what is needed and when to step in to offer practical, useful tools. They partner with other teams across the organization to hone their work and improve relationships and outcomes for students. This group is scrappy and knows how to get results!"
– Lisa Love, Manager of Health Education
Shannon Watson, Head Start Area Supervisor
"Shannon has supported Head Start teachers for over 11 years as a Site/Area Supervisor. She is passionate about helping teachers be successful in the classroom, helping them develop new strategies for teaching children to problem solve, scaffolding children's learning, and resolving conflicts. She is a servant leader who leads by her actions/modeling. The Head Start serves the nation's 3rd largest group of scholars who experience housing insecurity. She is leading the team by demonstrating the "Head Start Way." According to her, Head Start Way is where educators treat each other and students like family, and the Head Start community raise their children together. Our youngest scholars are learning and growing each day by her unconditional commitment for Seattle Excellence."
– Maki Ichikawa, Early Childhood Special Education
Lauren Yoho, Special Education Behavior Specialist
"Lauren Yoho works as a district behavior specialist and helps support schools and students across the district experiencing behavioral disruptions and crisis. Lauren is tireless in her efforts to center student voice while supporting teachers (often teachers who are in crisis themselves and in desperate need of a listening ear). I admire Lauren's ability to stay calm under pressure and to hold on hope in the toughest of circumstances."
– Rachel Barrett, Student Support Services
---
January Shout Outs
New Year, Same Great Teachers
Teacher Appreciation Week is not until May, but that's not going to stop us from celebrating our fabulous teachers around the district. We are starting the new year with a few of the compliments you gave us about our educators.
Jennifer Dickens, 2nd grade teacher, Magnolia Elementary
"She's an incredible teacher who creates a supportive learning environment. She communicates with us parents about our child's academics and social emotional issues. If we ask for support for our child, she is responsive and caring. My child is growing so much from being in her class."
– Katie Sathre, parent
Hannah Lewis, 7th grade science and yearbook. Washington Middle School
"Ms. Lewis deserves to have the spotlight because she's a hardworking, amazing, caring, kindhearted, and motivated teacher and person. She loves her students no matter what, and she always makes it a better classroom. She's super supportive."
– Grace Elizabeth Miller, student
Elizabeth Wisdom, Spanish teacher and ultimate frisbee coach, Denny International Middle School
"Ms. Wisdom is a teacher I wish I had when I was a student. She knows how to engage with the students and has made learning a new language enjoyable for them. She is a coach as well, giving extra time and energy to the students that play Ultimate Frisbee in the fall and spring! Every player is a better student-athlete thanks to her dedication. Thanks to Ms. Wisdom, middle school is a more vibrant and healthier place for a lot of students and student-athletes."
– Aaron Utigard, parent
Christine Gero, orchestra teacher and conductor, Roosevelt High School
"She gives so much of herself to the students, to the program, and to the quality of the music. She teaches several classes; she leads the way for students to participate in extra-curricular activities like retreats out-of-town and out of state! She has so much positivity and is an amazing teacher who's taught me so much."
– Owen Burke-Brown, student
Do you know someone in Seattle Public Schools who deserves a shoutout? It could be a student, staff member or an entire school! Let us know
---
November Shout Outs
Shout Outs for Education Support Professionals
Nov. 16 is Education Support Professionals (ESP) Day which includes clerical services, custodial and maintenance services, culinary services, health and student services, para-educators, security specialists, skilled trades, technical services and transportation workers. They are critical members of the education workforce.
ESPs work alongside other caring adults to help our students get what they need to succeed. Seattle Public Schools is proud to honor their contributions because they help keep students safe, healthy, and ready to learn.
Read some of the praise heaped upon our ESPs:
Maria Smith, Office Assistant, Lowell Elementary
"Maria is the center of the school. She is bilingual, brilliant, and patient. She is also organized, smart and a consistent presence for our scholars every day, year after year."
– Tammy Watson, Lowell Elementary Administrative Secretary
Janice Runner, Front Desk Administrative Secretary, Whitman Middle School
"There is always that person who has institutional knowledge and can get things done. For Whitman Middle School, that person is Janice Runner. "Ask Janice" seems to be the regular response, whether I am in a Friends of Whitman Music meeting or with a group of volunteers trying to determine how to help our school. Janice partners with the PTSA to get information to families and is able to ask for the help our school needs. She definitely deserves to be in the spotlight!"
– Jan Johnson
Juan Zavaleta, ELD Math and Spanish, Ingraham High School
"Juan goes above and beyond to support all his students and takes on leadership roles to support professional development at Ingraham. He creates a positive and welcoming classroom environment by using student voice to guide his decisions on curriculum and expectations. He is a leader on Ingraham's Race and Equity Team who delivers professional development for Ingraham staff that focuses on ways we can improve our practice to better support students of color furthest from educational justice."
– Zack Elvig, Ingraham High School Assistant Principal
Do you know a student or staff member who deserves a shoutout? Let us know.
---
October Shout Outs
Green Lake Elementary Playground Gets ADA Updates
Shout out to the Green Lake Elementary Parent Teacher Association (PTA) who raised over $350,000 to help construct an Americans with Disabilities Act (ADA) accessible playground ramp from the school to their lower playground level.
Green Lake Elementary houses a medically fragile program, and many of its students use motorized wheelchairs or other mobility devices. The new playground is not only accessible to all populations but also has embankment slides accessible to all students and a special spinner that can take wheelchairs.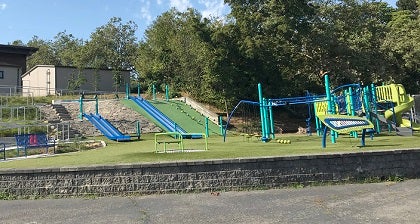 Playgrounds are an extension of the learning environment, and support the physical, cognitive, social, and emotional development of children.
Although the playground at Green Lake has seen few playground improvements since the school was constructed in 1970, Building Excellence V Capital Levy funding paid for portions of the school's new play structure. Combined with the renovation of the hillside section of the playground by the PTA, these updates will allow a wide variety of active play options for students of all abilities.
28 SPS Educators earn ELL Endorsements
During the summers of 2021 and 2022, two cohorts of Seattle Public Schools educators completed their English language learner/multilingual language learner or dual language endorsements with the University of Washington.
Eleven SPS educators completed this endorsement in 2021 and another 17 finished in 2022. We are proud of these educators for this accomplishment and their commitment to teaching multilingual learners and growing as teacher learners.
Congratulations to these educators:
2021 ELL Endorsement Graduates
Haile Wubneh
Lillian Robbins
Stacey Pitts
Maria Morris
Danielle Meier
Colleen McGinley
Ande Martin
Allison Halley
McKenzie Garceau
Jennifer Diep
Adriana Correa
2022 ELL Endorsement Graduates:
Lindsey Alade
Yelena Amundsen
Joe Bailey-Fogarty
Chanelle Braswell
Sarah Clemons
Emily Elasky
Cassandra Garcia-Stokes
Erin Gray
Zachary Gore
Wilma Killian
Jingwen Li
Jacqueline Martinez
Gabriella Sanchez-Stern
Anastasiia Shamarina
Tamara Smith
Scott Thorpe
Feng Zhou
This opportunity is funded and provided by a partnership between SPS Human Resources, the SPS Multilingual Department, the University of Washington College of Education, and the City of Seattle Department of Education and Early Learning.
Author visits McDonald International Elementary
McDonald International Elementary School Librarian Susan Finnegan has organized an all-school book club experience centered on "Ways to Make Sunshine" by Renee Watson.
All students received a copy of the book and engaged in discussion questions by chapter daily shared by students during school announcements. To kick off this experience, Ms. Finnegan coordinated with Third Place Books to host Renee Watson at an all-school assembly on Sept. 28.
McDonald students had the opportunity to hear about Watson's experience as an author and to ask questions. It was an incredible experience for students. Shout out to Ms. Finnegan for making this happen!
---
Shout out for SPS Principals
October is National Principal Month, and Seattle Public Schools is highlighting some of our amazing school leaders. Read more about some of the amazing SPS school leaders!
---
September Shout Outs
SPS Students, Staff and Schools Shine Bright
Whether it's centennial anniversaries, enduring spirits, or Merit Scholarship semifinalists, SPS has no shortage of things to celebrate. We are honoring students and staff whose accomplishments go beyond the classroom.
Shana Brown Receives 2022 Enduring Spirit Award
Congratulations to Shana Brown who received the 2022 Enduring Spirit Award.
Presented by the Native Action Network, award recipients are honored for their lifetime commitment to building strong, healthy Native communities and intergenerational connections.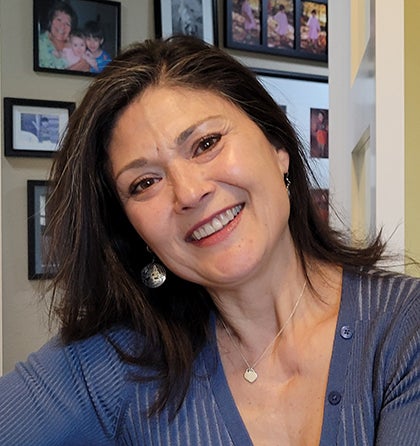 Brown comes from the Yakama, Muckleshoot, and Puyallup tribes and is a Native Education curriculum specialist for Seattle Public Schools. Brown began her journey in 2005, writing curriculum for the Washington State Historical Society and continued into 2007 as the principal writer for "Since Time Immemorial: Tribal Sovereignty in Washington State."
For Brown, winning the Enduring Spirit Award is a celebration of womanhood. Her aunt was one of the first recipients in 2006, and her supervisor, Gail Morris, won in 2017. Brown was nominated by her SPS colleague and 2021 honoree Boo Balkan Foster.
"All three of these astounding women were there with me at the awards ceremony," Brown said. "That's what Native women do – we lift each other up. I am honored and proud to be in the company of such strong, tenacious Native women and a part of the Native Action Network sisterhood."
Native Action Network is a nonprofit organized to promote Native women's full representation, participation, and leadership in local, state, tribal, and national affairs.
Learn more about the Native Action Network's Enduring Spirit Award
Happy Birthday, Garfield High School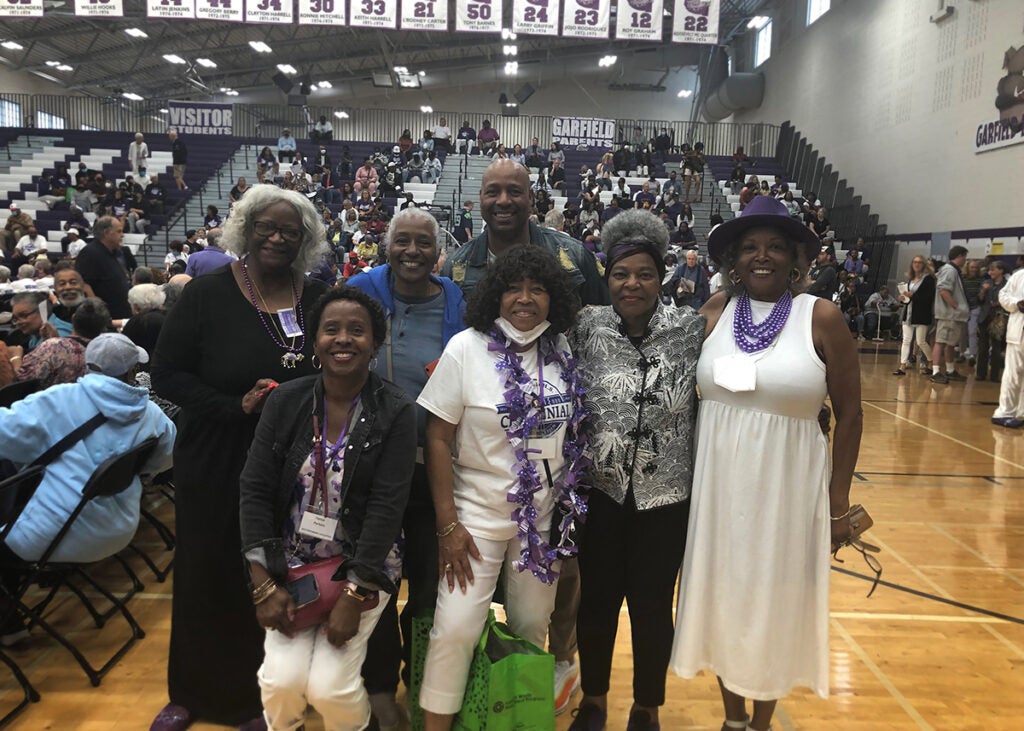 After a two-year wait due to COVID-19 restrictions, students, staff, and alumni from Garfield High School gathered on Aug. 27 to celebrate the school's 100th anniversary.
Founded as East High School in 1920, the school was renamed James A. Garfield High School when it opened in 1923. Nestled in the heart of the Central District, as the community grew, so did the school. Generations of musicians, athletes, and activists have graced the hallways.
The event included musical performances, historical displays, presentations, and food trucks. Seattle Mayor Bruce Harrell, class of 1976, served as host to the ceremonies. One of the school's most famous attendees, Quincy Jones, wan Honorary Chair of the event.
National Merit Scholarship Semifinalists Announced
The officials of National Merit Scholarship Corporation announced the names of over 16,000 semifinalists in the 68th annual National Merit Scholarship Program. These academically talented high school seniors have an opportunity to continue in the competition for some 7,250 National Merit Scholarships worth nearly $28 million that will be offered next spring.
The 2023 National Merit Scholarship winners will be announced beginning next spring. The semifinalists are:
BALLARD: Orlando Luce and Jane McKelvey
GARFIELD: Graham Cobden
INGRAHAM: Taran Kaylor and Forrest Lombard
LINCOLN: George Groebner, Noah Huck, Jian Kang, Zoe Kanter, Phoebe Keran, Merce Lutzker, Lindsay MacGregor, Drew Migita, Chanssen Pineda
ROOSEVELT: Ethan Scott, Ellen White
Owner of SPS Pharmacy Partner Receives National Award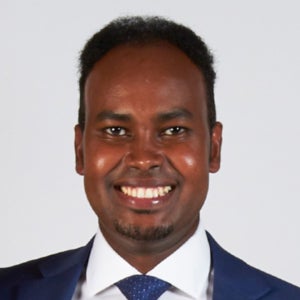 Congratulations are in order for true vaccine hero! Dr. Ahmed Ali, owner of Othello Station Pharmacy, was awarded the 2022 Immunization Champion Award for Washington state. The award recognizes those who go above and beyond to promote and foster immunizations in their community.
During the 2022-23 school year, Dr. Ali partnered with SPS and the Department of Health to provide COVID-19 and flu vaccination clinics at Othello Station Pharmacy. Dr. Ali and his staff were also crucial in supporting patient education and helped to combat misinformation and build trust with the community. Thank you for all your hard work, Dr. Ali!
---
June Shout Outs
Talent on Full Display
Eagle Staff Marching Band Release First Single
The marching band of Robert Eagle Staff Middle School released its first single, "SOAR," on June 3. The song is influenced by the school's motto (Scholars who show Ownership, Academic focus, and Respect and Responsibility).
Billboard-charting hip-hop artist Marlon Wood aka Bruce Wayne/Dark Knight collaborated with the 130-member Marching Ravens, which is under the baton of Director of Bands Mr. John Aguilar. They recorded the track this spring to create an anthem centered around the themes of hope, motivation, pride, and perseverance, particularly after the many hardships the world had endured the past two years. The song also features the talents of New York-based singer Alexandra Fresquez, and Philip Durant, a.k.a. Philly Alto.
On June 5, the band performed the halftime show for the WNBA's Seattle Storm and gave a live debut performance of "SOAR." The single is available on all music streaming platforms including Spotify, Apple
Music, Pandora, Amazon music, and more. Listen on: Spotify, YouTube, Apple Music
Climate at the Forefront of Global Issues Conference
Students at Ingraham High School organized the 6th Annual Washington State Global Issues (WAGIN) Conference, which took place on June 4. Over 100 middle and high school students from four countries, including Brazil, Peru, and Costa Rica, registered for the event.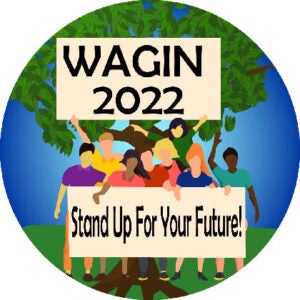 The opening keynote speaker was Dr. Ngonidzashe Chirinda, an expert on climate-smart agriculture and currently based in Morocco. Eyal Weintraub, a 21-year-old climate activist from Buenos Aires, Argentina, spoke to conference attendees about founding Youth for Climate Argentina, a movement that has mobilized over 100,000 people in his country.
In addition to the keynote speakers, there were eight youth-led workshops. Workshop topics ranged from addressing pollution in the Duwamish River to sustainable shopping to racial equity in public schools. The full list of workshops can be viewed on the conference website.
WAGIN partners with the Global Issues Network, the World Affairs Council, and the Foundation for International Understanding Through Students (FIUTS). This is the second year in a row the conference has taken place virtually. The first WAGIN Conference was hosted by Chief Sealth International High School in 2015.
Eckstein Releases Documentary on Remote Learning
Julia Detering, an assistant secretary at Eckstein Middle School, released a full-length documentary entitled "Can You Hear Me Now," focusing on the remote learning experience at the school.
This yearlong project was done in collaboration with Eckstein's eighth grade students and with the help of the school community. All recordings took place during remote learning from March 11, 2020, until the end of the 2020-21 school year.
The result is an in-depth look at how remote learning worked at one of the largest middle schools in the Seattle area.
Here is a synopsis of the film:
On March 11, 2020, Seattle Public Schools' students went home from school and did not return to full-time, in-person instruction until September 2021. This is the story of how one middle school harnessed the determination, ingenuity and strength of its community to provide quality instruction during one of the most challenging times of their lives.
---
June Shout Outs
Take a Bow
SPS is celebrating students whose accomplishments go beyond the classroom. Check out these award winners from around the district.
BRIDGES students awarded for their volunteer work at local food banks
Students from the BRIDGES program at Ingraham High School recently received the North Helpline's Souper Star Award for their outstanding volunteer work at the Bitter Lake and Lake City food bank locations.
"The team from BRIDGES has gone above and beyond," said Lara Monroe, North Helpline's program manager. "They are here every week reliably and consistently. They perform their work quickly, diligently, and with fantastic accuracy. I don't know how we would have been able to accomplish this all without them."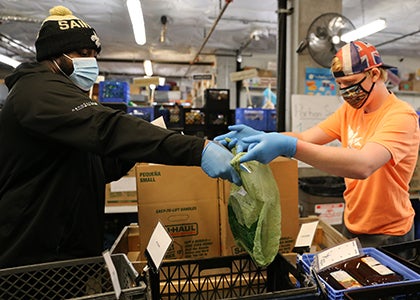 BRIDGES, a program for students ages 18-21 who received special education services throughout high school, teaches crucial work and life skills to help students lead independent lives after high school.
Ingraham's BRIDGES program began its partnership with North Helpline in some capacity in 2018. The volunteer work has helped students to learn important skills, gain confidence, and build relationships with people outside of their class.
BRIDGES teacher Heidi Leyton's sees how beneficial the program is for her students.
"[The students] really like helping people," Leyton said. "They really like the interaction with other volunteers and the clients who we work with."
BRIDGES students and their teachers are excited to continue this partnership for years to come.
Hazel Wolf K-8 Student Selected for AAA School Safety Patrol Hall of Fame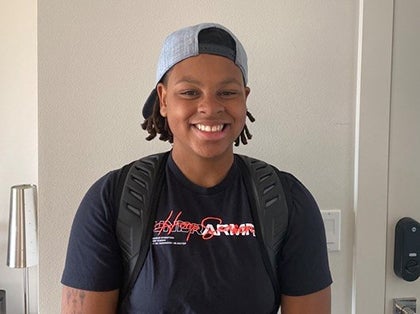 In recognition of her dedication to traffic safety, community stewardship and leadership, Josie Ellis, an eighth grader at Hazel Wolf K-8, was recently chosen for induction into the 2022 AAA School Safety Patrol Hall of Fame.
During her fourth year on the AAA School Safety Patrol at Hazel Wolf K-8, Ellis asked if she could mentor the fifth-grade students eligible to join the program for the first time. According to patrol advisor, Martha Levenson, Ellis's outreach created the highest number of fifth grade patrol applications ever.
"Josie spoke about the benefits of doing patrol: serving community, making a larger contribution, connecting with kids you would not meet otherwise, developing teamwork, learning leadership skills and finding a voice in the community," Levenson said. "She spoke wisely about her own development and what she has gotten from patrol."
As soon as the fifth-grade students joined patrol, Levenson said Ellis made herself 100 percent available to all of them — explaining how to wear the uniforms, demonstrating how to hold/use the flags, and answering questions by email.
"It is this kind of confidence, poise, support and generosity that makes Josie such a unique leader and mentor in her work with the safety patrol," Levenson said. "Her contribution has been extraordinary in a year when things were a little shaky at the start."
Seattle High Schoolers Awarded Scholarships from Museum of Flight
Two seniors from Seattle Public Schools were recently awarded scholarships from The Museum of Flight for post-secondary education and flight training. The scholarships are awarded each year to students who have participated in The Museum of Flight's education programs.
Senior Luke Folsom from Franklin High School is currently enrolled in the Museum of Flight's Aeronautical Science Pathway (ASP) program. He received the 2022 Benjamin L. Ellison Future Pilot Scholarship, which is worth up to $12,000 toward earning a private pilot license. His career goal is to be a professional pilot for a major U.S. airline.
"To me, to feel certain about something means I am able to see a clear path forward. I recognize both the risks and rewards, and when making a decision, I then move forward in confidence. ASP has given me the most clarity and certainty I have ever experienced in my life."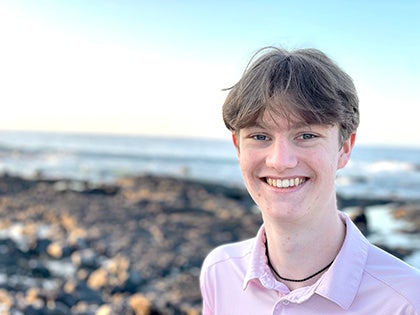 Astrid Johnson, a senior at Ingraham High School, was awarded $2,500 toward post-secondary education. She has previously participated in the Museum's Washington Aerospace Scholars (WAS) program and the Museum's Aerospace Camp Experience. Astrid has received an early decision acceptance to Smith College where she will study physics and hold a research position. Her career goal is to become a rocket scientist.
"As I go off to college … I will take what I learned at The Museum of Flight and WAS and build on it to expand my knowledge and experience."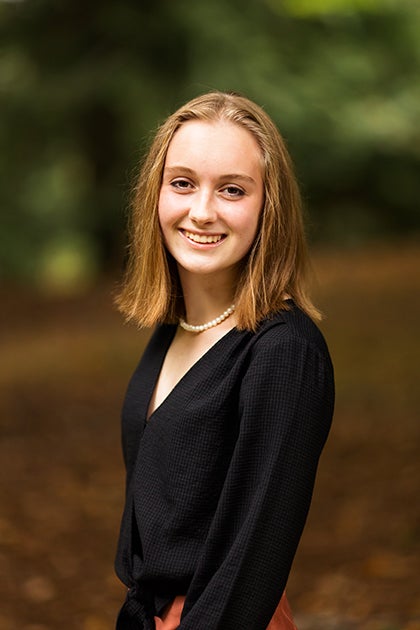 ---
May Shout Outs
Honors All Around
Students and staff across the district are receiving prestigious honors. From Emmy nominations to national awards, check out their accomplishments.
Chief Sealth's Coach P. is District 2 Athletic Director of the Year
Chief Sealth International High School Athletic Director Ernest "Coach P." Policarpio knows what it takes to lead a successful team. He's spent the last 16 years at Sealth — seven of those years as athletic director — building a flourishing athletics program.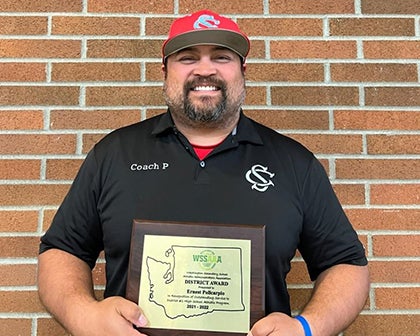 Policarpio was recently awarded the 2022 District 2 Athletic Director of the Year for his hard work and passion for athletics.
"He is dedicated to his community, the Sealth campus, and West Seattle," said Chief Sealth Principal Ray Garcia Morales.
Not only is Policarpio the Athletic Director, he's also a teacher, head baseball coach, Metro League tournament director, 3A region wrestling tournament director, and a board member of the Sea-King eligibility committee. Even though he has a full schedule, it doesn't seem to slow him down or get in the way, according to Garcia-Morales.
"He makes himself available, and he's understanding and patient," he said. "I think those are a lot of attributes of a great leader."
Runions Named CCR School Counselor of the Year
The SPS College and Career Readiness (CCR) Department selected McDonald Elementary's Katie Runions as the School Counselor of the Year. This program honors the best of the best in Seattle Schools – counselors who are providing excellent service in their comprehensive school counseling programming. Nominations for Counselor of the Year are submitted by the community and voted on by other district counselors.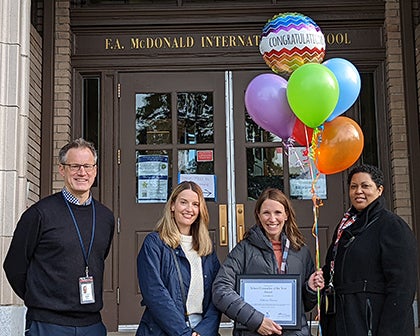 "I feel proud that I am just one of many outstanding school counselors in our district working hard to help our students develop the tools they need to thrive in school and life," Runions said.
In her 18th year as a counselor and her third at McDonald, Runions's devotion to her job runs deep. She used the year spent in remote learning to strengthen her relationship with families.
"I love that every day my work is different and that every child's story is different," Runions said. "This has become one of my favorite aspects of the work I do."
Roosevelt DECA students win at Nationals
Students in Roosevelt High School's DECA club traveled to the International Career Development Conference in Atlanta in April. DECA prepares emerging leaders and entrepreneurs in marketing, finance, hospitality and management in high schools and colleges around the world.
The team had a First in the World finish in the virtual business challenge for personal finance. Additionally, the team finished 8th in the Stock Market Game. Senior Isobel Goepferd, chapter president, won a medal for her outstanding test score in the Business Law and Ethics team decision making event. Roosevelt's team of 23 students is led by Business teacher Michelle Carter and Marketing teacher Drew Tocco who also serves as the team's head advisor.
Ballard, Garfield score Student Emmy nominations
Ballard and Garfield high schools earned an impressive nine combined Student Emmy nominations from the Northwest Region of the National Academy of Television Arts and Sciences. The Emmy competition spans productions entered in the 2021–2022-time span.
Ballard's Digital Filmmaking program earned five nominations while Garfield's Video Production team grabbed four. Ballard High School is no stranger to the Emmys, as its program has garnered dozens of nominations and awards throughout the course of its program which spans several decades. In its third year, Garfield has had two years of success in the competition. Ballard's program is led by Steven Bradford. Garfield's is taught by Jacques Pugh.
Ballard teacher receives national recognition
The Garden Club of America has selected Ballard High School teacher India Carlson for the prestigious Hull Award, given to outstanding educators who further the early environmental education of children. Carlson has worked as a botany and environmental horticulture teacher for 15 years. Currently, Carlson is working on the high school garden to have more edible plantings as well as completing a pollinator pathway garden.
---
April Shout Outs
We Love Seattle Schools Librarians!
In honor of School Library Month, students, parents and colleagues offered words of gratitude to Seattle Public Schools's librarians. We received nearly 200 messages sharing accolades and appreciation for librarians around the district. Read some of the praise heaped upon SPS librarians:
Chris Oswald (Adams Elementary): "He is a lively and fun storyteller." – Angela Wilson, colleague
Jessica Lindow (Arbor Heights Elementary): "She's really nice, and she inspired me to be a librarian when I grow up!" – Mallie Converse, student
TuesD Chambers (Ballard High School): "Not only does the BHS library program encourage the love of reading but is an inclusive space that focuses on the social and emotional health of our students. Also, I'm a school librarian for a neighboring district, and Ms. Chambers inspires me professionally every day. Big fan!" – Amanda Workman, parent
Jillian Kartchner (Broadview-Thomson K-8): "I love that Jillian aligns her curriculum with what I'm teaching in the classroom. She recently had students bring their laptops to the library, and she taught them how to find a myriad of resources for their country reports. In addition, Jillian is teaching students about safety on the internet and protecting their personal information and why that's important." – Tia Rizk, colleague
Anne Aliverti (Bryant Elementary): "Ms. Aliverti does more than checking out books for us; she sets up so many fun activities like Shelf Elves and Global Reading! She also gets us interested in books and has us do fun activities. She made me like reading a lot more, and she's sure to do the same for others!" – Katherine Spence, student
Merrick Bodmer (Cascadia Elementary): "Ms. Bodmer inspires me to try out different genres of books, even if I do not think that I will like it. I love how she knows what I like and makes great book recommendations and is always ready to help." – Kiskoli Dey, student
Luke Azinger (Chief Sealth International High School): "Luke has packed our library full of titles that kids want to read! His displays are thematic and inviting and enticing, and I have never seen so many students happily perusing and then checking out book(s). Kids are consistently giving me book recommendations, which is amazing, and it's all because Luke has inspired and re-invigorated a culture of reading at our school!" – Amber Allison, colleague
LeAnn Miller (Decatur Elementary): "I like the schedule where I see Ms. Miller, the librarian, every Tuesday because then you can have something to look forward to every week. I simply like books. I am a bookworm and Ms. Miller helps me find books every time I need help to find books." – Natan Silberstein, student
Tyson Manzin (Garfield High School): "Mr. Manzin makes the library a welcoming place for all students." – Louise Bendall, parent
Morgan MacDonald (Hamilton International Middle School): "I find inspiration in her passion for students and staff finding content that engages, elevates, and/or broadens discussions and learning. In returning from COVID, Morgan has been a consistent presence for students to find a book/adventure to escape, a positive place to express, or a quiet place to reflect. I have really appreciated the identification of content that mirrors our themes on the Diversity Calendar we utilize in Advisory. Students are getting to see more representative models and cultural connections." – Fred Butts, colleague
Betty Brennan (Ingraham High School): "She is such a kind and caring person who always has the best interests of the students at heart. She is always helping students with their essays and giving all the best book suggestions. She inspires me to be kind and to give those who need it and to always be your best self." – Naomi Armstrong, student
Emily Christiansen (Jane Addams Middle School): "Emily is steeped in [Young Adult literature]. She knows something about all the books kids bring up to her. Her knowledgeable passion is an inspiration for a wide range of readers across all genres." – Matthew Kirshman, colleague
Janet Schooler (John Hay Elementary): "She reads books, and she's nice, and she lets us open a box!" – Shaan Hasham, student
Andrea Young (John Stanford Center for Educational Excellence): "I wanted to take a moment to write about a librarian for SPS who does all the work behind the scenes. Andrea Young is our district cataloger. Anyone who has ever looked up a book from the catalog can thank Andrea for her contributions. She makes sure new titles are entered, corrects errors, offers advice to librarians in the schools and can often be found printing barcodes for teacher-librarians late into the evenings. She's kind and smart and has a mind like a steel trap when it comes to details that some of miss. SPS Librarians owe a lot to Andrea. Her behind-the-scenes support is priceless." – Darcy Brixey, colleague
Audra Gallegos (Lawton Elementary): "Audra is passionate about having books and other resources in the library that inspires students and staff alike – books that enlighten us by teaching perspectives or history we hadn't been aware of in the past. Since Audra joined our staff, the collection has been made exciting, and student reading minutes have increased dramatically. Her collection is relevant and time sensitive. In addition, her library lessons are engaging and impactful. She also loves to collaborate with teachers on projects and encourages us to branch out from our comfort zone. We are truly lucky to have her at Lawton!" – Emmy Misner, colleague
Henry "Hank" Morgan (Lichton Springs K-8): "Since the first week of school Library has been my kindergartener's favorite class. I have heard the same from classmates' parents. I'm not sure what magic Hank works to make library a bigger draw than P.E. or recess. I do know my kid comes home each week with a mix of books. Some he can read or enjoys having read to him. Some are above his reading level, but he was allowed to try them and learn about selecting books he enjoys. Hank does a great job of keeping the kids engaged with reading. This is, in my opinion, a vital element of creating a community of readers and learners." – Maura Madden, parent
Mary Bannister (Louisa Boren STEM K-8): "Ms. Bannister is like the energizer bunny – she is always on the go. She takes time to pull out special interest books and highlights them. The kids love it when Ms. Bannister reads to them during their library time. She is always thinking of the staff on special occasions and never misses an encouraging card with a treat tucked inside! She is not afraid of dressing for the occasion (i.e., St. Patrick's Day, Pajama Day – any day!) When we were hybrid, and had an outdoor library, she would take great care to set out enough books for each grade and interests. Ms. Bannister, I believe, goes above and beyond for our school and students. She's an inspiration to be a better human." – Jody Hapgood, colleague
Kirk Van Irvin (Lowell Elementary): "Kirk is new to Lowell, and we all so appreciate the way he immediately opened the library, has expanded the collection, has invited student leadership and voice in set-up, and created opportunities for students to grow in community as readers." – Chelsea Dziedzic, colleague
Stacia Bell (Madison Middle School): "Stacia champions the joy of reading every single day, connecting students to books they would otherwise never find and love. She has done an AMAZING job of purchasing and promoting books that mirror the beautiful diversity in our world. She brings popular authors to our campus–live and virtually, giving students a unique opportunity to interact with published writers. And Stacia's influence at our school extends far beyond the library walls. She is a thoughtful, committed educational technologist, a Career Ladder Teacher, and an organizer of student teachers." – Susan Ovens, colleague
Abby Levin (Magnolia Elementary): "Ms. Abby always supports us in reading and beyond. She is an amazing person and is passionate about so many things. If I ever need a book or just some love, Ms. Abby can find me both! I am so happy she works at my school, and I have had the wonderful gift of learning from her!" – Jordan Daligcon, student
Danae Powers (McGilvra Elementary): "Our librarian was INCREDIBLE during the pandemic. She really was the glue that held our school community together with all her wonderful spirit day video montages and other all-school activities which people submitted photos from home. She created the most amazing video lessons for remote learning. And back in person, she comes up with very thoughtful lesson plans – the kids are learning so much from her every week. This woman is a superstar!" – Sarah Cook, parent
Dana West (Nathan Hale High School): "Ms. West is just so cool. She's super friendly with students, she's with the times, and she can relate to all the students, whether it's about books, classes, or extracurricular. I definitely want to be like her someday." – Max Lommers, student
Tracy Appleyard (Orca K-8): "Tracy is an incredible librarian and human. She cares deeply for her students and is passionate about making books accessible for all students. During remote learning last year, Ms. Appleyard kept up an online reservation system and held library hours outside the main entrance to Orca every other Tuesday afternoon. Seeing the smiles behind masks as students exchanged books and got to see Ms. Appleyard in person was the kind of necessary joy during a difficult time. This year, Ms. Appleyard has worked hard to bring new and interesting books to Orca's library, with a focus on the representation of all types of students from diverse backgrounds. We love Ms. Appleyard!" – Heather Zucker, parent
Ami Pendley Noble (Pathfinder K-8): "Ami is the best librarian ever! She is supportive, fun, and leaves lots of room for us to be ourselves. She reads us books that we have never heard of, but that everyone should know. She has the best books, and her book recommendations are amazing too. I have read many books that she suggested, and I haven't found one that I didn't like! The library isn't just for reading either. We have many activities that we can do besides looking at books or reading. We have lessons about all different subjects, and we learn a lot. Not only from books but other types of media too. Every time we leave the library we leave with new knowledge and confidence. She makes our school a better place and is definitely the most loving staff member in our school. Ami is fabulous!" – Jo Russo, student
Rebecca Wynkoop (Robert Eagle Staff Middle School): "I love how she's fun and really nice. She takes into consideration what kids want and is willing to buy books to add to the library if it's requested. She makes fun activities to do outside of reading and makes the library a fun and safe space for everyone." – Ava Montejano, student
Chris Robert (Roxhill & Highland Park elementaries): "He is so dynamic and a fan favorite at school. The monthly library songs are sung at our house all year round." – Erin Conery, parent
Sarah Johnson (Seattle World School): "Sarah does an amazing job of connecting with the students at Seattle World School. It can be challenging at times since … English is not their primary language. Sarah strives to use different media to answer students' questions and assist in many ways beyond recommending books such as trouble-shooting computer problems, making sure they have a hotspot, and connecting to needed resources inside and outside the school. Sarah always does this balancing act of juggling many tasks with a smile on her face. Not only does she help the students with their needs, she provides assistance to her colleagues and staff. She is a leader in our school." – Ana Short, colleague
Amy Young (View Ridge Elementary): "Our librarian is simply the best. She's greeted like a celebrity at dismissal by all the kids because they adore her. She fosters a love of books and kept my child excited about reading throughout remote learning. As a volunteer, I also get to hear some of the lessons she provides during library time, and I am amazed at the learning that goes on. She weaves elements of history, science, and language arts into her lessons while teaching the kids how to analyze books for literary elements, contextual clues and more, all while they are having fun. Ms. Young is a fabulous librarian!" – Jennifer Beaverson, parent
Maggie Block (Washington Middle School): "They taught me the power of words and the power of creating a safe space. They taught me the power of my words and that what I say can impact others. They inspire me to use my words to help others." – Nor Luloff, student
Kristi Leland (Wedgwood Elementary): "Ms. Leland goes above and beyond her role as librarian, not only guiding students towards books they might love but also taking the time to genuinely check in with each student. My son would live in the library if he could!" – Sara Gutmann, parent
Paula Wittmann (West Woodland Elementary): "Ms. Wittmann is a wonderful advocate for libraries, books and reading. She is very friendly and approachable and always has great book suggestions. She is very thoughtful in planning lessons and highlighting books for different grade levels and tailoring her teaching and discussion to the level of the kids she is working with. She has curated a wonderful collection at West Woodland and made the library there a safe and enjoyable space for all the students and teachers. We are lucky to have her!" – Rachel Rigdon-Bel, parent
Rachel Kresl (American Indian Resource Library) "I really love our new books … there are some really amazing books coming out," Meany Middle School students. Read about the American Indian Resource Library.
May 2-6 is Teacher Appreciation Week. Do you know a teacher who deserves a shoutout? Let us know at Microsoft Forms
---
February Shout Outs
SPS Shout Outs for School Counselors: We Are Better Together!
We asked, you answered.
Accolades for school counselors poured in as we recognized National School Counseling Week (February 7-11). This year's theme, "Better Together," focused on how counselors work with administrators, teachers, and other school-based mental health professionals for the good of all students. The week also highlights the impact school counselors can have in helping students achieve school success and plan for a career.
Several nominations cited their school counselor's ability to engage with students in a way that supports not only college and career readiness, but also social/emotional development. Others shared personal experiences of how their school counselors help students examine their strengths, interests and talents.
"School counseling programs help to increase student achievement and provide a much-needed resource for students, parents, teachers and administrators," said Jill Cook, executive director of the American School Counselor Association, the sponsors of National School Counseling Week. "Counselors are integral to student success."
Seattle Public Schools thanks all our counselors for their commitment to our students. Here's what students, families and colleagues had to say about their school counselors:
Melissa Matsui "is such an important part of our school community. She helps create and maintain our school culture through her comprehensive guidance program. She is teaching our students skills that will bring them a greater quality of life even into their adulthood. I cannot imagine how our students and staff could have been so well supported emotionally throughout the pandemic without the empathy and guidance of Ms. Matsui."
Principal Katie May, Thurgood Marshall
"I am writing to nominate John Taylor, school counselor at Benjamin Franklin Day Elementary, for his excellent work in our school community. I would also like to nominate Dan Turner, who was an SPS school counselor for decades and substituted for Mr. Taylor during his paternity leave earlier this year."
Allison D. Brooks
"I would like to submit a nomination on behalf of each of the phenomenal school counselors that I am fortunate to work with at Franklin High School: Natalie Weinstein, Lexi Awdziejczyk, Tony Foland, Darrell Lee, and Corey Goldstein. These five dedicated professionals continually strive to meet the needs of all members of the Franklin community, both as individuals and collectively."
School Psychologist Ashley Burchett, Franklin High School
"The team at Ingraham – Angie Allemand, Jensen Bonney, Jennifer Connolly, Kathryn Feder, and Leanne Hust – are a creative, collaborative and caring group of individuals who work tirelessly to meet student needs. This team fosters a true team approach in their work with students, parents, and staff. We are so lucky to have such a competent and dedicated group of counselors and counseling support staff here at Ingraham."
Tristie McJilton, Inclusion Education Services, Ingraham High School
"Katie Runions's [McDonald International Elementary] small group sessions are talked about for days after with enthusiasm and understanding. As a parent, we are thrilled with the connection and comfort our child feels with Katie, and we also benefit with tips, tricks and resources that are sent weekly. She has been tremendously helpful for our family to have open conversations and learning moments as we all get better together."
Beth Koemans, parent
"Jenny Brooks from Salmon Bay went above and beyond the past year visiting families in their yards to provide support and guidance."
Danae Nakoneczny, parent
"Tammy Foulk [Cascadia Elementary] has been an amazing support for our neurodiverse population to survive and thrive in the social and emotional space. She has a keen eye for justice, a kind heart for the hurt, and a witty approach for solutions to all disputes. We love her. She will always be in our hearts for all the teaching she has allowed for us parents and our kids."
Ayca Dabis, parent
Other counselors receiving recognition:
Said Ahmed [Bailey Gatzert Elementary] – "He is also a leader for other aspiring school counselors, frequently taking on interns to guide them in their own process of growing into this role."
Gail Olson Laing [Ballard High School] – "I did not anticipate a quick response as I know the counselors support so many kids. It was clear that she had familiarized herself with our child's transcript and knew the school, teachers and classes well."
Julie Seltzer [Washington Middle School] – "She has been extremely helpful as my daughter has navigated some tough times. It is just such a relief for her to have such a kind and understanding resource."
Cheryl Fraley [Whitman Middle School] – "Even with the staff shortages and all that has been happening in the last 2 years, Cheryl has been very competent, patient and thorough!"
Do you know a student or staff member who deserves a shoutout? Email publicaffairs@seattleschools.org
---
January Shout Outs
SPS Shout Outs: Students Put Artistic Skills on Display
Seattle Public Schools is highlighting students who are doing amazing artwork around the district.
Cleveland senior Nouryani Saleh and Mark Kozumka, 3rd grader at Rising Star Elementary, both spend hours on their craft. From cats to calligraphy, these talented students let their artwork tell their stories.
Mark, 3rd Grade, Rising Star
When Mark's art teacher, Elaine Dondoyano, says he loves cats, she means he really loves cats.
He loves to read about them, study them, and draw them. Dondoyano has a binder full of his colorful cat drawings. As Mark flips through the pages, he lists them off one by one.
"This is a cougar. This is a wolf. This is a cat. This is a kitten," he said. "But I like drawing all animals."
Mark's artwork is featured on the call for submissions page for the Museum of Museums' website, which is promoting its "Cats vs. Dogs" exhibition opening in February.
His work will also be included in the show located in their Emergence Room, a space for rotating, monthly showcases of visual art that celebrates young artists from around the Pacific Northwest.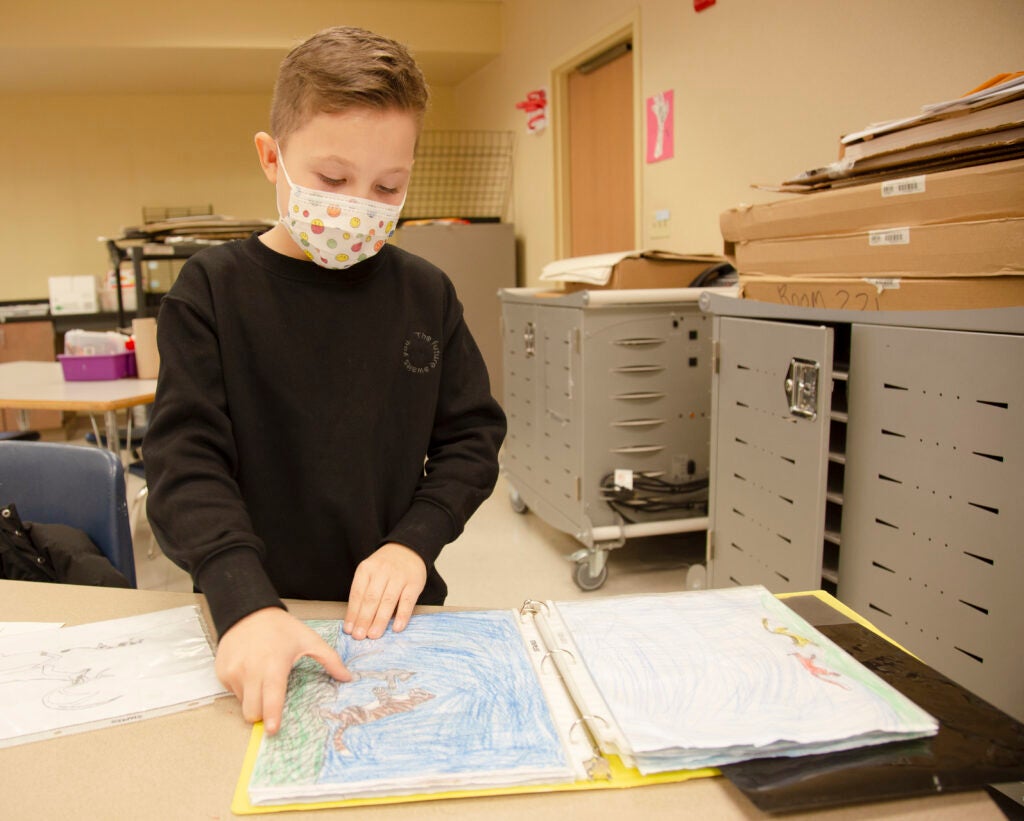 Nouryani Saleh, 12th Grade, Cleveland
As the youngest of three kids, Nouryani tends to copy her older siblings. She started drawing at a young age after seeing her older sister constantly creating art.
After spending years creating digital faces of celebrities, Nouryani is challenging herself by drawing landscapes and architecture. She mainly paints sunsets and skylines based on places she envisions, but she still makes digital art when people commission her work.
"Over the summer, a lot of people wanted me to do calligraphy signs, so I would use digital art to plan everything out and then do it by hand."
What some might call doodling, Nouryani's customized calendar sketches are where she really shines. She takes ordinary day planners and adds themed drawings to each month, a process that takes dozens of hours to finish. Early on during the pandemic, Nouryani had more time to draw, but as she enters the last semester of her high school career, she's had to sacrifice her art time for college applications and homework.
"It's kind of sad to not have time anymore," she said. "I try to finish as much work as I can for ASB and all my classes. I try to stay on top of things so my weekends can be free [to draw]."
Nouryani's talent has served her school well. After doing an online internship in marketing, she now uses her skills to create advertisements for Cleveland's Associated Student Body (ASB) and the senior class. She also helps run their Instagram account.
Nouryani has her eyes set on attending Stanford, University of Southern California, or Seattle University. She plans to major in marketing.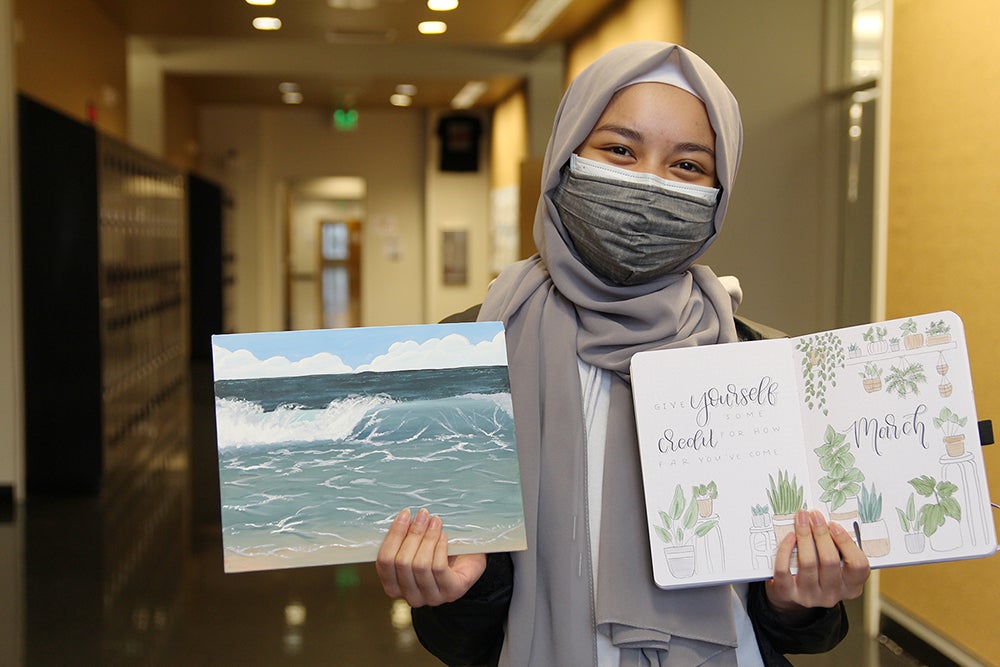 Do you know a student who deserves a shoutout? Email publicaffairs@seattleschools.org.
---
December Shout Outs
Thank You Seattle Public Schools Educators and Staff!
Seattle Public Schools continues to highlight members of the SPS community who are making noteworthy contributions to the district. These individuals go above and beyond in service at our schools and are consistently working to ensure students receive high-quality instruction and learning experiences.
Appreciative colleagues who have noticed these individuals' commitment to SPS sent in their shout outs to share with the entire school community.
Send us a Shout-Out! Do you know a student or staff member who deserves a shout-out? Email publicaffairs@seattleschools.org
Joan Steinberg, Bailey Gatzert Elementary
Joan Steinberg is the first to arrive and one of the last staff members to leave. As the school assistant and attendance secretary at Bailey Gatzert Elementary, Steinberg is a jack of all trades who usually masters them all. According to her colleague, Administrative Secretary Carrie Bolden, Steinberg is punctual, dedicated, and up for any challenge.
"Ms. Joan is never late and has not had a sub yet," Bolden said. "During lunch, you can hear her giving directions to the students, reminding them of the rules of the lunchroom and playground activities."
"She honestly loves our children … [and] is a joy to have at our school," Bolden said.
Bolden said Steinberg brings a wealth of knowledge from her previous job and has implemented some of those processes at Bailey Gatzert Elementary. In addition to her many duties, this year Steinberg added school webmaster to her list and uses the opportunity to grow and collaborate.
"She is very good at what she does and often asks for my opinion or invites my suggestions on changing formats," Bolden said.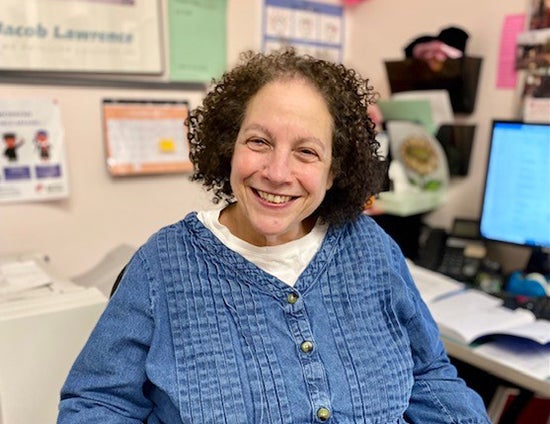 ---
Leticia Bazemore, Martin Luther King Elementary
Antoinette Harrison, a project manager with SPS, has seen firsthand how Special Education Assistant Leticia Bazemore incorporates love, kindness, and energy into her interactions with students. While K-2 students line up outside the door before school begins, Bazemore has the students engage in morning movements that gets them ready for a day of learning. Harrison has affectionately dubbed Bazemore as her daughter's new in-school auntie.
"She greets students and parents authentically, and when she is not there, her presence is most definitely missed," Harrison said. "As a parent and an SPS employee, it brings me joy to see her going above and beyond to create a warm and welcoming environment starting at the door."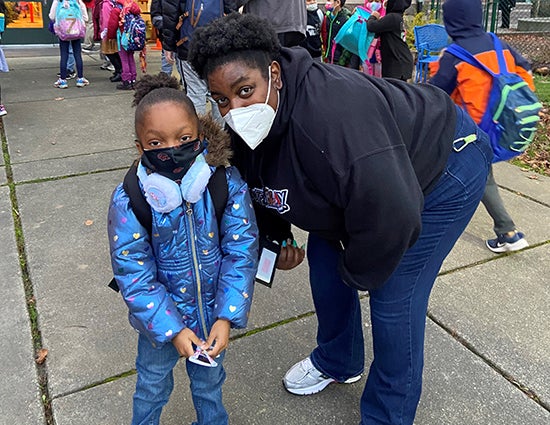 ---
Thomas Castle, TOPS K-8
Thomas Castle, a 7th grade social studies and language arts teacher at TOPS K-8. As a certified sign language interpreter, Ryan Page has spent a lot of time observing teachers and their teaching styles. He appreciates Castle's positivity and overall commitment to his students. From classroom management to student participation, Page said Castle knows how to keep all eyes on the lesson.
"Mr. Castle is the most engaging teacher I have ever interpreted for in my five years of interpreting within classrooms," Page said. "Students are … truly delighted to be part of his classroom."
According to Page, Castle exhibits extraordinary classroom management while retaining respect from his students. Castle also goes out of his way to learn the American Sign Language sign for every new topic he introduces.
"It is truly a pleasure interpreting for him," Page said.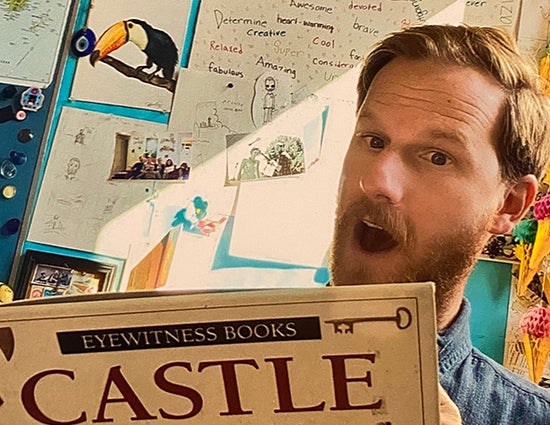 ---
November Shout Outs
Thank You School Custodians!
Seattle Public Schools is shining a spotlight on members of the SPS community who have made significant contributions to the district; people who go above and beyond in service at our schools. We received dozens of emails from staff members offering shout-outs, but none received as much praise as the custodial staff.
Despite having 60 vacant custodial positions that add more strain to their jobs, this team of workers has been performing heroics since the beginning of the COVID-19 pandemic. They have worked tirelessly since the shutdown March 2020, ensuring schools were cleaned, disinfected, and ready for students to return.
When schools re-opened in April 2021, custodians were faced with staffing shortages, which led to worries of not being able to clean the schools adequately. Director of Facility Operations Frank Griffin oversees the custodial staff. He said the team stepped up and worked overtime to ensure that schools were ready for students.
Once school started in Fall 2021, custodial staff faced even more challenges with increased workloads caused by outdoor lunches and the constant disinfecting of common surfaces was a strain on the team. But they were not deterred.
"This team is all about serving the staff and students of SPS," said Griffin. "They understand the importance of the role and have achieved nothing short of miracles."
What SPS Staff Have to Say
Read some of the praise heaped upon the custodial staff:
From Director of Facility Operations Frank Griffin
Bounma Thongdymanyvong, Inspector and Liaison Specialist: Headed the COVID-disinfecting response to schools with confirmed COVID cases. He has worked tirelessly to ensure spaces were safe for students
Young Wong, Custodial Engineer, Ballard High School: Trained 100+ new custodians over the course of a year. Ensured they were successful in their roles of supporting the educational process.
Mohamed Abdalla, Custodial Engineer: Faithfully served the staff and students at Viewlands Elementary with a can-do attitude and ownership of his role in relocating the school.
Nicole Selstead, Custodial Engineer and Roger Broz, License Assistant: Worked tirelessly to ensure that West Woodland was ready for staff and students upon reopening, juggling work with contractors, buildings staff, and various other SPS departments.
From staff around the district
"They are simply fantastic and much appreciated," Jim Stoltzfus, special education teacher, Blaine Middle School.
"Aaron Larson is incredible! [He is] kind, hardworking, personable, funny, thoughtful, and super communicative. Our school is so lucky to have him. Even as demands for his role have gone up over the pandemic, he's kept an atmosphere of warmth and optimism, and our building is holistically stronger in light of his contributions," Carrie Snow, resource teacher, Magnolia Elementary.
"Walter Harris worked briefly at Sanislo Elementary but got transferred back to Denny Middle. Walter consistently goes above and beyond to build solid relationships, interact with the kids, and be a generally amazing person. Walter should be recognized for his hard work, amazing attitude, and making life better wherever he works," Liz Jimmerson-Alaeddinoglu, first grade teacher, Sanislo Elementary School.
"Arnaldo Gando our head custodian at Lowell. He goes above and beyond," Tracey L. Thompson, social worker, Lowell Elementary School.