Building for Learning
New Building for Learning Book Coming Fall 2023
Have you ever wondered what happened at Coe Elementary? Or Lincoln? All will be revealed soon!
The Records and Archives Department has partnered with HistoryLink.org to publish an updated version of the Building for Learning book to include the last 20+ years of history.
The print version of the Building for Learning Seattle Public School Histories, 1862-2022 book will not be available until *Fall 2023, but you can secure your copy today.
Please use our Pre-Sale Order Form to order a copy.
The cost for Pre-Sale Orders is $65 per book and $75 per book with shipping. Once you have placed an order, staff from the Records & Archives Department will follow up with the total and the payment options available to you. Starting January 1, 2024, the price will go up $10, so order now.
Please note that some Seattle Public School employees and associates will automatically receive a copy of the book and do not need to submit a request for the book (i.e. Capital ProjectsDistrict capital assets through construction and remodeling projects. More team, Board of Directors). If you have questions about the book or it's availability, please reach out to archives@seattleschools.org.
*The exact print/shipping date has not been established yet.
Seattle Public School Histories 1862-2000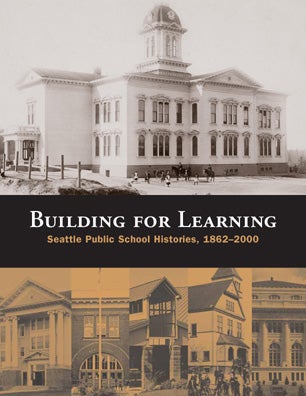 Seattle is a city rich with neighborhoods. Concurrent with the development of those neighborhoods was the birth and development of neighborhood schools. It is the purpose of this work to present a brief history of each school that has operated within the Seattle School District since its origin, which may extend back as far as 1862, seven years before the city was incorporated.
The Original 'Building for Learning: Seattle Public School Histories, 1862-2000' book written by Nile Thompson and Carolyn J. Marr is still for sale ($20).
Please email the Records and Archives staff archives@seattleschools.org to ask about purchasing a copy. Or read the different histories here via the following links.
Building Names
A | B | C | D | E | F | G | H | I | J | K | L | M | N | O | P | Q | R | S | T | U | V | W | Y | Z
A
Adams
Addams (Jane Addams)
African American Academy
Alki
Allen (John B. Allen)
Arbor Heights
AS #1, see Pinehurst
B
Bagley (Daniel Bagley)
Ballard
Bay View, see Webster
Beacon Hill
Bell Town, see Denny
Blaine (Catharine Blaine)
Boren (Louisa Boren)
Briarcliff
Brighton
Broadview
Broadview-Thomson
Broadway
Bryant (William Cullen Bryant)
Burbank
C
Cascade
Cedar Park
Central School Ballard, See Ballard
Central I
Central II
Cleveland (Grover Cleveland)
Coe (Frantz H. Coe)
Colman, see Marshall, Thurgood
Columbia, see also Lowell
Columbia Annex
Concord
Cooper (Frank B. Cooper)
Crown Hill
D
Day (B.F. Day)
Dearborn Park
Decatur (Stephen Decatur)
Denny (David T. Denny – Belltown)
Denny (David T. Denny – West Seattle)
Denny-Fuhrman, see Seward
Dunlap
Duwamish Bend, see Holgate
E
East High, see Garfield
East Side School, see Irving
Eckstein (Nathan Eckstein)
Edison
Edison Boat
Emerson
F
Fairmount Park
Fairview
Fauntleroy
Franklin
Franklin School, see Washington
G
Garfield (James A. Garfield)
Gatewood
Gatzert (Bailey Gatzert)
Genesee Hill
Georgetown
Girls' Parental School, see Martha Washington
Goodhue (Nellie Goodhue)
Graham Hill
Green Lake
Greenwood
H
Hale (Nathan Hale)
Haller Lake
Hamilton (Alexander Hamilton)
Harrison, see King
Hawthorne
Hay (John Hay)
High Point
Highland Park
Holgate
Holgate Aircraft
Hughes (E.C. Hughes)
I
Ingraham (Edward S. Ingraham)
Interbay
Interlake
Irving
J
Jackson St. School, see Rainier
Jefferson
K
Kimball (Captain George W. Kimball)
King (Martin Luther King)
Kurose (Aki Kurose)
L
Lafayette
Lake, see McGilvra
Lake City
Lake Union, see Latona
Lakewood, see Hawthorne
Latona
Laurelhurst
Lawton
Leschi
Lincoln
Longfellow, see Meany
Lowell
Loyal Heights
Luke (Wing Luke)
M
Madison (James Madison)
Madrona
Magnolia
Main Street School, see Gatzert
Mann (Horace Mann)
Maple
Maple Leaf
Marshall (John Marshall)
Marshall (Thurgood Marshall)
McClure (Worth McClure)
McDonald (F.A. McDonald)
McGilvra (John J. McGilvra)
Meany (Edmond S. Meany)
Mercer (Asa Mercer)
Minor (T.T. Minor)
Monroe (James Monroe)
Montlake
Muir (John Muir)
N
North School
North Beach
North Queen Anne
James Baldwin
O
Oak Lake
Olympic
Olympic Hills
Olympic View
Orca, see Columbia
Orthopedic Hospital
P
Pacific
Parental School, see Burbank
Park School, see Allen
Pathfinder, see Genesee
Pinehurst
Pontius, see Lowell
Portage, see Montlake
Q
Queen Anne
Queen Anne, see West Queen Anne
R
Rainier
Rainier Beach
Rainier View
Rainier Vista, see Columbia Annex
Randell, see Madrona
Ravenna
Riverside, see Cooper
Rogers (John Rogers)
Roosevelt (Theodore Roosevelt)
Ross
Roxhill
S
Sacajawea
Salmon Bay, also see Lawton
Sand Point
Sanislo (Captain Stephen E. Sanislo)
Schmitz Park
Sealth (Chief Noah Sealth)
Seattle High School, See Broadway
Seward (William Henry Seward)
Sharples, see Kurose
Sixth St. School, see Central II
South Park, see Concord
South School, see Gatzert
South Seattle
South Shore
Stevens (Isaac I. Stevens)
Summit , see also Addams
T
Thomson, see Broadview-Thomson
TOPS, see Seward
20th Ave School, see Meany
U
V
Van Asselt (Henry Van Asselt)
View Ridge
Viewlands
W
Walla Walla, see Mann
Warren Avenue
Washington
Washington (Martha Washington)
Webster
Wedgwood
West Hill, see Hughes
West Queen Anne
West Seattle, see Lafayette
West Seattle
West Woodland
Wetmore, see Muir
Whitman (Marcus Whitman)
Whittier (John Greenleaf Whittier)
Whitworth (Reverend George F. Whitworth)
Wilson (Woodrow Wilson)
Y
Yesler School, see Bryant
York, see Muir
Youngstown, see Cooper