Archives
Seattle Public Schools Archives
Chronicling the history of the Seattle Public Schools, Protecting What Matters
The mission of the archives is to provide a repository of primary resources about Seattle schooling, schools and student voices. Because the district is governed in part by local politics, the record of their discussions and activities is engaging history. The school district serves researchers, current students and the public in the development of educational and community history and practices.
Our collection consists of published printed materials, manuscripts and ephemera along with administrative records, photos, and artifacts such as scrapbooks, trophies, art, banners, signs, uniforms, newspapers.
Watch a short video about the archives to learn more: Documenting Student Learning, Protecting Student Privacy
New Edition of Building for Learning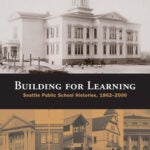 Online Resources
Fees
Photocopies: $0.15 per page
Scanning: $5.00 per image – if scanned image exists, free
Research Services provided for patrons: $30.00 per hour, pre-paid
Audio copies (includes tape): $5.00
Artifact Loan Preparation: $30.00 (for non- alumni groups)
Research Fees
The Archives charges a fee for research services prorated on salary benefit and overhead costs with a half-hour minimum. (WAC 434-690-080, Section 4). Research services are defined as the collection, assembly or extraction of data or information from existing records, or the analysis of information to provide a report. The standard fee for research services is $30.00 per hour. Research services may be limited to one hour, depending on the staffing level and current workload of the Archives. In such cases, patrons will be referred to an independent researcher for assistance.
Donations
Help us preserve school history and student voices. If you have memorabilia that you would like to donate, please submit a Donation Form. Our address is:
Seattle Public Schools Archives,
2445 3rd Ave South,
P.O. Box 34165,
Seattle WA 98124-1165