Visual and Performing Arts
Arts Education at Seattle Public Schools
In Seattle Public Schools the arts include dance, media arts, music, theatre, and visual arts. The arts are a core academic subject and part of Basic Education per district policy, superintendent procedure, and Washington state law. The Seattle K-12 Arts Plan, developed through community engagement, outlines how we ensure equitable access to Basic Education in the arts.
Mission and Vision
Our mission is to ensure equitable access to a comprehensive, sequential, and predictable arts education for each and every student in Seattle Public Schools.
Our vision is to provide all students' arts learning experiences through which their intellect and imaginations are sparked; their knowledge and experiences are affirmed and expanded; and their agency is put into practice.
Arts Goals
Every student in every school receives:
High quality arts learning that teaches sequential arts skills and techniques, develops students' 21st century skills and is culturally responsive
Instruction from certified arts teachers
Arts integration
Arts partnerships with community-based organizations and teaching artists
Opportunities to connect arts to careers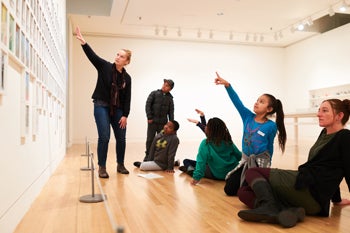 Why the Arts Matter
Research shows that students who have an arts education are more successful in school and life. Students in the arts:
Are more motivated and engaged
Have better attendance
Have lower discipline rates
Do better academically
Are more likely to graduate
Are more civically engaged as adults
The Creative Advantage
The Creative Advantage is how we ensure students have equitable access to arts education. It is our city-wide initiative with City of Seattle's Office of Arts & Culture, the Seattle Foundation, and community-based arts organizations.
To learn more about the history, how we're closing arts access gaps, and how we're providing resources to schools, visit The Creative Advantage webpage.