Music During Summer Break
Music During Summer Break for SPS Students
Stay connected to music instruction over the summer with the Summer Music Program and Seattle All-City Band!
Seattle All-City Band
Established in 1951 by Seattle Public Schools, All-City Band has a reputation for excellence in music education, student leadership, and entertainment. The band brings together students from schools throughout the greater Seattle area to entertain in upwards of 20 parades and community celebrations each summer.
Information on the program, including registration information is available on the All-City Band website. For more information contact Dr. Marcus Pimpleton, mjpimpleton@seattleschools.org.
---
Summer Music at Seattle Public Schools
Summer Music is back! This year Summer Music will take place July 10 through July 21. Classes will be held from 9 a.m. to 12 p.m. Monday through Friday.
The Summer Music Program is a way for students to continue their music learning during the summer months. The program is designed for students entering grades 5-9 (fourth grade completed). Students must have completed at least one year of instrumental instruction. Operation of Summer Music is contingent upon sufficient enrollment.
Who: SPS Students entering 5 – 9 grade with at least one year of instrumental instruction
When: Two weeks: July 10 – 21, Monday – Friday, 9 a.m. – 12 p.m. Students may attend for the full two weeks or one week.
Where: Aki Kurose and Jane Addams middle schools
Cost: $100 per week, scholarships available. Please reach out to Gail Sehlhorst ghsehlhorst@seattleschools.org for information about scholarships.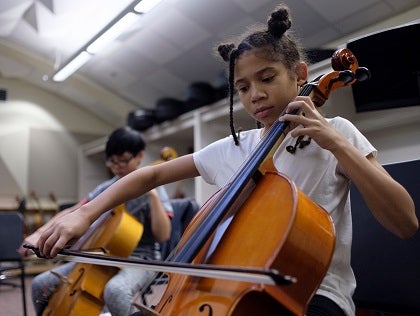 Two Locations for Summer 2023
Aki Kurose Middle School 3928 S Graham St. Seattle, WA 98144
Jane Addams Middle School 11051 34th Ave NE Seattle, WA 98125
Classes
Beginning, Intermediate, Advanced Band, and Jazz Band
Beginning and Intermediate String Orchestra
Please note: piano or guitar instruction are not offered during Summer Music
Activities
Technique classes, small ensembles, recess time with choice of activities, assemblies, plus last-day pizza party.
Evening Concert: Session concludes with an evening concert on Thursday, July 20, featuring all performing groups.
Tuition
Tuition for one (1) week is $100 and two (2) weeks is $200 (scholarships are available).
Most students do two (2) weeks.
Registration
Pre-registration and tuition is required. One form per student.
Photo release form is required.
Registration may be completed using the online or paper options (see below).
Online Registration: Use the links below to complete and submit the Summer Music Registration/Photo Release form.
Translated Online Forms
Paper Registration: Use the links below to access the printable Summer Music Registration/Photo Release form. Complete and mail with payment to the address at the bottom of the page.
Payment
Payment may be made online through SchoolPay or mailed with the completed registration and photo release form to the address below:
Seattle Public Schools Summer Music Program, MS 32-302
P.O. Box 34165
Seattle, WA 98124-1165