1st Grade
A Family Guide to 1st Grade
In every grade, SPS' core work is supporting student learning. We believe it is our responsibility to do whatever it takes to ensure that every child, regardless of race, gender, socioeconomic status, language proficiency, learning style or disability, achieves to their highest level.
First grade is a new adventure for your child!
They are starting to understand how school works. Still, first graders are working on the basic elements of learning, and because children develop in different ways at different rates, they may seem like they are shooting ahead one day and falling behind the next. Or learning may come easily in one area but seem much more difficult in another.
Families and teachers play important roles in helping young children understand that learning comes with practice, and that when things are hard, there is opportunity to grow! When your child recognizes sight words or finally reads a whole book by themselves, they feel powerful.
You can help them find their "Super Reader" and "Super Mathematician" powers by recognizing small daily achievements, as well as bigger accomplishments.
Your child's teachers can help you turn "I can't" into "I can" by finding "just right" materials that challenge them step by step. As first graders develop thinking and planning skills to answer their own questions and make decisions, they are also developing social skills to build relationships. You can support their learning by letting them "teach" you about their school experiences.
Important Dates
September
November
Parent-Teacher Conferences
December
End of 1st Trimester; 1st Progress Report Available
March
End of 2nd Trimester; 2nd Progress Report Available
June
End of 3rd Trimester; 3rd Progress Report Available
Student Progress Reports
The report cards are a tool for conversations about student developing social-emotional skills and learning readiness.
Teachers can help you understand how those skills affect your child's time in the classroom and their progress in language arts, math, science, social studies, physical education and arts. Talk together to nurture confident 1st grade learners!
How to Access Progress Reports
Families will use The Source to view Student Progress Reports.
Parent and guardians can create an account with the email on record at their student's school.
Student Success by Subject
Social Emotional Learning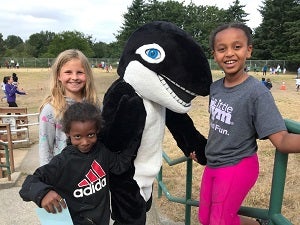 At Seattle Public Schools we believe that social emotional learning prepares students for learning and life.
Social emotional learning (SEL) helps children:
• Manage emotions, show empathy
• Develop a healthy identity
• Make responsible decisions
• Have positive relationships
• Contribute to their community
These skills are important for learning and life.
At school, students learn and practice SEL skills throughout the day.
Reading and Writing
In English language arts (ELA), 1st grade students learn to:
Read and understand grade-level text and figure out meaning of unknown words when reading
Retell what is read, using key details from the text
Ask questions about their reading
Describe characters, settings, and events in stories
Start to determine and identify topics and big ideas in a text
Write and draw and add details to communicate for different purposes
Take part in collaborative conversations about their learning and what they have read
How Can Families Help Students in ELA
Encourage reading at home with your child. Read to them or listen to them read every day.
Math
In 1st grade math, students will build on their kindergarten experiences counting to 100 and working with numbers within 20 to: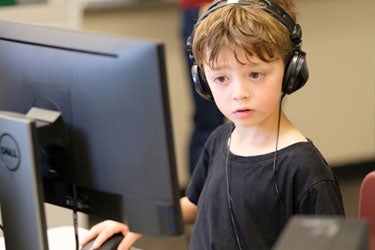 Use objects, draw pictures or use symbols to solve real world problems within 20
Understand the relationship between addition and subtraction and use it flexibly to solve problems within 20 
Learn addition and subtraction facts within 10 
Understand and use the equal sign 
Read, write and count within 120 
Understand place value (tens and ones) of 2-digit numbers 
Compare 2-digit numbers using symbols <, >, = 
Use place value understanding (with objects, pictures and numbers) to solve problems within 100 
Measure length using length units (such as inches) 
We believe all students have mathematical brilliance. Your child's teacher seeks to cultivate brilliance to develop your child into a mathematical thinker and problem solver. Your child will see who sees the value of math in their life.
Science
What are 1st graders learning in science?
This is a time for transition in science education, with teaching and learning focused on three key areas in Washington state Science Learning Standards:
Science/engineering practices used by professionals to explain the world or solve problems.
Core ideas that include fundamental scientific knowledge.
Crosscutting concepts frame scientific thinking across life, earth/space, physical sciences.
Your child's report card shows performance expectations, for what students should be able to do by the end of a unit. The three dimensions are woven into each performance expectation.
Engage in Science at Home
Get outside together, taking time to notice, appreciate, and wonder about the natural world.
Social Studies
What's Important About 1st Grade Social Studies?
The report card shows four areas of social studies that you and your child can discuss.
Civics – Understanding the purpose of rules in the classroom and school community
Economics – Understanding that families make choices to meet needs and wants
Geography – Using maps and globes and Understanding how environment shapes how families live
History – Creating timelines to show events in a sequence, or order
Physical Education
In physical education (PE), students build movement skills, knowledge, fitness, social well being, and confidence so they can enjoy a healthy, active lifestyle. Seattle Public Schools is committed to providing a quality physical education program to help students develop in these areas.
Our PE standards are based on motor and movement patterns and skills, as well as concepts like physical literacy, which is the ability, confidence, and desire to be physically active for life. PE is an instructional program, which makes it different from recess, free play, recreational sports, or athletics.
PE teachers work with general education teachers to provide high quality instruction for an average of 100 minutes per week, which is required by Washington state law. Schools organize PE times in different ways, but all students should be learning about their physical selves all year long!
Visual and Performing Arts
Research shows that students with an arts education are more engaged, do better in school, and are more likely to graduate and participate in community life. In Seattle Public Schools, we want every student to receive a comprehensive, predictable arts education during their K-12 years.
Each elementary school offers different arts programs, from possibilities including visual arts, general music, theatre, dance, or instrumental music.
Progress report standards come from the Washington state Arts Learning Standards, which focus on aspects of artistic process:
Creating: developing new artistic ideas and work.
Performing: interpreting and presenting artistic ideas / work
Responding: understanding and evaluating meaning in the arts
Connecting: Relating personally to artistic ideas and work
The arts are a core subject!
Support the arts at home!
Make art together!