Teacher Appreciation Week
Posted: | Updated:
Summary: Teacher Appreciation Week is May 8-12. We love our educators and staff year-round, but this is the week to celebrate our teachers!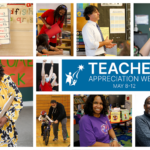 Teacher Appreciation Week: Join us in celebrating our teachers across the district
On behalf of the Central Office and this great community, we want to extend a heartfelt message of gratitude to our teachers as we celebrate Teacher Appreciation Week (May 8-12).
Thank you, teachers, for your patience, perseverance, and compassion.
Help celebrate the teachers in your life by sharing a message on social media and tagging @SeattlePublicSchools and using our #SPSTeach hashtag. Follow Seattle Public Schools on Facebook, Twitter, and Instagram.
Top-Notch Teachers: SPS is Celebrating Our Educators!
We heard from students and families across the district who love their teachers. Even colleagues sent words of gratitude to other teachers who have impacted their practice. While there was a lot of love being shared, compliments for the teachers at View Ridge Elementary came pouring in.
Accolades for Julie Miller, a third-grade teacher at View Ridge, flooded our inbox. Miller has spent her entire 21-year career teaching at View Ridge. She grew up in a home where both parents were also teachers. For her, teaching is more than a 180 experience.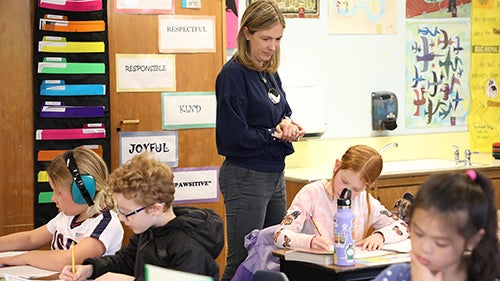 "I teach because I care and value the connection with my students," she said. "They know that I'm going to have high expectations for them, but we're going to be in this together, and we are a family working together."
Miller's students sang her praises in their shout outs. Siblings Sydney and Alyssa Ticeson called her their favorite teacher.
"Mrs. Miller had a huge impact on my life from when she started teaching me to when I left her class," Sydney said. "She goes down into history as the best teacher ever!" "She always knew how to lift me up when I was down," Alyssa added.
Miller made it clear that every day is not sunshine and roses. Teaching is a hard profession. But it's the students, the families, and the community that keeps her coming back each year.
"School days can be long, but it's that just electric feeling of being with a community that really cares and gives, and it's just a joy. It really is a joy."
Singing the Praises of SPS Teachers!
Here's what people had to say about their teachers who had an impact on their lives.
Ballard High School
Daniel Valdez (orchestra) and John Foster (maritime) "Thank you for your support during orchestra, and your cooperation with us learning musicians. Thank you also for the opportunity to go places and play cool music for people. Also, thank you to Mr. Foster for making the end of the day fun for all of us. Thank you for making the classroom a fun place to work on our activities; and thank you for giving us the opportunity to learn about the very significant maritime history in Seattle." – Kevin Bulson, student
Laura McGinty (biology and AP biology) "Thank you, Ms. McGinty, for being such a great teacher! You work hard to connect with the students and keep lessons easily approachable. You stay calm even when there are issues in the classroom. Everyone speaks highly of you, and you are always there to help anyone out whenever necessary. You are an amazing biology teacher, and you push the people who are doing well in class to take AP level courses in the subject." – Aidan Carr, student
Jay Gillespie (band) "Mr. G., there is so much to thank you for. Thank you for taking so much time out of your own life for the Ballard High School band. You have always made the band so much fun to be a part of. From the bottom of my heart, THANK YOU!" – Dylan Jackson, student
Broadview Thomson K-8
Grace Fennimore (2nd grade) "Dear Mrs. Fennimore, I would like to express my gratitude for all the effort you have put in teaching my son the last two years. I have watched my son grow tremendously under your guidance. Your patience and willingness to meet him where he is has inspired him to strive for success in ways that seemed impossible two years ago. Once again, thank you for everything you have done for my son. Your kindness and support are greatly appreciated." – Trina Nonis, parent
Bryant Elementary
Jennifer Shete (1st grade ) "We are fortunate to have Ms. Shete teach our child. She's incredibly caring and patient and does a fantastic job making our son excited about school. She is also a great communicator who provides regular updates regarding progress and areas of focus in an empathetic way." – Matthew Hoover, parent
Cascadia Elementary
Jennifer Daffara (1st grade) and Samuel Hunston (1st grade physical education) "I transferred from Olympic Hills Elementary to Cascadia in 2022. That was my first year. It was a little bit scary but thank you to Mrs. Daffara. The school is going to be familiar for me with her help. She also supports me with my reading, writing and math. I would also like to say thank you to Mr. Hunston. He encourages me to teamwork, and I like sports now because he told me exercise is good for my health." – Danawit Girma, student
Catharine Blaine K-8
Kirsten Jewett (3rd grade) "Ms. Jewett is super kind. Not only is she one of the best teachers I've ever had, but she also goes above and beyond for the students she has had! She told me about a school I got into, and honestly, Ms. Jewett 100% deserves this shout out and a million more." – Noelle Wallace, View Ridge Elementary student

The Center School
Brontë Neel (9th and 10th grade humanities) Ms. Neel is a bright amazing soul. She lights up the whole room. She always helps students when they need it. Ms. Neel is above and beyond." – Jules Lockwood, student
Cleveland STEM High School
Nicola Wethall (math and AP statistics) "I would like to thank Ms. Wethall for helping us go over problems we are stuck on. She is kind, informative, and funny at the same time, and she gives me advice on what we should work on to reach our goals. I've learned that statistics are crucial to help debunk bias through real-life scenarios we are facing. Ms. Wethall is an exceptional statistics teacher. Go Eagles!" – Bao Duy Nguyen, student
CTE Teachers and Skills Center
CTE and Seattle Skills Center teachers are amazing instructors preparing our students for careers and preparation for post-secondary opportunities. They teach from a hands-on approach, bringing real world experiences to the classroom. CTE teachers work hard to make sure classes are engaging and relevant. CTE teachers are the best!" – Susan Grant, SPS staff
Franklin High School
Dr. Genet Simone (Intro to Careers in Education) "Thank you for teaching us during the summer about education! It was one of the best experiences in my life. I learned loads from you. You have inspired me to become a teacher in the future." – Annie Small, Lincoln High School student
John Stanford International School
Rie Zilly (2nd grade) "Rie sensei works so hard to make learning Japanese, math and science fun for our child. As a parent, I appreciate how she goes the extra mile to send home communication on how our child is doing in math. She also creates detailed newsletters which explain the thinking/problem solving behind the concepts our students are learning. As a fellow teacher, I'm thoroughly impressed!" – Andrea Algiers, parent
Lowell Elementary
Lowell's Teaching Staff "I would like to show my appreciation to each and every one of Lowell's educators. This team is dedicated, collaborative, kind, and joyful … Lowell teachers co-plan, co-teach, and engage in meaningful PLC work together. They have fun together and learn together. They view scholars as OUR students (not mine or yours) – and recognize the power of having multiple adults know student names, strengths, identities, interests, and next steps. I am proud to work alongside such a talented group!" – Chelsea Dziedzic, principal
McClure Middle School
Alaina McCallum (6th and 7th grade history) and Michael Holland (band)
"Ms. McCallum, you are regularly mentioned at home by my daughter, who appreciates your consistent, solid approach to teaching, your commitment to the subject matter and your belief that students can produce work of high quality. I notice your high expectations and her respect for you results in a stronger effort from her. Thank you! We know it's not easy to do what you do day after day, and we want you to know we appreciate you!" – Cynthia Harper, parent
"Ms. McCallum, the careful planning and thought that you put into developing your projects and rubrics has been extremely helpful in my daughter's transition into middle school. Developing study skills is such a difficult and important task; we appreciate your support! Mr. Holland, thanks for all you do, going above and beyond your job requirements, to foster a love of music for our children. The band program has been a highlight of my daughter's middle school experience this year. – Brandi Casto, parent
Middle College High School
Robin Wilson (9th and 10th grade history) "Thank you for being so kind and thoughtful and taking time out of your day to make a connection with each and every one of your students!" – Jer'Miya West, student
Olympic View Elementary
Mrs. Cooper (1st grade) "I would like to say T is for Totally Terrific Teacher! You are the reason the world goes around. Mrs. Cooper is the #1 teacher." – Catalina Martinez-Forbes, student
Queen Anne Elementary
Bridget Berg (5th grade) "You are an amazing teacher and have meant so much to our family and community. We are so thankful to have gotten to know you this year and are grateful for the support, encouragement and enthusiasm you bring to all of your kids." – Jema Turk, parent
"Ms. Berg, thank you for creating a learning environment where students truly feel like they are a necessary part of a larger classroom and school community; for helping them see where their own gifts can be directed toward the most good; and for being a top-notch human yourself. We are so grateful for you and appreciate not only what you do but who you are!" – Cynthia Harper, parent
Rainier Beach High School
Kevin Hiller (special education) "Thanks for always caring and helping throughout the school! You're always appreciated, and I'm thankful are on our team." – Marcus Daniels, colleague
View Ridge Elementary
Ana Crossman (5th grade) "Ms. Crossman has been wonderful for my 5th grader. She has helped him focus on his growth potential and encouraged him to see his academic strengths when he believed they weren't there. I appreciate her patience, strong science knowledge, and empathy as she prepares my son to be a lifelong learner." – Amy Young, parent
Laura Koch (1st grade) "Thank you for asking me if I was alright every morning in kindergarten." – Connie Lee, student
Janna Redman (3rd grade)
"Thank you, Ms. Redman, for being such a nice teacher and always being there when bad stuff happens. You make me love to learn." – Xin-Rou Ruth Peng, student
"Ms. Redman taught me division. She makes learning fun! If you are having a bad day and are really tired, she knows and will change the assignment for that person. If I have an argument with my friends, she has a cozy chair in her room that I can rest in until I feel better." – Mila Jackson, student
Lindsey Daniels (kindergarten and 1st grade)
"We are so thankful for Ms. Daniels and the compassion, love, respect and attention she pays to our child and others in her classroom. Sending our first child off to elementary school was overwhelming and a big change, and Ms. Daniels made it so easy and smooth. She is a thoughtful and consistent communicator; she is approachable and collaborative and embodies the values of the school and our community. I can't imagine a better teacher for our child, and during these challenging times, I only hope Ms. Daniels knows how special she is to her students and families!" – Alicia Tieder, parent
---
2022 Celebration of SPS Teachers
Teacher Appreciation Week May 2 – 6, 2022
Thank you, SPS educators, for your ingenuity, perseverance, and passion. We honor our teachers for going beyond the call of duty to make a positive impact on our students.
To uplift our educators, we asked you to shout out your favorite SPS teacher. We received dozens of messages from students, parents and colleagues sharing their appreciation for teachers around the district.
Here's what they had to say:
"In my opinion, Dano Beal (Alki Elementary) was the highlight of my year. He brings me such warm memories, and I feel like he is the best teacher I know. Now that I am older, I miss him dearly and honestly wish I was in his class every single year. He will always be, in my opinion, the best teacher I ever had. I remember he made everything fun; you could see how much he put into his work every day. I will always admire him and remember how he made school my favorite place to be. Thank you, Mr. Beal."
– Lucian Mondragon, Madison Middle School
"Our daughter is a kindergartener in Alicia Ciocca's (Arbor Heights Elementary) class, and she truly couldn't have dreamed of a better first teacher! Mrs. Ciocca is patient, kind, clear, and sets high expectations for her students. Our daughter comes home daily eager to tell us not only what she has learned academically but also how she has learned from Mrs. Ciocca how to treat others. The way she loves and supports her students has created a classroom that our daughter cannot wait to be in every day. We are all so incredibly grateful for Mrs. Ciocca!" – Elizabeth & Christopher Maine, parents
"Maggie Shellenberger (Bryant Elementary) has been absolutely incredible with the kids this year. She hasn't just done an amazing job teaching them but also nurturing their little souls. With all the unknowns and changes of this year she has made the transition for both us parents and students so smooth and so positive. She takes care of our kids like they are her own, and for that I will be forever grateful to her! She has been there for our kids in ways that will have a long-lasting effect on them. I cannot be more thankful knowing my daughter goes every day to a safe and loving space where she can express herself and feel encouraged to do whatever she puts her mind to!" – Ellen Boynton, parent
"I really appreciated Richard Truax (Garfield High School) reaching out when my son was struggling with homework timeliness. It was helpful to be alerted to this problem and to get him the help he needed. This teacher really made a difference!" – Ruth Michaelis, parent
"Pam Hartman (Whitman Middle School) really cares about all her students but especially her [English Language Learners]. She often goes above and beyond to get them registered for sports, camps, or scholarships. During the pandemic she often drove to their houses to deliver needed materials. Her students are fortunate to have her!" – Julie Trent, SPS staff
"Ying Huang (ReWA Women's Alliance Preschool) is a very hard-working and dedicated dual-language teacher who goes above and beyond. She is very kind to her coworkers and always able to lend a helping hand. Her sacrifices do not go unnoticed. She truly cares about her students." – Monica Washington, SPS staff
"Samuel Barnes (Hawthorne Elementary) offers kindness and support in just the ways our son needs to help him succeed. He is so positive and truly cares about each child and what makes them unique. He sees and celebrates each student's strengths, even if they aren't yet fine-tuned to show up in acceptable ways. He centers equity and justice and promotes discussions, learning and reflection to help even our kindergartens embrace social justice and anti-racisim." – Sara Robitaille, parent