Congratulations Seattle Schools Scholarship Awardees
Posted: | Updated:
Summary: Each spring, Seattle Schools Scholarship Fund awards scholarships in recognition of students for their tenacity and contribution to their community.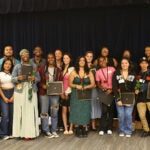 On Thursday, May 11, Seattle Schools Scholarship Fund awards ceremony honored 51 graduating seniors! The award recipients represented every SPS high school and were recognized for their personal tenacity, contribution to their community, and academic accomplishments.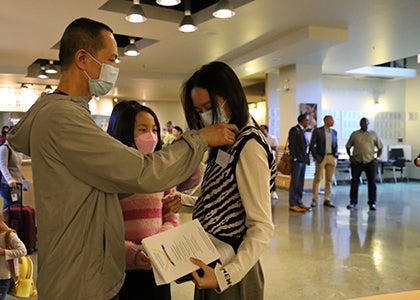 2023 awardees
Alan T. Sugiyama
Alexza Diaz Morales
Andreia Palanciuc
Judge Pedro
Ballard
Natalie Yuki Anderson
Sir Haney
Sienna Marie Seyler
The Center School
Wilhelmina Colby-Oosterwyk
Rain Roudabush
Andrew Ivy Spooner
Chief Sealth International
Kyler Dion Blanton
Hunny Marshall
Rina Fiaiai Otto
Cleveland STEM
Yosun Iffa Gezahegn
Trevon Gregory Mitchell
SoJourner Williams
Franklin
Madina Adam
Bethzy Nicolas Mendoza
Lyndon Maua Vaivao
Garfield
Lakelle Bridges
Javeon Darrell Gladney
Jaelynn Vershanti Jackson
Ingraham
Akash Adrian-Mitchell
Jazell Angelina Jenkins
Jakob Kegan Watson
Interagency Academy
Abdikaliq Adan
Antanay Dimoni Ford
Jezsaka Bell Siu
Lincoln
Patience Mphatso Kalanga
Margarita Melgarejo Chirino
Rigoberto Ajpop Yat
Middle College
Astrid Adelman Alexander
Idrissa Samba Gaye
Nathani Pinto Da Rocha
Nathan Hale
Benico Ibraheem De Hoyos
Arman Yusuf Isaq
Nardos Mihereteab Wolday
The Nova Project
Shekinah Lizbeth Alvarado
Rose Elizabeth Prevo
Mica Kolin Rowan
Rainier Beach
Daniel Angel Duarte
Maurianna Angelina Vega
Taja Rene Ward
Roosevelt
Fartun Jimale Abdullahi
Yonas Hiluf
Victoria Helena Macabu
Seattle World School
Yonatan Girma Alebachew
Yingyin He
Alessia Graciela Manay Rodriguez
West Seattle
Carlos Ochoa Gutama
Korrina Senae Holiman
Revilo Steven Sharett
Read more about the Seattle Schools Scholarship Fund.