Self Help Program Volunteers
Posted on: April 6, 2022
Summary: Despite COVID restrictions reducing the volunteers numbers and restricting projects, 998 volunteer hours have been logged this year.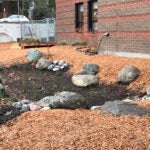 Volunteers a Vital Asset to the Learning Environment of Seattle Public Schools
As Earth Day approaches (April 22), thoughts often turn to how we can improve our environment, but the district's Self Help Projects Program and volunteers are working year-round to be good stewards of the environment by improving our school buildings and grounds.
Self-Help Program Manager Colleen Weinstein said the program, which averages 350 completed projects a year, benefits our facilities and students. Since projects are initiated by volunteers, they do not get done without volunteers or funding. Leads of Self-Help projects secure funding from parent-teacher associations, community groups, businesses, and grants.
Because this model can lead to inequitable efforts across the district, Weinstein and Self-Help Operations Specialist Thabisa Mazur direct volunteers to schools that rank higher in the school equity tiers and are using outreach to create a more open dialogue, engage communities, and help them navigate resources.
Despite COVID restrictions greatly reducing the number of volunteers allowed at projects and restricting projects to exterior work, 998 volunteer hours have been logged this fiscal year, Weinstein said. Some of the 103 projects underway this year include painting playground games, establishing little libraries, grounds work, and installation of a rain garden.
Patty Lavelle, a retired Seattle Public Schools teacher, started a gardening project while teaching at what is now Jane Addams Middle School. These projects segued into her volunteering at the school when she retired from teaching.
Volunteering allows Lavelle to work with students of all ages and abilities and allows her to combine two joys – working with kids and gardening.
"I really enjoy gardening with kids," said Lavelle, who has been a volunteer for 12 years.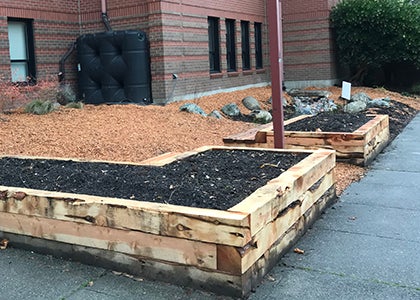 Recently, she helped a class plant snow peas. The students took the snow peas into their classroom and put them on the windowsill to watch as the seeds sprouted. "It's magic," Lavelle said. Students then planted the seedlings in the ground, where they will thrive until the snow peas are harvested from pods before the end of the school year.
Some of Lavelle's favorite moments of volunteering have been anytime a kid is excited to be in the garden, is enjoying nature, and is watching seeds grow. For example, she said it's fun to watch "when a child holds a worm for the first time and is equal parts squeamish and enthralled. The student begins to understand how we are all connected to this beautiful planet."
Although students are not recruited by the district program for volunteer projects, Self-Help project leads can encourage student participation. One example is the rain garden installed at Leschi Elementary. This project was initiated by parent Kate Faulkner engaged student participation and community partners RainWise and IslandWood.
Weinstein said for the Leschi project, students remotely participated in learning about stormwater and helped with the design of two different rain gardens for their space. Then they gave persuasive presentations to an audience on which design should be selected. Once the final design was installed by a contractor, the students were able to assist with planting the garden. It was successful because the project engaged students from start to finish, Weinstein said.
With more than 100 schools, there are multiple opportunities to make a difference through the Self-Help program. Weinstein said the highest areas of need are maintenance of grounds, playground painting, and summer watering. To get involved, please visit the Self Help Projects' webpage.
Volunteers in Schools
Self Help is not the only way people share their time and talent with Seattle Public Schools. Volunteers also serve various roles in schools, such as tutoring, helping with recess and lunches, assisting librarians, and supporting backpack food programs, said Volunteer Services Program Administrator Ania Beszterda-Alyson.
Even though schools had to pivot during COVID, volunteers remained steadfast by filling urgent pandemic roles, including distribution of food and learning materials to homebound students, assisting at school vaccination and testing events, and supervising physically distanced outdoor lunches. Many schools leaned heavily on family volunteers during the Omicron surge to ensure safe recess and lunch breaks for students. In total, more than 4,300 family and community members volunteered their time in person this school year, said Beszterda-Alyson. Also, nearly 300 volunteers have been providing remote tutoring.
Volunteers continue to find ways to make a difference. One such volunteer is Heather Stiles. Stiles, who started out as a volunteer at Martin Luther King (MLK) Jr. Elementary School's library, is currently serving as vice president of their newly formed parent-teacher association. She also serves on the school's Family Engagement Action Team Committee, where she supports the school in the planning and installation of programs that will benefit the school community.
MLK Jr. Elementary Home School Coordinator Charlesetta Welch said Stiles has exemplified the school's vision, "We believe that all things are possible when every adult is responsible for every child." Stiles has done this by dedicating her time and organizational skills to support literacy with a book exchange, by ensuring that teachers and interventionists got learning tools and supplies home to students during virtual learning, by supporting picture day and hearing and vision screenings, and by assisting classroom teachers and guests in maintaining learning time.
If you have a Seattle Public Schools student, inquire about volunteer opportunities with their teacher. Many educators are organizing spring field trips and need chaperone volunteers. If you are a community member, please consider becoming a Tree Steward or visit our volunteer webpage to learn about current volunteer opportunities inside schools.
Recognizing Volunteers
Teachers, parents, and students: Do you have a phenomenal volunteer at your school? Please share your accolades with us at publicaffairs@seattleschools.org.
Although we appreciate the work of volunteers throughout the year, we will recognize these unsung heroes during the month of April, which is National Volunteer Month.