Giant Tent Allows Winter Construction
Posted on: February 8, 2023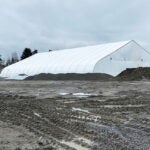 Tent Protects Construction Site from Wet Weather
If you pass by Rainier Beach High School, you may wonder about the giant tent on the west side of the school. You also won't see much active construction. That's because the construction work for the new school building is happening inside the tent.
"The tent lets us put in the foundation for the new school without impacts from wet weather," said Paul Popovich, senior consultant for Parametrix, the firm that is managing the project. "It covers the east half of what will be the new school building."
Work to install the 175 feet wide, 260 feet long, and 60 feet high temporary structure began in mid-December and was finished the second week of January. Built with metal supports and heavy canvas, both ends are enclosed to create a dry work area inside. Fans supply air flow and fresh air. The tent is also equipped with lighting.
"This is the first time we've used a tent to keep a construction site dry during the winter," said Richard Best, director of Capital Projects and Planning. "Without it, critical below-grade waterproofing work would not be possible during this season's wet weather. Right now, we're seeing pooling water outside of the tent, but the inside is protected, allowing construction to continue."
The tent will be in place until the end of May. Once it's removed, structural steel erection begins for that part of the building. The west side of the building foundation will be built in the summer months when the weather is dryer. Construction for the replacement of Rainier Beach High School began in spring 2022 and will continue through December 2026. More information and monthly updates can be found on the project page.