Native American Heritage
Posted on: November 17, 2022
Summary: Native American Heritage is more than a month. This is a time to raise awareness of how tribal citizens are working to improve the lives of all people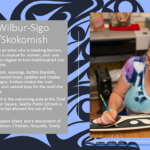 Native History is American History
November is Native American Heritage Month, a time to celebrate rich and diverse cultures, traditions, and histories and to acknowledge the important contributions of Native people. But Native American Heritage is more than a month. This is a time to educate our school community about tribes, raise awareness about their many contributions, and highlight how tribal citizens and Nations work to improve the lives of all people, both tribal and nontribal.
More Than a Month
Watch this video, recognizing the amazing work of SPS's Native American Education Department.
This month and every day, SPS honors the achievements and contributions of Native Americans, especially our students, families, staff, and community. Our district recognizes Native Nations have been stewards of these lands since time immemorial. They know how to care for and protect this land, and their current contributions to science, technology, sustainability, government, and our economy add great value to our communities now and into the future.
Shana Brown is the Native American curriculum specialist for district's Native American Education Program, led by Manager Gail Morris. They have developed meaningful and essential Native American resources for educators and families to use specifically for this commemorative time and throughout the year.
"Native history is American history … It's important to know the truth," Brown said. "It's important to know that we are still here. It's especially problematic when 87% of history contained textbooks presents Native Americans in a pre-1900 context. After the turn of the 20th century, we disappear in textbooks."
During remote learning, SPS produced video tribal history lessons for elementary and middle school that are still available on SPSTV. Families can also access our American Indian Studies webpage to see some of our work and recommended resources, like the National Museum of the American Indian's Native Knowledge 360°.
Families also can play a part in educating their children about Native American history and current issues and contributions by visiting our online American Indian Resource Library to check out literature and nonfiction available students and teachers.
View Interior Secretary Deb Haaland's Native American Heritage Month message
Resources for learning more about Native American Heritage
Learn more about the artwork on our website