Seattle Public Schools Celebrates Pride Month
Posted on: June 21, 2023
Summary: SPS supports the right of our students, staff, and families to be their authentic selves. We are dedicated to creating safe, inclusive environments!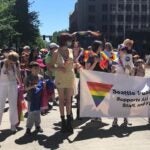 Join us for Seattle Pride
On June 2, Seattle Public Schools hosted our official LGBTQ+ Pride Flag raising event at the John Stanford Center.
SPS supports the right of our students, staff, and families to be their authentic selves. We remain dedicated to creating safe, inclusive environments in which all our students can thrive. This month, we renew our commitment to celebrating the tremendous value and richness that our LGBTQ+ students, staff, and families bring to our community every day.
A Message from Superintendent Jones
Seattle Public Schools reaffirms our unequivocal commitment to our LGBTQ+ students, staff, and community members.
Pride Month stands as a symbol of solidarity, acceptance, and celebration for our LGBTQ+ community. LGBTQ+ youth are a growing population in our district and are among the furthest from educational justice.
SPS has long asserted through policy, procedure, and practice the goal of creating welcoming spaces for LGBTQ+ students and staff. Our district has a history of implementing student support groups, offering staff training, developing inclusive policies and procedures, and providing age-appropriate instructional materials addressing the needs of members of the LGBTQ+ community.
To our LGBTQ+ students, your identity is valid and deserving of respect. You are an essential part of our school community. We are committed to fostering an atmosphere of acceptance and ensuring equitable access to education for all. We encourage you to be proud of who you are and to embrace your unique identities.
SPS plans to be even more proactive in ensuring the well-being and dignity of LGBTQ+ students, staff and families, especially considering recent acts of violence and the current political climate.
To address this, we will:
Continue to support and uphold the LGBTQ+ community even as laws and policies in other states and countries threaten and attack the safety, rights, and dignity of the LGBTQ+ community.
Be intolerant of any form of harassing behavior and take action to keep students and staff safe.
Support the recognition and celebration of our LGBTQ+ community.
Support the critical role our school-based health centers play in meeting the needs of LGBTQ+ students across the region.
Help our school leaders provide support for their LGBTQ students and staff, including ensuring school security, behavioral support for staff, and district cybersecurity include this assistance.
We will not wait to act to provide these supports. We want our students to be able to share their stories and knowledge with adults in education and healthcare for the good of LGBTQ+ youth across our city and without fear of being targeted.
For help in addressing LGBTQ+ issues, additional support, or to learn more about the programs in our schools, please contact the Health Education office at lgbtq@seattleschools.org.
Sincerely,
Dr. Brent Jones
Superintendent
Pride Parade Sunday, June 25, 11 a.m.
Students, staff, and families are invited to join Seattle Public Schools as we participate in the annual Seattle LGBTQ+ Pride Parade on June 25, 2023, 11 a.m.
This warm, family-friendly event welcomes all to celebrate safe and inclusive environments. Please join us as we march together behind our "Seattle Public Schools Supports ALL Students, Staff, and Families" banner or ride the bus.
Those participating in the parade will meet prior to the parade's start time on the 4th Avenue staging area. Registration is not required; just show up. Look for the Seattle Public Schools school bus on 4th Avenue between Union and University before the parade's start time.
At 11 a.m., the parade will begin its route on 4th Avenue walking north to the Seattle Center. At Seattle Center the party will continue with family-friendly festivities that include music, booths, food, and fun.
Please plan to join in the fun!
For more information, visit the Seattle Pride website.
Seattle Public Schools to Join Community-wide LGBTQIA+ Celebration
Seattle Public Schools (SPS) has participated in Seattle's Pride Parade for more than 30 years.
"In the beginning, it was almost exclusively staff who marched in the parade," said SPS Health Education Manager Lisa Love. "Now we have students, staff, families, and school board directors who participate!"
---
2022 Flag Raising at SPS Central Office John Stanford Center
The mood was jubilant as dozens of Seattle Public Schools senior leaders, board members, families, staff and students gathered on June 1 at the John Stanford Center to raise the rainbow flag in celebration of Pride Month.
Lisa Love, the manager of Health Education, gave the crowd a warm welcome and emphasized that while it is a time to celebrate the LGBTQIA+ community, the recent tragic events should remind us of those who are suffering.
"While we face these overwhelming realities, we continue to fight, care for one another, and do everything we can to make our homes, our schools, and our communities safe for our LGBTQ students, staff, and families," Love said.
The beginning of the modern LGBTQ Movement began with The Stonewall riots. These were a series of demonstrations by members of the gay community in response to a police raid that began in the early morning hours of June 28, 1969, at the Stonewall Inn in Greenwich Village, N.Y. These uprisings were led predominantly by queer and trans women of color.
"The month of June is both about a riot and a celebration … a fight and a celebration," said Love. "Queer and trans folks do this in their lives every day. I do this in my work every day. I fight on behalf of students who are harassed or made invisible. I also celebrate the progress and successes of young people, and of our school district."
Students from around the district also joined the celebration. Decked out in a black baseball cap with "TRANS" across the front and a Pride flag waiving from the back, Alex Osborn, a fifth grader at Thornton Creek Elementary, shared about his personal journey as a trans student.
"Before I knew about other transgender people, I didn't tell my family that I felt like a boy, and I didn't live as my true self," Osborn said. "But once I learned more about the whole community, I was able to live as my true self."
Alex said it was then that he started wearing his hat. He started The Rainbow Club at school with a few friends for LGBTQ+ to find support and allies.
Cameron Page and Ireland Skoglund, two students from Cleveland High School, spoke about the progress SPS has made towards acknowledging LGBTQIA+ students.
"I am happy that Seattle Schools is raising our flag to not only show us representation but support in what we strive to achieve," said Page, who is the vice president of Cleveland's Gender and Sexuality Alliance (GSA).
Skoglund is the co-president of Cleveland's Marsha P. Johnson Society. In partnership with GSA, the groups have been advocating for a co-ed swim team and gender-neutral bathrooms so students can feel more comfortable and safer in their environment.
"Pride Month is a scary time for some people, especially for people that aren't out," Skoglund said. "I'd like to take some time to remember people who can't be as out and as proud as we are … we will continue fighting for you."
Board resolution update
The district continues to make strides in fiercely affirming SPS' commitment to LGBTQIA+ inclusion and identity safety in our district with guidance from School Board Resolution 2019/20-28.
Some of the work that has been completed since the 2021 update to the board regarding the resolution:
Crafted messaging that affirms the rights of students and staff to be authentic selves and promoted positive images of LGBTQIA+ individuals
Procured Progress Pride flags for schools and provided flag etiquette guidance to staff
Trained registrars on how to help support LGBTQIA+ students as they request gender or name changes
Offered age appropriate LGBTQIA+ inclusive instructional materials and books for elementary and secondary schools
Provided LGBTQIA+ sensitivity training for staff and volunteers
Collected data on the status of all-gender restrooms in each school and secured designs for newly built all-gender restrooms
We also are developing guidelines and standards for implementing improvements to restrooms and locker rooms to create/improve gender-inclusive restrooms that comply with applicable state and local plumbing fixture count requirements and other regulatory requirements.