Celebrating the Joy of Black Excellence
Posted: | Updated:
Summary: February is Black History Month, and SPS recognizes the contributions of all Black people – past and present – who continue to blaze a trail!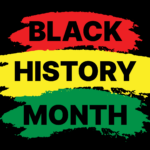 SPS ushers in Black History Month with annual flag raising ceremony
The word of the day was joy, as dozens of Seattle Public Schools staff gathered on the John Stanford Center lawn for the kickoff to Black History Month. You can watch a recording of the event.
Interim Chief of Staff and Assistant Superintendent of Public Affairs Beverly Redmond addressed the heaviness of the day, on the heels of funeral for Tyre Nichols, a Memphis man who died at the hands of police officers. Redmond told the crowd that despite sorrow, we should always choose joy.
"We've had some difficult moments, but we are coming into a new space that we've never been in before, and I want you to say, 'that's okay,'" she said. "You choose joy; it is a conscious choice. And today we choose to celebrate what we know and what we live 365."
Hosted by the Central Office Black Caucus, the theme for the event was "Ubuntu – I am because we are." It can also be translated into humanity towards others.
"The love that I have for humanity can bring out a similar love that you have for humanity," said Anita Koyier Mwamba, program manager for Black Studies. "There should be no hierarchy in people; only care, love, and advancement."
In what was already a momentous occasion, the mood of the crowd was even more celebratory after Assistant Superintendent of Academics Keisha Scarlett announced she was selected as the new superintendent of the St. Louis Public Schools.
In his keynote address, Superintendent Brent Jones heaped praise upon Dr. Scarlett for her 25 years of service in SPS.
"She's going to bring that fire that she just left here to St. Louis," he said. "That is Seattle Black excellence … Dr. Scarlett is us; she is a manifestation of us."
Jones continued to speak about the role of Black history in our educational system and the role it plays in establishing true equity for students. He told the crowd that the work the district has done to uplift students furthest from educational justice is a vital part of moving students forward academically.
"Black history is essential to American education and American history," he said. "But for far too long, the contributions of Black Americans have been overlooked, misunderstood and misrepresented in classrooms and curriculum."
After his address, Jones led the group to the flagpole. With the help of Ingraham High School's Brandon Johnson and COBC members Adama Seck and Tracy Delgardo, they raised the Pan-African flag to cheers from the crowd.