Volunteer Impact
Volunteers make a BIG difference in the classroom
When volunteers commit to serving at a school, students achieve higher grades, have access to more opportunities, and gain community connections to help them thrive.
Research shows that students who receive direct support from volunteer tutors achieve higher grades, test scores, and are more likely to graduate.
When volunteers provide clerical support to staff, educators have more time for instruction and individualized support for students.
Volunteers make programs supporting the lowest-income students possible: Friday food backpacks preventing weekend hunger, school supply drives, etc.
Schools with large numbers of volunteers offer students more learning experiences through clubs, field trips, enrichment.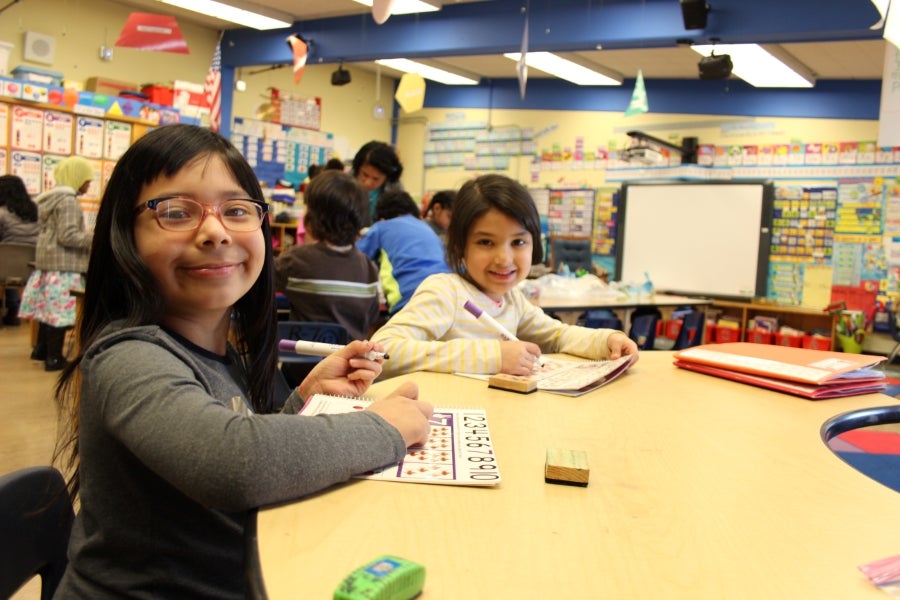 Can every school count on volunteer support?
SPS-wide, schools enjoy tremendous volunteer support, with over 20,000 individuals available to help. Unfortunately, some schools receive hundreds of volunteer applications, while others receive only a few.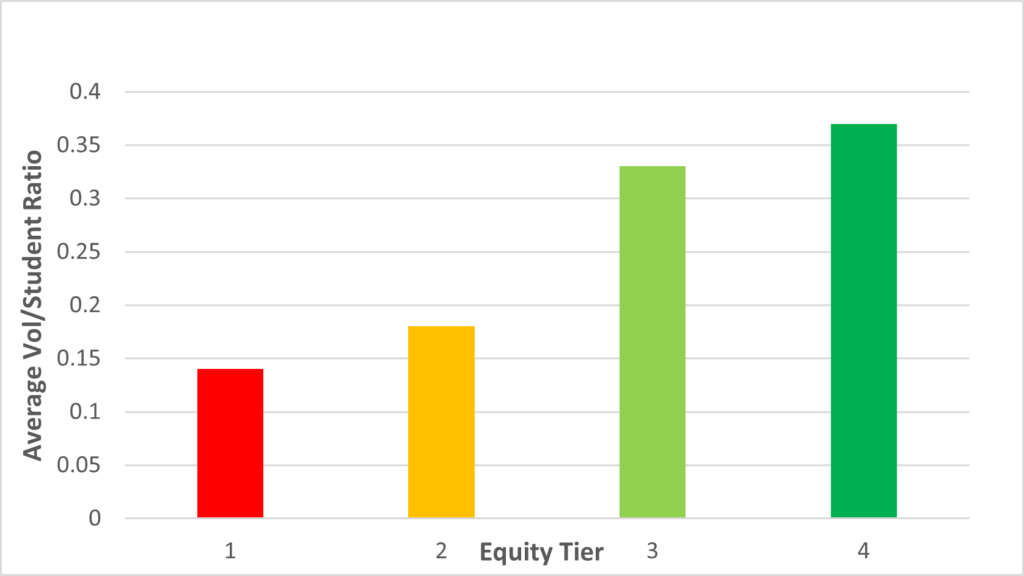 Step Up for Equity
Volunteer where the need and opportunity for impact are the greatest
Help a student get closer to meeting academic goals, feel supported and more confident coming to school. Volunteer 1.5-2 hours weekly to show your support for our schools!
If tutoring is not for you, how about organizing books or instructional materials?
Want to make sure students don't go hungry over the weekend? Help stuff backpacks with food on Fridays.
For lasting impact and the most rewarding volunteer experience, make a 3-month commitment to one classroom or program. This is a big ask, as are volunteer needs in Equity Tier 1-2 classrooms. By showing up at the same school regularly, you show students that their success matters to you and that the community supports their school. You also develop rapport and trust while learning how to support your scholars best. Your volunteer support can make a big impact on their lives!
In alignment with the district's strategic plan, "Seattle Excellence," SPSSeattle Public Schools More volunteer initiatives support students furthest away from educational justice. Volunteers directly support two areas of focus under the Instruction and Learning plan:
students read at grade level by the end of third grade,
students meet 7th-grade math proficiency goals,
students feel welcome and safe in school.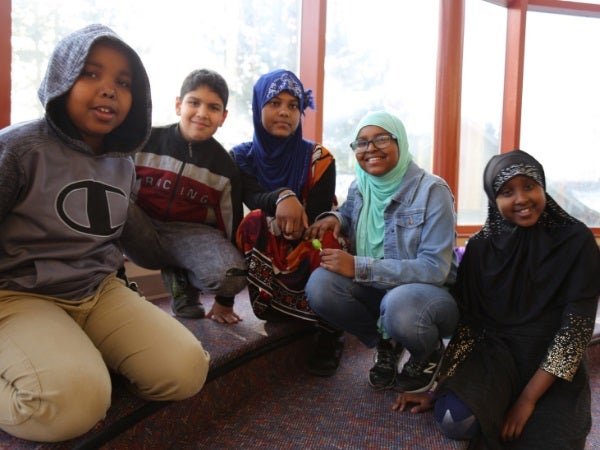 To improve volunteer services and increase volunteers in schools, staff have sought the voice of students to provide input on volunteer supports.
Volunteers advancing "Seattle Excellence"
Here are powerful examples of how family and community volunteers took action to support SPSSeattle Public Schools More students during the COVID-19 pandemic.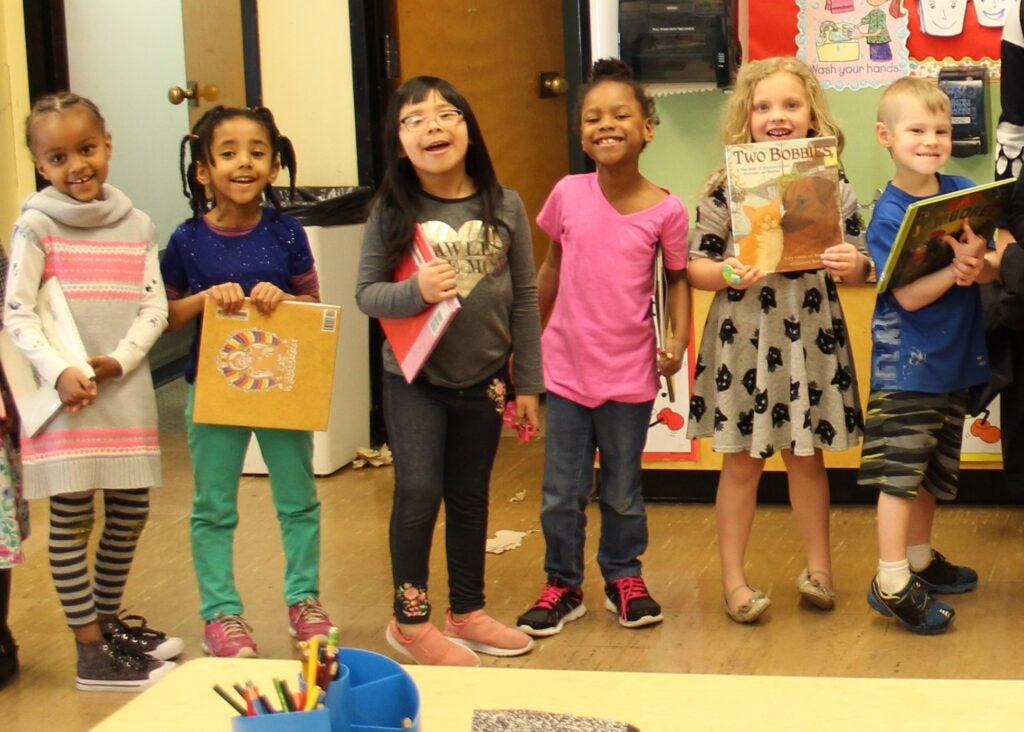 Volunteer opportunities aligned with school priorities
Olympic Hills Elementary engaged more remote volunteer tutors during the 2020/21 school year than in previous years when all learning took place in physical classrooms. Staff at this Seattle Excellence school created targeted volunteer opportunities that help advance the school's continuous improvement plan (CSIPContinuous School Improvement Plan, the plan for improvement for each school as More). Volunteer Program Liaison Danielle Vaillancourt matches volunteers with students to ensure their volunteer service advances the school's strategic goals:
Goal # 1: Improve 3rd-grade reading levels for Black boys and Spanish-speaking English Learners.
Volunteers are integrated into classrooms based on their reading support experience and provide 1-1 "student "academic interventions" (targeted student support). Danielle Vaillancourt explains:
"The presence of a volunteer in and of itself is a big support to our staff and students. Allowing students more time in 1-1 sessions to process what they are learning, reading, and experiencing builds confidence in themselves and the subject matter and fosters a trend for learning. Volunteers invest time in our students working through the difficult text, pronunciations, and explaining material in a way students can understand. This time creates a bond for the student and volunteer, and the student with the school. When students of color feel seen, heard, and supported, their ability to focus on content is greater. Reading volunteers do more than support students in their reading; they help to build positive, strong, and formidable humans!"
Goal # 2: Improve attendance among 3rd-grade Black boys and Spanish-speaking English Learners. Volunteers help create a warm and welcoming environment by participating in "check and connect" with students.
"Volunteers are more than tutors, interventionists, classroom support, and an extra set of hands. Volunteers contribute to a school's overall environment and culture, and they help broaden and diversify community connections our students experience. When volunteers build rapport with our students, they begin to look forward to school because multiple caring individuals wait to see them, listen to them, and help them succeed. Having an interest in learning, hearing that you are missed when you are absent, and genuinely enjoying school all encourage student attendance."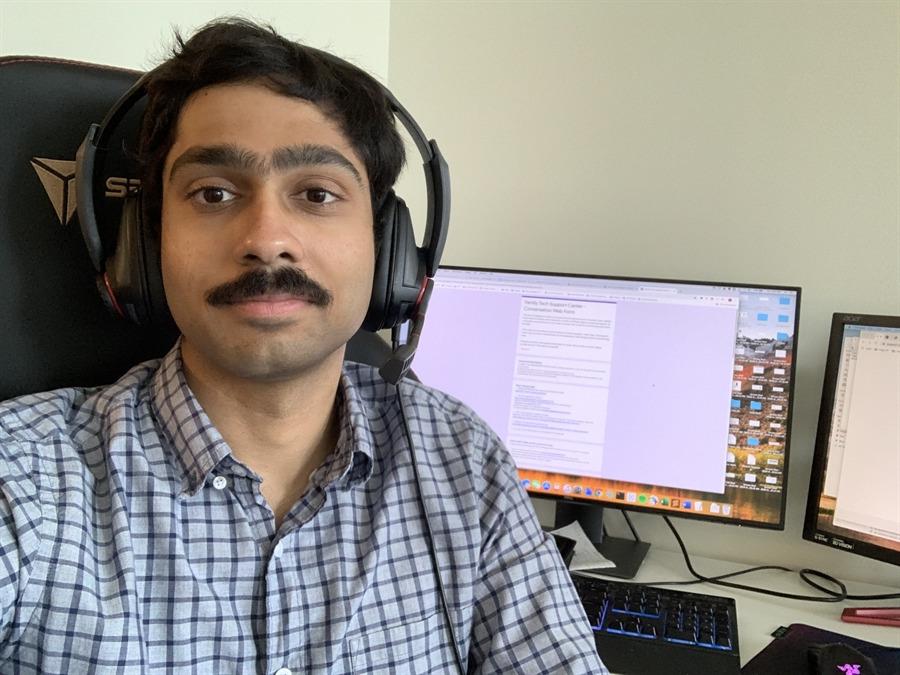 Family Tech Support Volunteers
Early in the pandemic as online learning began, SPSSeattle Public Schools More rapidly created the Family Tech Support Center to support students furthest from educational justice. In partnership with the seaA union for Seattle teachers. More.citi and with financial support from the Alliance for Education, we mobilized 140 volunteers, including SPSSeattle Public Schools More families, community supporters, and the tech industry who collectively fielded over 2,500 calls and devoted more than 1,000 hours to getting students connected to tech. In just eight weeks, 750 SPSSeattle Public Schools More families received volunteer tech support for their in-home devices.
SPSSeattle Public Schools More Family Tech Support Center volunteer Shiva Thudi was among a core group of remote volunteers early in the pandemic helping get SPSSeattle Public Schools More students connected to online classrooms.
Kristina Bernhardt, Family Volunteer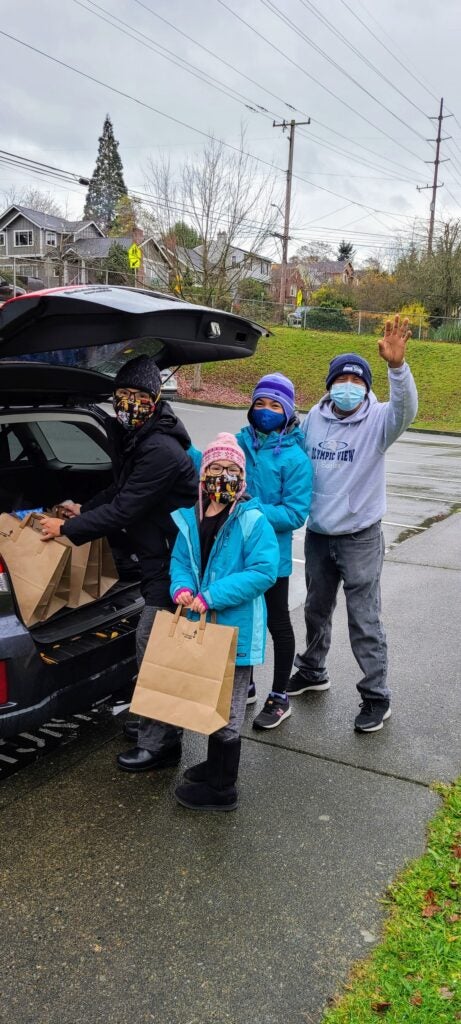 Kristina, pictured here with her children and Olympic View staff member Claudio, delivered daily school meals to food-insecure families living in a shelter for Deaf and hard-of-hearing survivors of abuse. Kristina is a super volunteer – she has been an active member of the PTA for many years, including as the PTA Board President, and is currently serving on the Olympic View's Racial EquityRacial Equity is the condition that would be achieved if one's racial More Team. As a registered nurse, she also volunteered at the Lumen Field as a vaccinator.
Briana Del Rosario, College Volunteer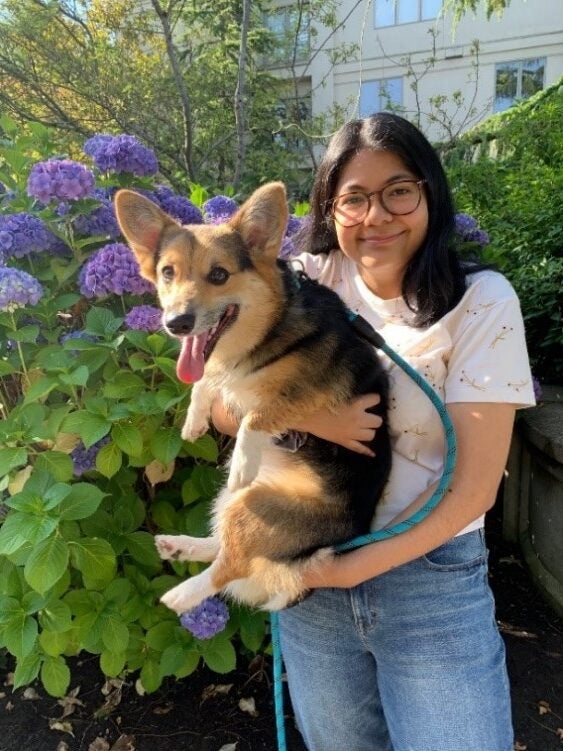 The University of Washington's Riverways Education Partnerships recruits amazing volunteers to support our Title IFederal program designed to ensure that all children have a fair, equal, More schools. This year, Briana Del Rosario is receiving the "Hustling Husky Award" from Olympic Hills Elementary School staff. She began tutoring with SPSSeattle Public Schools More in October 2020 because she desired to help teachers during online schooling. She volunteers remotely in Mrs. Baumgarten's classroom and shared the following: "Briana's warmth, calm charisma, engaging connectedness, and ways of deepening student knowledge have made our class a better place. Culturally and interpersonally, my Spanish-speaking students and students of color identify with Briana and deeply admire her as a scientist and general role model. She has created a sense of safety and curiosity and introduced them to new ideas and ways of thinking. After spending time with our students, Briana decided she wanted to become an SPSSeattle Public Schools More teacher and got accepted to the Seattle Teacher Residency program!" Briana is committed to teaching through a social justice lens to actualize educational equity.
Danielle Pulliam, Community Volunteer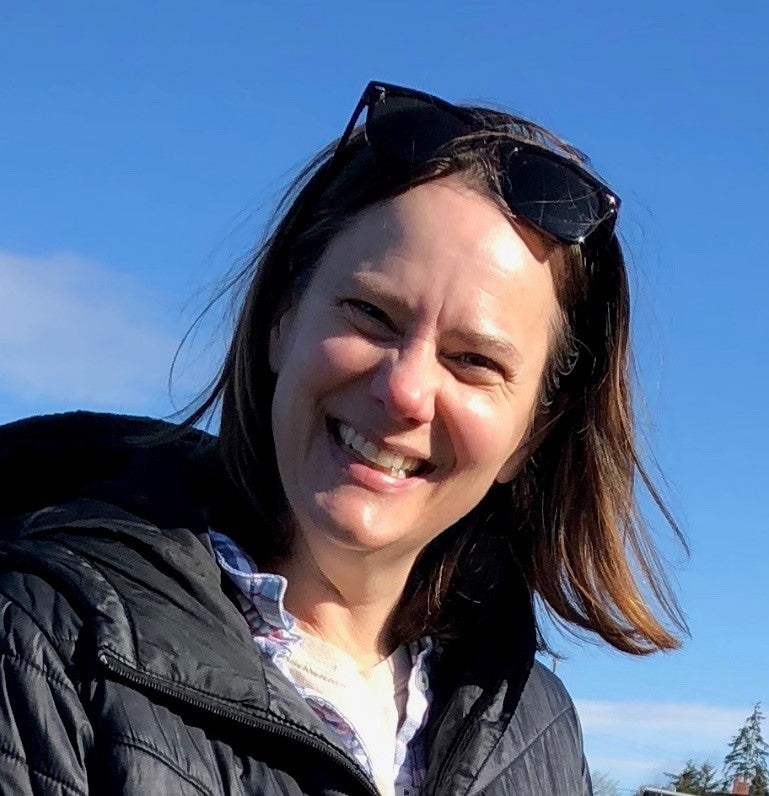 Danielle volunteered her time and experience as a former educator and also enthusiastically agreed to take on additional projects to help students get whatever they need to feel loved and supported. Danielle is very patient, reliable, and knowledgeable in leading reading groups for students. She is also very kind and warm-hearted. She instills comfort in students by harnessing positive relationships, confidence in asking questions, and excitement for class. Her support has provided more 1-1 and small group services to students ensuring more families have access to supplies and food, and has helped to bridge the equity gap in remote learning.
This is what Danielle shares about her experience: "I was spurred to volunteer because I can't imagine teaching during this unusual time and wanted to support the incredible work our teachers are doing to promote educational justice during a pandemic. The most challenging barrier was ironing out the technology kinks for remote volunteering, once those were smoothed out, the students were reading, sharing ideas, and persevering. This experience has enriched my life and I would encourage other community members to volunteer during the pandemic for a sense of purpose.
The Kindergarten and 1st-grade students I read with are clever and insightful making my experience as a volunteer very rewarding. The Olympic Hills teachers and staff are supportive and patient which makes remote volunteering easy."
Matt Jamin, Retired Community Volunteer
In 2017, Matt Jamin and his long-time volunteer colleagues at Seattle World School started a fund to fill gaps PTSAs in other schools focus on – field trips, technology, and extracurriculars. The COVID pandemic hit immigrant and refugee communities especially hard, so the Seattle World School Fund tripled its fundraising efforts to directly assist families with rent and groceries. Despite these additional efforts, Matt continued to volunteer remotely in the math classroom throughout the school year supporting middle and high school students from all over the world as they settle in their new country.
Anela Deisler, Parent Volunteer
Anela is a parent of a first grader at Olympic Hills, is involved in the PTA, and supports staff, families, and students in our school community at every opportunity she gets. Anela centers the well-being of children in everything she does – she has a humble, kind, and caring way about her and a can-do spirit. She has worked on the Social Justice Curriculum Committee this year helping develop and support an anti-racist, social justice curriculum for the entire student body. As a certificated teacher herself, she contributes her skill, expertise, and energy to this work. It means so much to have a parent from the community be a partner and advocate for this work, and it truly makes a difference in the lives and development of our students. Anela also helps with the distribution of supplies for all our students. She works together with others to create bags of school supplies for all our families to pick up once a month. This action supports every single child in our school, helps them feel cared for and connected, and helps with the activities they will be doing in online classes every day. When asking Anela for the support you are always received with a positive, proactive, organized energy!
Elementary school teacher Nancy Smith shared the following about Angela: "She has a global outlook for facilitating collaboration and connection across the school. The work Anela does uplifts children, families, and staff, and always makes a positive contribution to our community."