Walk, Bike, and Roll to School
Safe Routes to School
Denny Intl' Middle School Celebrates Ruby Bridges Walk to School Day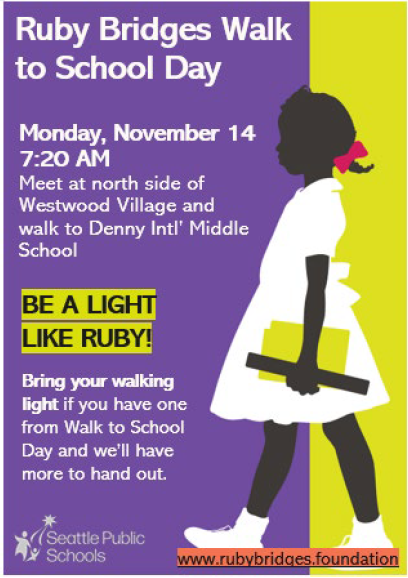 Monday, November 14, Denny Intl' Middle School students, families, and staff will walk to school together to celebrate Ruby Bridges' courage.
Ruby Bridges was only 6 when she walked into school on November 14, 1960 – the first day her New Orleans school was desegregated. Ruby's walk as well as many others across the country were a light for justice.
BE A LIGHT LIKE RUBY!
Denny Dolphins, meet at the north side of Westwood Village (26th and Trenton) for a walk to school celebrating Ruby and igniting our own light for justice. Bring your walking light if you have one from Walk to School Day and we'll have more to hand out.
[This will be a filmed and photographed event. Please expect to be included in photos or videos if you attend – unless you opt out. We'll have forms at the event to opt out of being in photos/videos.]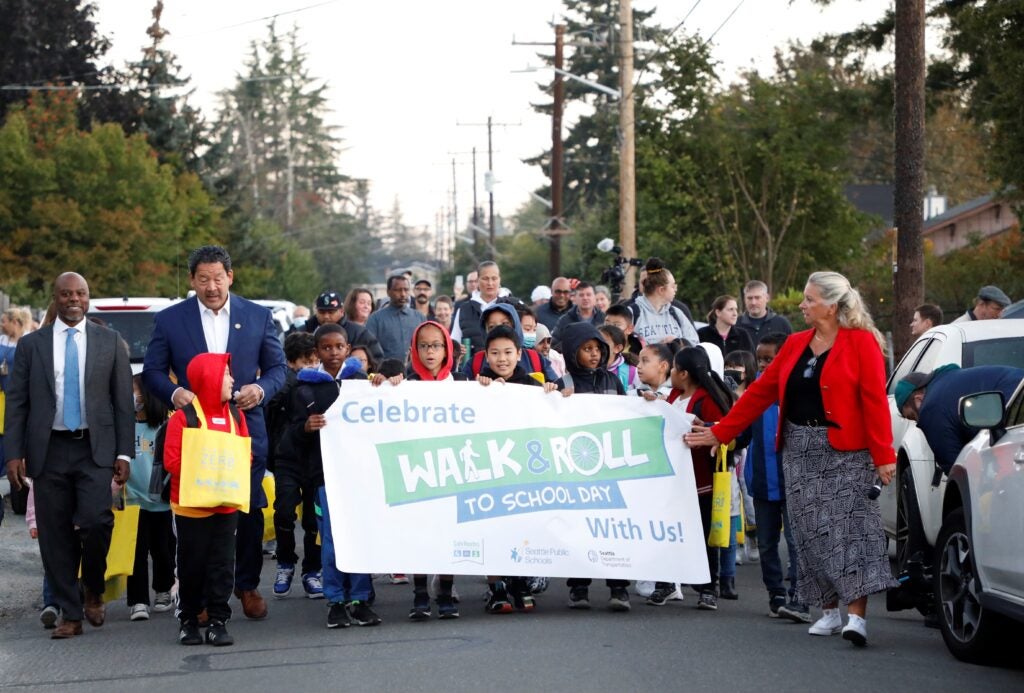 Translation into Spanish, Simplified Chinese, Vietnamese, Somali, and Amharic
How many students are walking, biking, and rolling to school?
About 1/3 of Seattle Public School students walk or bike to school most days! This data is based on two sources:
Why walk, bike, and roll (i.e. wheelchair, scooter, skateboard, etc.)?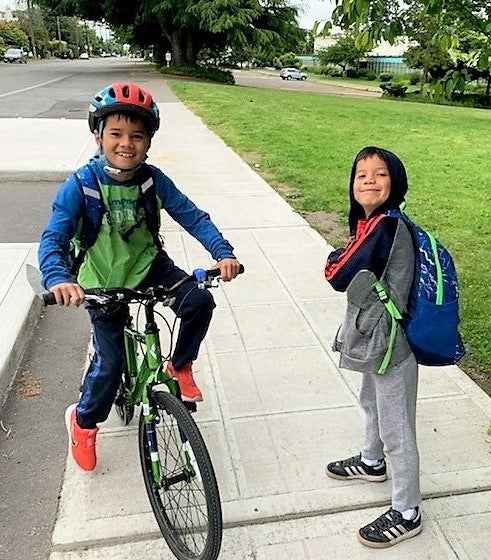 For our earth! Transportation is Seattle's largest source of climate emissions. When we drive less, emissions go down in a big way.
For your health! Students who walk and bike get exercise built into their daily routine. Studies even show that students arrive at school more attentive and ready to learn.
For your school! School pick-up and drop-off can be hectic with lots of idling cars in the same space. Walking, biking, and rolling reduces that congestion around schools and makes the air cleaner to breathe.
For fun! Walking, biking, and rolling on your own or with friends can connect neighbors to each other, and it's just a fun way to be outside and part of the neighborhood.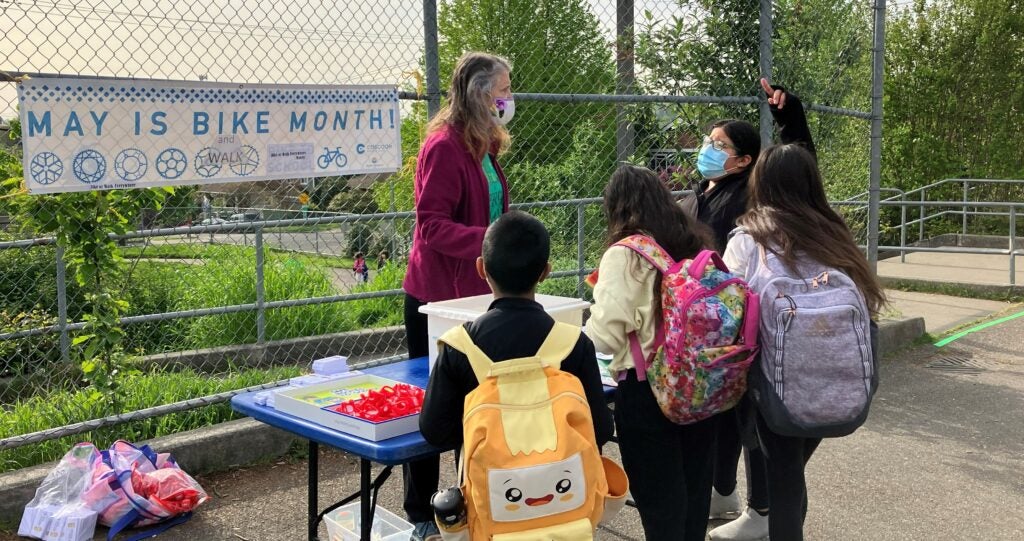 Resources for students and families
Map your route to school
Learn to bike during PE class
The Seattle Department of Transportation funds Seattle Public Schools and Cascade Bicycle Club to run a walking and biking safety program for all 3rd, 4th, and 5th graders, including students with disabilities, called Let's Go. We're expanding the program to all middle schools and piloted in a few kindergarten classes. Want to get involved? Cascade Bicycle Club could use more volunteers to help in the classroom or to deliver bikes to schools.
Get a free helmet and bike
Report and share what would make your route better
Resources to support more students at your school
Apply for a mini grant
Schools, PTA's, and community groups can apply for up to $1,000 from the Seattle Department of Transportation to organize bike rodeos, buy winter coats, hold walk to school events and more to support walking and biking to school. Applications are accepted on a rolling basis.
Start a Walking School Bus
A Walking School Bus is a group of students walking to school with one or more adults, picking up students along the way. Visit this toolkit for tips on getting started (page 7) and get guidance from the Seattle Public Schools Safe Routes to School Program Coordinator: Sara Colling; skcolling@seattleschools.org; 206-532-4453.
Start a Bike Train
A Bike Train is a group of students biking to school with one or more adults, picking up students along the way. Cascade Bicycle Club is happy to support Bike Trains with leader training, route planning, and more.
Request a School Street
You can work with your school principal to close a residential block outside your school to through traffic. This creates a welcoming environment for arriving to school by walking, biking, or rolling (school buses, district transportation, and people accessing their homes can still drive on the street).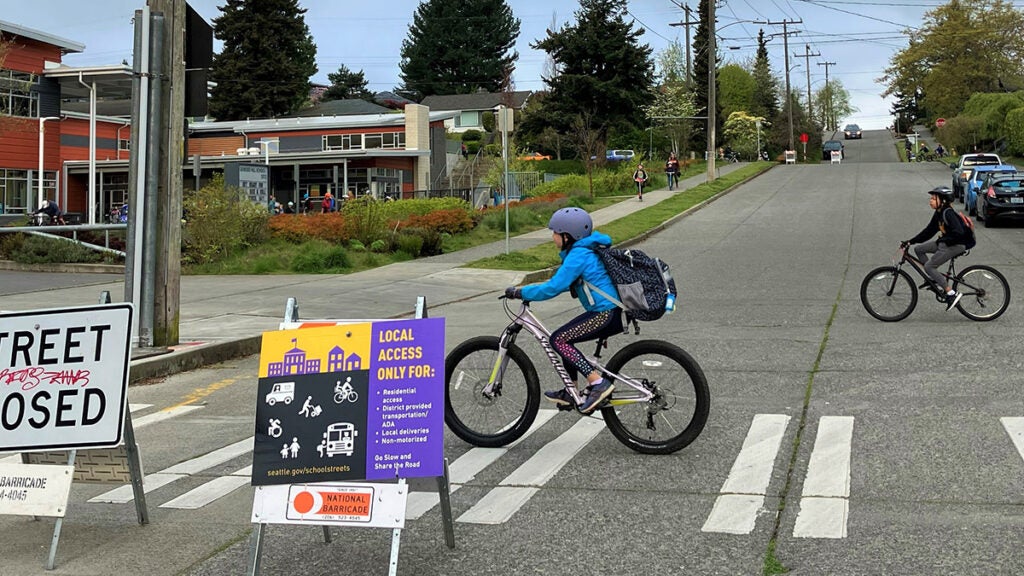 Order yard signs
Vision Zero yard signs that encourage safe driving are available for pick-up.
Get EarthGen Certified
Transportation is one of the six environmental categories to get your school EarthGen Certified.
Share walking and biking concerns
The School Traffic Safety Committee is a board that includes representatives of Seattle Public Schools, Seattle Department of Transportation, Seattle Police Department, King County Metro, and 5 volunteer positions filled by interested members of the public including parents, grandparents, and neighbors. The Committee can offer guidance on reducing barriers to walking and biking to school.
Are you concerned about people driving too fast near your school? The Washington Traffic Safety Committee is offering to collect data on driver speeds near schools across the state in fall 2022. If you're interested, email Mandie Dell (mdell@wtsc.wa.gov) with the name of the school, address, and a primary contact person.
Become a school crossing guard
Seattle Public Schools is hiring school crossing guards.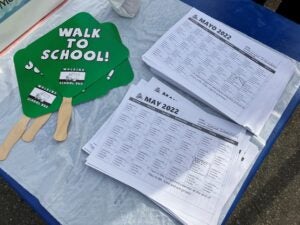 Give out free stuff
Get fun, free incentives like stickers, bike lights, and temporary tattoos.
Add something to your school
Seattle Public Schools Self Help program allows volunteers to implement their creative ideas that improve the school building or grounds (like a painted bike path guiding students through the parking lot or a walk-to-school-themed mural).
Request a bike rack
Submit a request to get a bike rack installed at your school.
Start a campaign
Download a guide to starting a Safe Routes to School campaign at your school and get guidance from the Seattle Public Schools Safe Routes to School Program Coordinator: Sara Colling; skcolling@seattleschools.org; 206-532-4453.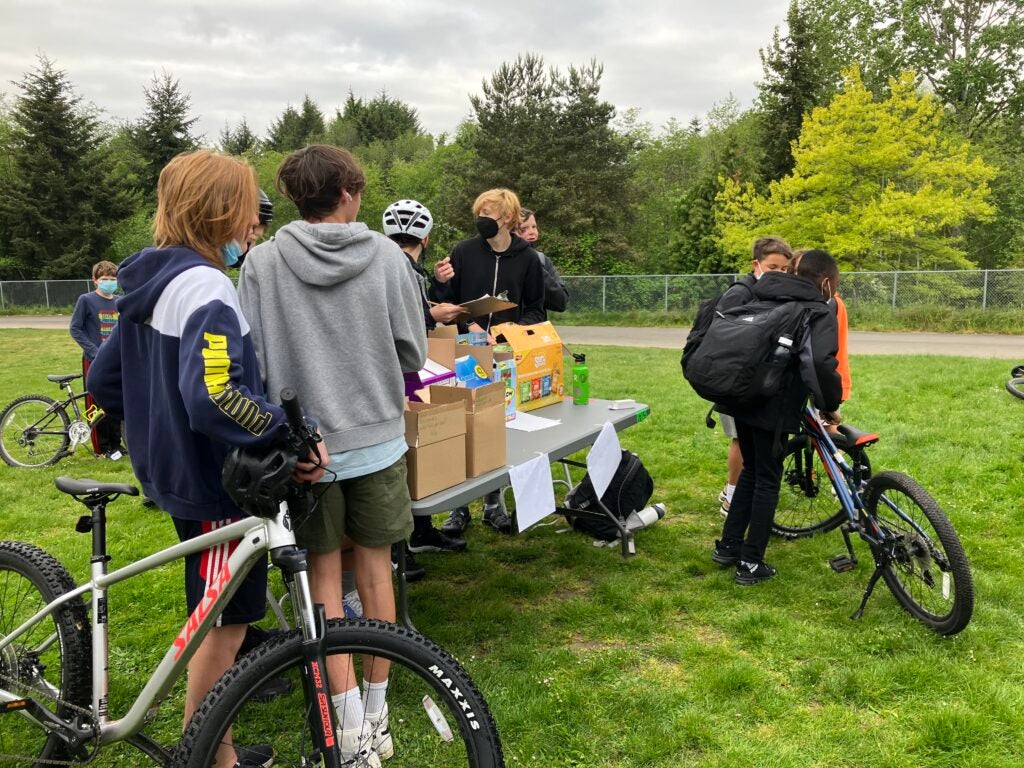 ---