Walk, Bike, and Roll to School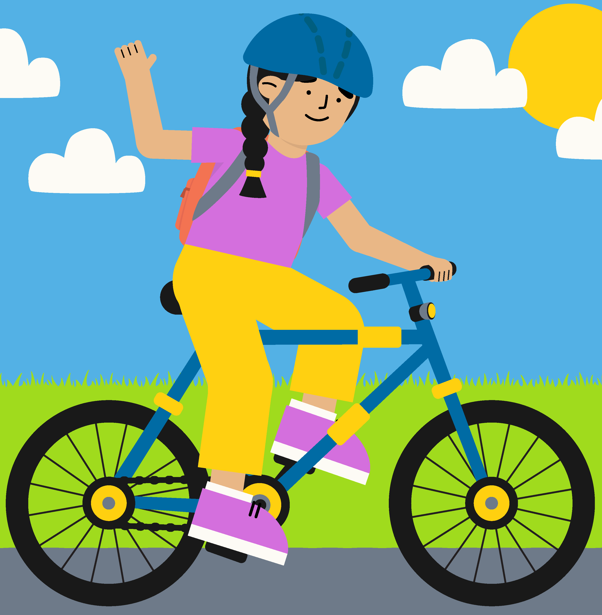 Safe Routes to School
Safe Routes to School is a national movement to make it easier and safer for students to walk, bike, and roll to school. We work with the Seattle Department of Transportation to improve safety around schools and to support students to walk, bike, and roll.
October is Walk to School Month
Welcome back to school! Kick off your fall by walking or rolling to school on National Walk to School Day, Wednesday, October 4th. Students across the district will continue to walk and roll throughout the month of October as we turn this one-day event into a monthlong celebration. Learn how to get the word out about your event and check out our resources section to get ready!
Resources for Students, Families, and Schools
Resources for students and families
Resources to support more students at your school
Getting the Word Out to Your School
You know your school community best! But here are ideas to spread the word about your walking or biking activity.
Staff can log in to MySPS to access the following flyer templates: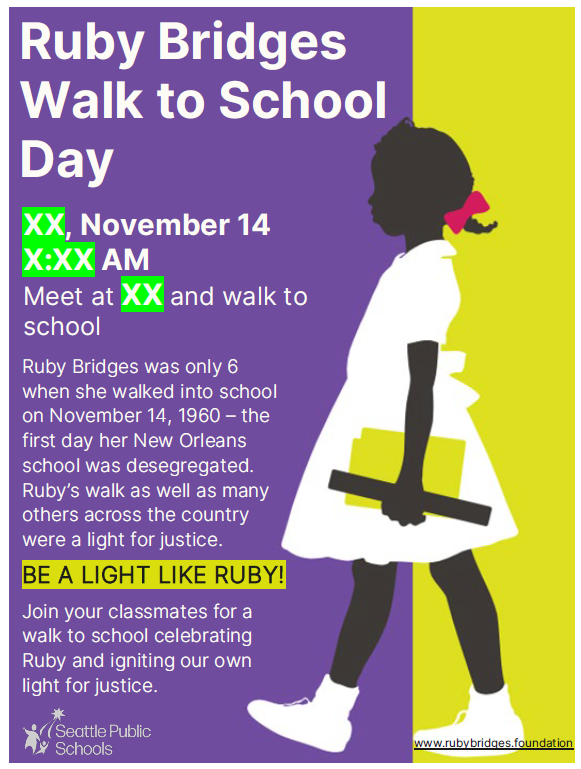 Walk to School Day (October)
Ruby Bridges Walk to School Day (November)
Love Your Route Valentines Walk/Bike/Bus to School Day (February)
Earth Day (April)
Bike to School Month (May)
More ideas for getting the word out:
School leadership could put info in the school newsletter. They can also send text messages to families that are automatically translated into different languages through "Talking Points." (limit 600 characters)
Teachers can share with their classes. Physical Education teachers can be great people to ask!
Does your school have a reader board out front? Your school admin can put a message about your activity up there.
School leadership can share in the morning announcements.
Teachers and students can share at a school assembly (contact Transportation for skit ideas).
Students can make posters in a class or afterschool program and post around the school. If your school has a Green Team, they might want to be involved too.
If there's a student newspaper, it could include info and/or spotlights of students who walk and bike to school.
School PTAs often have a Facebook page, webpage, and email lists to get the word out.
Write a message in sidewalk chalk outside the school or along a walking/biking route.
The Seattle Public Schools and Seattle Department of Transportation communications teams are happy to spotlight events and students in social media. Local media and neighborhood blogs are often willing to spotlight events too.
And probably most effective is word of mouth!
About Walking, Rolling, and Biking to School
Translations: Spanish, Simplified Chinese, Vietnamese, Somali, and Amharic
How many students are walking, biking, and rolling to school?
About 1/3 of Seattle Public School students walk or bike to school most days! This data is based on two sources:
Why walk, bike, and roll? (i.e. wheelchair, scooter, skateboard, etc.)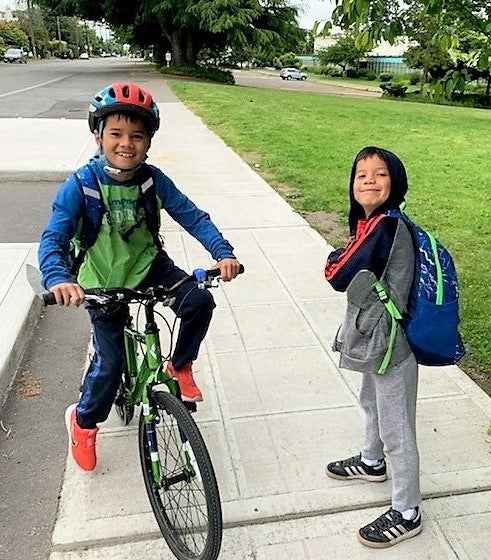 For our earth!
Transportation is Seattle's largest source of climate emissions. When we drive less, emissions go down in a big way.
For your health!
Students who walk and bike get exercise built into their daily routine.
"In addition to the physical exercise and fresh air, walking to school helps kids develop independence and take responsibility for getting themselves to and from school on time." Learn more about the benefits and recommendations for when kids can walk to school alone.
For your school!
School pick-up and drop-off can be hectic with lots of idling cars in the same space. Walking, biking, and rolling reduces that congestion around schools and makes the air cleaner to breathe.
For fun!
Walking, biking, and rolling on your own or with friends can connect neighbors to each other, and it's just a fun way to be outside and part of the neighborhood.