ORCA Card and Public Transportation
ORCA Cards
Due to a state wide measure, youth who are under 19 years old, are able to ride public transportation for free. This means that the district no longer provides Youth ORCA cards to SPS students. For riders 13 and older, using a Youth ORCA card is highly encouraged, but not required. Tapping a Youth ORCA card allows transit agencies to better understand how many young people are riding transit, including where and when.
Students who have Youth ORCA Cards
Student ORCA cards issued to Seattle Public Schools students will continue working, even if there is an expiration date printed on the back. To ensure that your card provides free fare until you turn 19 years old and does not expire sooner, all students should register their card on the My ORCA Website as soon as possible. This 2-minute process requires only an email address, Youth ORCA card number, and birthdate.
Students who need Youth ORCA Cards
Students aged 13 and older are encouraged to order a free Youth ORCA card on the My ORCA website (the card will automatically be registered when ordered).
Replacement ORCA Card
Students can request a replacement card by signing into their account on My ORCA website.
Students who have not signed up for an ORCA account will need to set one up so that they can request a replacement card from the My ORCA website.
Where can I use my ORCA card?
Your ORCA card can be used to take transit on services run by King County Metro, King County Water Taxi, Seattle Streetcar, Sound Transit, Community Transit, Pierce Transit, Kitsap Transit, Everett Transit, Seattle Center Monorail, Metro Flex, and as a passenger on Washington State Ferries. 
Bus: Tap the ORCA card against the reader after getting on the bus. Pull the yellow cord before your stop to indicate to the driver you would like to exit.
Light Rail & Streetcar: Tap the ORCA card on the platform before getting on the train and a second time after you leave the train.
ORCA cards cannot be tapped multiple times on a single journey and each rider must tap their own ORCA card.
Assistance with Metro bus routes and schedules can be found at Metro's website.
Taking the bus or light rail to school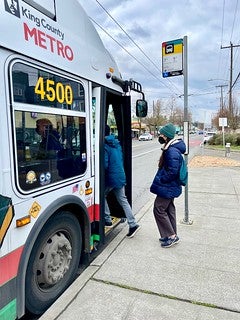 Everyone 18 and under is free on all transit in the region (bus light rail, ferry, etc.). An Orca card is encouraged, but not required for free fare, except on the Seattle Monorail.
Sample transit routes and tips: