Advanced Learning
Highly Capable and Advanced Learning Services
Announcements and Updates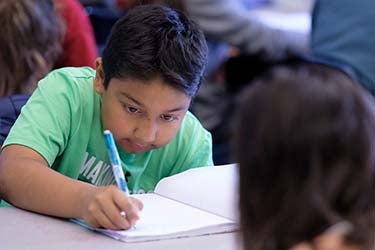 Eligibility for 2022-23
Advanced Learning Family Survey
This year, all students in grades K-8 will be automatically considered for advanced learning services.
To help us learn about your child's talents and strengths, we're requesting you fill out a brief family/guardian survey.
Read the family update
---
About Advanced Learning
On Wednesday, May 5, 2021, the Seattle School Board approved revisions and an amendment to Policy No. 2190, Highly Capable Services. The school board's historic approval is a bold step toward ensuring educational excellence for every student.
SPSSeattle Public Schools is committed to ending systemic and institutional racismWhen organizational programs or policies work to the benefit of certain racial. The Advanced Learning (AL) department must eliminate racial disparities in our program which cause harm to our students. We believe each student deserves access to high quality services in their neighborhood school.
Mission
The Advanced Learning Department actively disrupts institutional racismWhen organizational programs or policies work to the benefit of certain racial and other systemic inequities that limit access to advanced learning opportunities. Ensures that students who show potential to benefit from enhanced and accelerated instruction within, and across disciplines are served according to their unique strengths and needs.
Significant policy changes open the door for the elimination of racial disproportionality. Design of services and processes to remove barriers to accessing advanced learning services.
About Our Services
Highly Capable (HC) Services/Opportunities for eligible students in grades K-12. Provide differentiated practices unique to each building. Read more about Seattle Public Schools Highly Capable Services.
Highly-Capable CohortA cohort is a group of students. For example, a cohort can (HCC) Program for eligible students in grades 1-5. Students who are advanced well above their peers in both Reading and Math. Middle schools and K-8 schools are aligning course offerings in our district to bring predictability to all our families and create common pathways to college and career. Read more about middle school course alignment.
Advanced Learning (AL) Services, for students in grades 1-8 who demonstrate high academic achievement, but who do not meet the definition of Highly Capable, are served in their neighborhood schools. Read more about K-8 Advanced Learning Services and Opportunities.
Identification and Eligibility Process
Per the Washington Administrative CodeThe regulations of executive branch agencies for Washington state. (WAC), students are referred to participate in the eligibility evaluation process. Read the WAC 392-170-080 for Highly Capable Services. All students in grade K-8 will be referred by the district for consideration beginning in the 2021-22 school year. Students in grades 9-12 are referred using a portfolio process. For more information, please contact advlearn@seattleschools.org.
Delivery of advanced learning services includes students with disabilities (twice-exceptional students) and students with exceptional abilities or potential from all social-economic, ethnic and cultural populations.
Exiting Services or Programs
Students may exit from Highly Capable Services if the services are no longer appropriate. A meeting of the parent/guardian, teacher, administrator, a representative from the Advanced Learning Office, and the student (at parent/ guardian discretion) shall precede such a service delivery change.