Washington Campus Enhancement Project
Posted on: October 5, 2022
Summary: Washington Middle School campus was revitalized with fresh paint, new signs, refreshed courtyard and grounds with the help of a self-help project.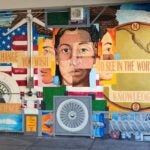 Washington Middle School Campus Transformed by Volunteers
Outside the front entrance of Washington Middle School is a mural that features the quote, "Be the change you wish to see in the world." Hundreds of volunteers exemplified those words on Oct. 1 by coming together to complete a large community enhancement project at the school within a single day.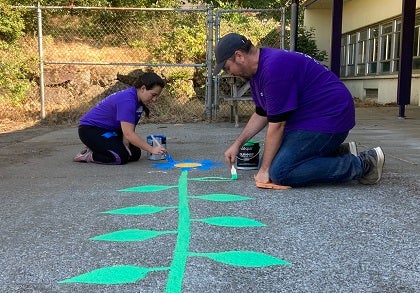 The project was organized and completed by the Washington state chapter of the Commercial Real Estate Development Association (NAIOP WA), an association for commercial real estate development professionals, with the coordination of John Williams, Washington's interim principal, Self Help Projects Program Manager Colleen Weinstein, Operations Specialist Thabisa Mazur, and the generosity of many sponsors and volunteers.
Schools receive basic grounds maintenance on a rotating schedule and rely on Self Help to tackle bigger projects. Washington's makeover was a long time coming. It began in 2019 with the initiative of a Seattle Public Schools parent, Sharon Khosla, a year before her daughter, then a fifth-grade student at Thurgood Marshall Elementary would be attending Washington. During a visit to the school, Khosla was inspired by an interior courtyard off the library that had not been maintained.
"It's a beautiful space if cleaned and fixed up for kids and teachers to use it," Khosla thought.
As a community architect and advocate, Khosla could see that this building was not getting much attention. Khosla said she was familiar with Self Help projects and working with community organizations to secure grants to fund their projects.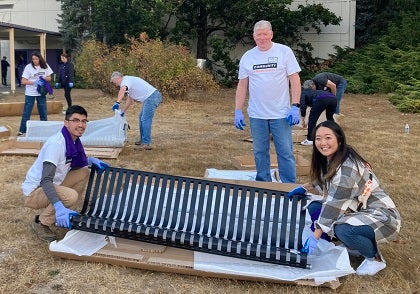 Although there was talk of the school possibly being replaced in a future levy, Khosla said the school needed improvements now. She looked to her architect community and found and applied for the NAIOP WA Foundation Grant, which she thought could help not only with improving the courtyard but also with a major overhaul of the school.
"As an architect, I'm very aware of how the environment can help us navigate our world and certainly learning environments for both teachers, staff and students," Khosla said. "I wanted to find a way to make those nice spaces in schools a little bit easier to be in." 
Danielle Duvall, NAIOP WA interim executive director, said each year NAIOP WA selects a community enhancement project based on need with a focus on projects that uplift under-served communities. The Washington project was selected because it aligned with the chapter's goals to promote diversity, equity, and inclusion in the community and among its membership as well as science, technology, engineering, and mathematics (STEM) opportunities for students.
"One way NAIOP WA works to build diversity is by reaching students – usually in high school and college – with information on commercial real estate careers to impact the pipeline of individuals coming into the industry," Duvall said.
Chris Broadgate is the incoming chair of the NAIOP WA Community Enhancement Committee and works for Amazon as a senior global real estate manager. He said Washington Middle School also was chosen because the local community is developing and needs some help.
"Community volunteers such as the NAIOP WA community enhancement committee help keep the school in tip-top shape and good condition," Broadgate said. "When we leave, it will be a much prettier place."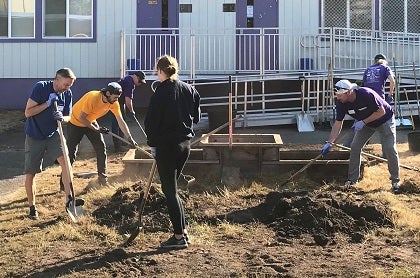 Broadgate also discussed how volunteers from the NAIOP WA are different because they all come with skill sets applicable to providing a facelift to the facility. "They are construction people, real estate people, engineers, and designers," he said. "We can come in and use judgment that we use in our workplace to help the community in that fashion."
Garo Pehlivanian, a structural engineer at Coughlin Porter Lundeen and co-chair of NAIOP WA's Community Enhancement planning committee with Torrey Davis, a project executive with JTM Construction, said the organization is more than just meetings; it's real hands-on work that seeks an overall transformation.
Pehlivanian, who attended SPS schools Viewlands Elementary, Whitman Middle School, and Ingraham High School, praised Washington's interim principal and the Self Help team for getting things moving on the project before the Oct. 1 event.
Pehlivanian wasn't the only former district student to volunteer at the Oct. 1 event, which included volunteers of all ages and backgrounds. Volunteer Ben Omura, a mechanical engineer at Stantec is an alumnus of the school. Omura, who was excited to see the school refreshed and vibrant, said it was great to be back and working with the community, specifically the school he attended.
The transformed campus included refreshed paint, new signage, a more inviting courtyard, planters, fresh mulch, and more. The Principal Williams expressed his gratitude and excitement for his students and families to see the transformation and know there are people who care about Washington Middle School.
"It's a great day to be a junior Husky!" Williams exclaimed.
Read more about SPS Self Help Projects.