Leaders Who Lunch: Superintendent and Mayor at Denny
Posted:
Summary: Superintendent Jones and Mayor Harrell donned aprons and plastic gloves to dish out lunch for Denny International Middle School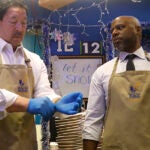 Superintendent, Mayor Serve Meals to Middle Schoolers 
Hundreds of Denny students were treated to lunch with some special guests on Dec. 5, but there was a twist. The special guests didn't eat lunch with the students; they served it to them.  
When Doree Fazio-Young, the kitchen manager at Denny International Middle School, extended an invitation for the superintendent and the mayor to come to her school, she never imagined they would actually say yes. But after a couple of emails and some meticulous planning, that's exactly what happened.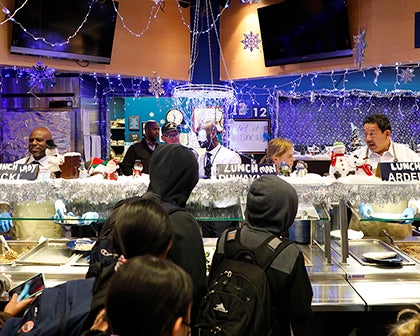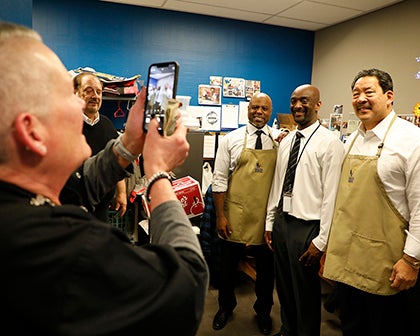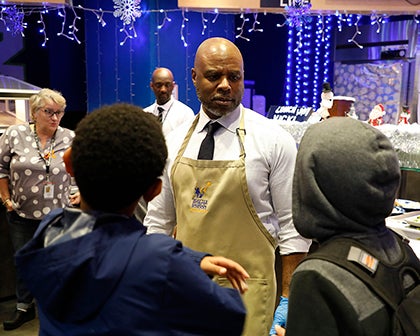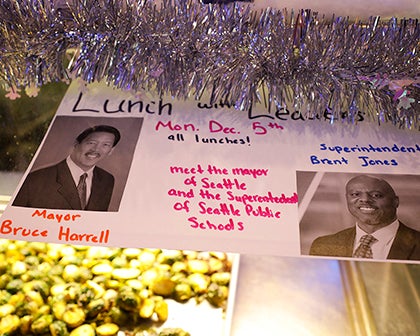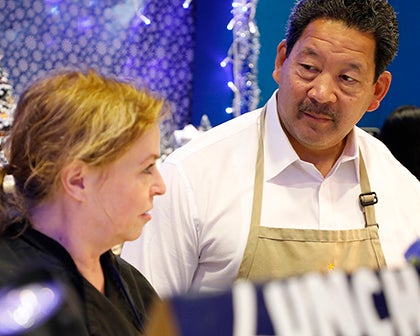 Superintendent Brent Jones and Mayor Bruce Harrell donned aprons and plastic gloves then got to work behind the serving counter, dishing out food to the middle schoolers. Fazio-Young has worked at Denny for 31 years. For the students to have the opportunity to meet the mayor and superintendent face-to-face was everything she had hoped for.
"I did this because I believed what they said in the State of the District [address]," Fazio-Young said. "I said 'I want them to come see my kids,' … I can't believe they came and served lunch! The mayor and the superintendent came to serve lunch at my school!"
As Superintendent Jones dished out chicken and edamame potstickers, fried rice, and Brussels sprouts, Mayor Harrell served burritos from the Tex-Mex bar. They chatted with curious students who peppered them with questions. 
"The mayor and I both believe in service over self-interest," said Superintendent Jones. "What we know is we need to come together on behalf of the students and the residents of the city. We are a partnership not only because we are fond of each other, but also because it's necessary." 
While "lunching with leaders" was a big draw, the main purpose of the event was to highlight the importance of the school lunch program for student health, equitable food security, and learning.
SPS has made major changes to enhance the school meal program thanks to the vision and leadership of Culinary Services Director Aaron Smith and District Chef Emme Collins. Culinary Services provides 25,000 meals per day to students across the district. At least 31% of SPS students are eligible for free and reduced-price lunches. For some students, school breakfast and lunch may be their only reliable meal for the day.
Superintendent Jones said the Culinary Services team has been heroic in keeping students and families fed throughout the pandemic.
"They've been steadfast in making sure that our students get highly nutritious meals, and that they know they're part of what's important for our students to be successful," he said.
Seattle's Office of Sustainability and Environment (OSE) staff also wanted the mayor to eat lunch at an SPS campus so he could see the district's Culinary Services program firsthand. OSE works with SPS to increase student participation in school meal programs, increase youth access to fresh produce, improve student health and education, and invest in environmental sustainability and racial equity through food procurement. 
"Kids have to feel full. They can't study well when they're hungry," Mayor Harrell said. "The city of Seattle loves to partner with the school district on these kinds of efforts."
As the event ended, Fazio-Young could not stop smiling. Her months of hard work had paid off.
"I had my dream come true," she said. "They saw my kids, and now they know this is what they're working for."