School Board CUBE Award
Posted:
Summary: The Council of Urban Boards of Education (CUBE) awarded the Seattle School Board for excellence in school governance.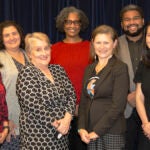 Seattle Public Schools Receives CUBE Award for Urban School Board Excellence
Seattle Public Schools (SPS) received the 2022 Award for Urban School Excellence from the National School Boards Association's (NSBA) Council of Urban Boards of Education (CUBE) on Dec. 9, in front of an audience of nearly 1,000 urban school board members.
The award considers four core areas of governance: School Board performance, academic Improvement, educational equity, and community engagement.
"At CUBE, we pride ourselves on sharing best practices and showcasing excellence in urban school board governance in the form of real, tangible impact that centers student equity," said Micah Ali, CUBE Steering Committee chair and president emeritus of California's Compton Unified School District Board of Education. "Seattle Public Schools' commitment to ensuring an anti-racist school system, and the actions it has taken to create policies and procedures sustaining that critical learning environment, demonstrate what school leaders can and must do to improve outcomes for students in urban districts."
Ali presented the award to Seattle School Board President Brandon Hersey at the 2022 CUBE Annual Conference.
"One thing that unites us all is that we care about our children," Hersey told the audience. "We care about our communities, and we are trying our best to leave them better than we found them. We represent community. That means communicating with, listening to, and insisting on transparent communications with the staff, students, and families our schools serve."
SPS is a minority-majority district that serves more than 50,000 students who speak more than 140 languages or dialects. Among the many accolades cited during the award presentation were the district's decision to adopt a targeted universalism approach that emphasizes high-quality instruction and learning environments to change outcomes for Black boys and teens.
"We have a greater level of clarity and focus, which now empowers and guides our work," said Superintendent Brent Jones. "We've outlined specific, measurable, attainable, relevant, and timely goals that align with the healthy learning environments that we want to see in our schools and classrooms, so that these results can truly take hold. Then we can have the outcomes we're looking for."
As a result of these changes, graduation rates for all students have increased more than 10 percentage points over three years. The district has also seen increases in student attendance and advanced coursework at the secondary level, alongside a reduction in disciplinary incidents.
Additionally, the district's Seattle Promise program, which is conducted in partnership with the City of Seattle and Seattle Colleges, guarantees tuition and access into three local Seattle Colleges. The program has resulted in a tripling in the number of SPS graduates enrolling in the colleges since 2018. Of those enrolled, 65 percent are students of color, and more than 30 percent are first-generation college students.
"The district leadership team for Seattle Public Schools represents an outstanding example of the impact that school leaders can have in advancing access and educational equity," said John Heim, NSBA's executive director and CEO.