Rainier Beach and Roosevelt Music Educator Awards
Posted on: March 2, 2022
Summary: Roosevelt's Scott Brown and Rainier Beach's Katie Lenoue received awards from the Washington Music Educators Association for outstanding contributions
Hitting the Right Notes: Roosevelt, Rainier Beach Teachers Awarded Music Educator Honors
Roosevelt High School Band Director Scott Brown and Katie Lenoue, a music teacher at Rainier Beach High School, both received awards from the Washington Music Educators Association (WMEA) for their outstanding contributions to the development of music education.
Brown was inducted into the association's Hall of Fame while Lenoue was named one of the region's Outstanding Music Educators.
Scott Brown, WMEA Hall of Fame Inductee, Class of 2022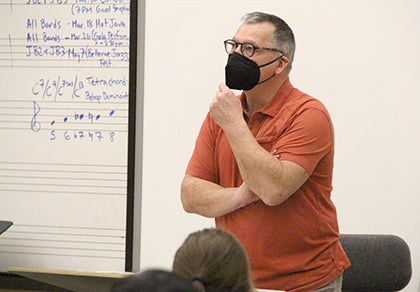 Brown was nominated by Ballard High School's orchestra teacher, Elizabeth Fortune, and a former student, Kelly Clingan, who is now the Education Director for JazzED. The two of them asked for letters of support on his behalf.
"It was really a neat surprise," he said.
Brown's students erupted into cheers upon learning about his prestigious honor. In his 38th year as Roosevelt's band director, his Hall of Fame induction has been a long time coming. His nationally recognized program continues to rack up awards, the last one coming in 2019 before COVID halted field trips and in-person performances.
When explaining how he felt about being inducted into the Hall of Fame, the only word he could produce was 'honored.'"
"My whole life has been Roosevelt," Brown said. "I've immersed myself in connecting with the parents and the students, trying to build a program and provide a quality experience for the kids. I feel honored. Really honored."
Katie Lenoue, WMEA Outstanding Educator of the Year, Elliott Bay Region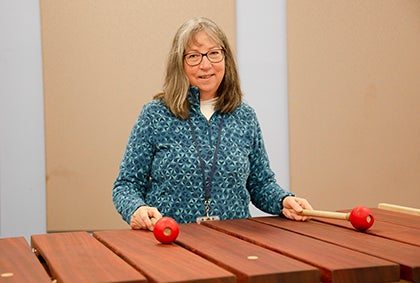 Before becoming the music teacher at Rainier Beach, Lenoue was a world traveler teaching music in Japan, Nepal, Tanzania, and Dubai. When she returned to the U.S., she brought that world view to her classroom.
"All the things I learned about culture could be put to use," Lenoue said. "Also, I saw a lot of really worrisome things happening in the U.S., and I felt like I wanted to be part of the solution."
Lenoue has no idea who sent in her nomination and was caught off guard by the honor.
"I was really surprised," she said. "I know I do good work here. I know that what's happening here is special, but usually that award goes to schools that have really big … performing groups."
While she may not have the numbers, Lenoue has the patience. With varying levels of ability in each class, she has found a way for all her students to learn, whether they are beginners or advanced. She has spent the past year building a band, going from 13 students to 29.
"I don't know why it happened, but I'm celebrating," Lenoue said. "I don't look for kids to become professional musicians, but I … want them to have the power to make music for their own enjoyment for the rest of their lives."