Homework Help at the Library
Posted on: October 2, 2023
Summary: Seattle Public Library's free after-school tutoring service, Homework Help, is available at multiple branches around the city.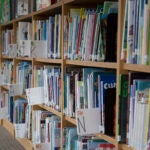 Seattle Public Library's Homework Help
The Seattle Public Library offers free after-school tutoring service — Homework Help.
At Homework Help, trained volunteer tutors help students in kindergarten through 12th grade with their homework and academic coaching. If you don't have homework, you can read and play learning enrichment games with a tutor. No reservations are needed; drop by during Homework Help hours.
Find the Seattle Public Library Homework Help schedule for each branch.
Students can also continue to access free one-on-one virtual tutoring through the library's Tutor.com service in English, Spanish, and Vietnamese seven days a week. Find out more on Tutor.com.
See you at the library!