Hawthorne Partnership Award
Posted on: September 28, 2021
Summary: Hawthorne Elementary's evidence-based strategies to foster family and student engagement are recognized by Johns Hopkins University.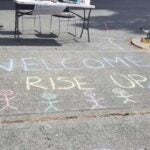 Hawthorne Elementary Wins National Partnership Award
Seattle Public Schools is pleased to announce that Hawthorne Elementary was awarded the 2021 Partnership School Award from the National Network of Partnership Schools (NNPS) at Johns Hopkins University.
This is Hawthorne's 7th Partnership School Award — a clear indication of Hawthorne's commitment to sustaining an excellent and equitable program of school, family, and community partnerships.
The NNPS School Awards Committee cited Hawthorne's "Quarantine Academy" activity as masterful and praised the activity for its creative, responsive, and helpful design.
In the project, Hawthorne's partnership team conducted virtual coffee shop chats with parents who said they missed the monthly school-wide engagement activities that were held before the pandemic. They asked the partnership team to host family-friendly activities that included ideas they could do at home with their children. Hawthorne's response was Quarantine Academy – a series of six monthly online meetings with families and students. The project will be included in the new e-book "Promising Partnership Practices 2021."
Hawthorne is a Creative Approach School under the leadership of Principal Sandra Scott. The school has been organizing programs to engage more families of color in ways that support school goals for student success. In keeping with Seattle Public Schools academic achievement goals, Hawthorne's curriculum includes: CCC Collaborative Classroom Literacy, and Math in Focus as well as their STEAM program approach which integrates science, technology engineering, arts and math into content area instruction. Students are also exposed to technology in the classroom.
NNPS requires evidence of good program development, including teamwork, leadership, goal-linked plans of action, implementation with outreach to all families, evaluation, and network connections.
"Hawthorne Elementary is conducting evidence-based strategies to strengthen its welcoming climate and to engage parents and community partners in ways that improve student attendance, behavior, achievement, health, and other student outcomes," said Dr. Joyce L. Epstein, director of NNPS. "Even during the COVID-19 crisis, Hawthorne Elementary continues to partner with all students' families in productive ways."