Principals McCowan-Conyers and Jackson Receive Foster Award
Posted:
Summary: Principal McCowan-Conyers, West Seattle Elementary, and Principal Jackson, Nathan Hale High School, are the 2023 Foster Award recipients.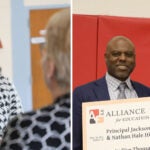 West Seattle and Nathan Hale Principals Receive Prestigious Award 
The Alliance for Education awarded the 2023 Thomas B. Foster Award for Excellence to Dr. William Jackson, principal at Nathan Hale, and Pamela McCowan-Conyers, principal at West Seattle Elementary. The Alliance for Education is a local education fund for Seattle Public Schools. Both principals were the recipients of a $25,000 grant for their schools.
The Foster Award recognizes two outstanding SPS principals who have demonstrated success in advancing educational justice and racial equity in their school community. The award is unrestricted, giving schools the flexibility to spend the award funds in the best interest of student needs.
"These two school leaders are the embodiment of academic excellence, creating school climates for belonging, emotional safety, and thriving for students," said Superintendent Brent Jones. "They lead their staff with compassion, care, empathy, and high expectations. They build in accountability into everything that they do, with a focus on student outcomes. These are some tremendous leaders that we are happy to have at Seattle Public Schools."
Under the guise of celebrating the arrival of spring with schoolwide assemblies, students and staff at Nathan Hale High School and West Seattle Elementary gathered in their gyms to watch their school leaders receive an incredible surprise.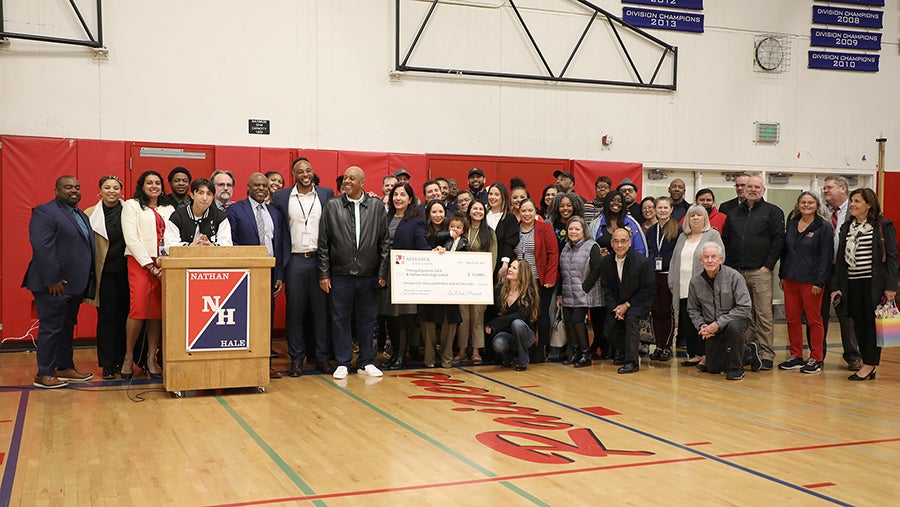 Dr. Jackson walked into what he believed was a "Spring into Spring" assembly. Assistant Principal Makela Steward finally let him in on the secret. To thunderous applause, Dr. Jackson accepted his award. Although he was in shock, he was happy to have his family and close friends, as well as district leaders and students, on hand to witness the occasion.
"I feel extremely grateful and blessed with being surrounded by great leaders … great staff and also students that push me," Jackson said. "This award is really significant in that we do focus on African American male achievement, and we focus on access to advanced coursework … To earn an award that verifies that work is really cool, and I feel extremely grateful."
At West Seattle Elementary, Principal McCowan-Conyers was lured to the school's gym under the impression that they were celebrating spring break and watching their drum quartet perform. Although it took a minute for the principal to realize she was being honored with an award, she was adamant the prize was a schoolwide effort.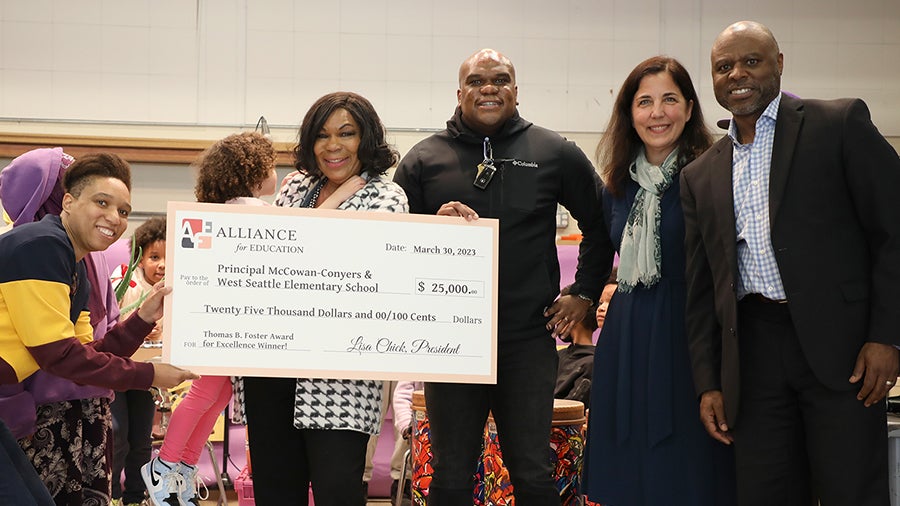 "I think [West Seattle Elementary] is the greatest place in the world to be," said McCowan-Conyers. "I'm so proud of our students, families and community. We do a lot of work around equity and inclusion, and when we talk about equity and inclusion, people oftentimes think we are only talking about race … but we also get to include different cultures, colors, abilities, ages and religions. So, when we talk about inclusion, we talk about it from all vantage points. I truly love our beautiful mosaic of diversity at West Seattle Elementary."
Given to SPS principals since 2000, the award commemorates Thomas B. Foster, a prominent Seattle attorney who displayed a strong personal commitment to public education.