Filipino American History Month
Posted on: October 1, 2022
Summary: Join Seattle Public Schools to help celebrate Filipino American history.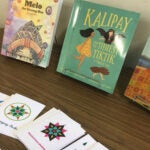 Celebrate Filipino American History Month at Seattle Public Schools
October is the month we celebrate Filipino American History. This month is important because it marks the first documented landing of Filipinos in what is now known as the continental U.S. on Oct. 18, 1587.
SPS is proud of the student organizations that teach their school communities about their cultural history and heritage. This is a time for us to celebrate and uplift all that the Filipinx American community has accomplished within the U.S. and globally. We also acknowledge the work that still needs to be done to dismantle the barriers that dehumanize our students, colleagues, and neighbors, both within ourselves, our schoolhouses, our district, and community.
Please join us and the community in celebrating Filipino American History Month throughout October and every month.
The Ethnic Studies department, Camille Ungco PhDc from the UW College of Education, and the Filipino American National History Society has compiled a list of resources.
Books: Primary Grades
"Cora Cooks Pancit" by Corina K. Lazo Gilmore
"Filipinos in Puget Sound" by Dorothy Laigo Cordova
"Jack and Agyu" by Justine Villanueva
"Journey for Justice: The Life of Larry Itliong" by Dawn Mabalon & Gayle Romasanta
"Lakas and the Makibaka Hotel" by Anthony D. Robles
"Pedro's Yo-yos: How a Filipino Immigrant Came to America and Changed the World of Toys" by Roberto Penas "We are Inspiring: the stories of 32 Inspirational Asian American Women" by Angel Trazo
"When Lola Visits" by Michelle Sterling
Colorful Pages: Filipino American History Month 2020
Halo-Halo, Mix-Mix Children's Books
Halo-Halo, Mix-Mix Culture and language books
Here Wee Read: Filipino Picture Books
Books: Secondary Grades
"America is in the Heart" by Carlos Bulosan America Is Not the Heart by Elaine Castillo
"Any Day with You" by Mae Respicio
The Atlantic: "My Family's Slave" by Alex Tizon
"Filipinos: Forgotten Asian Americans" by Fred Cordova
"Filipinos in Puget Sound" by Dorothy Laigo Cordova
"Growing Up Filipino: Stories for Young Adults I & II" by Cecilia Manguerra Brainard
"I Was Their American Dream: A Graphic Memoir" by Malaka Ghraib
"In the Country" by Mia Alvar
"Leche" by R. Zamora Linmark
"Manifest Technique: Hip Hop, Empire, and Visionary Filipino American Culture (Asian American Experience)" by Mark Villegas
"Monstress" by Lysley Tenorio
"Patron Saints of Nothing" by Randy Ribay
"Remembering Silme Domingo and Gene Viernes: The Legacy of Filipino American Labor Activism" by Ron Chew
"See You in The Cosmos" by Jack Cheng
"The Body Papers by Grace Talusan The Latinos of Asia: How Filipinos Break the Rules of Race" by Anthony Christian Ocampo
"To the Person Sitting in Darkness" by Mark Twain
"Trick Mirror" by Jia Tolentino
"Vanishing Filipino Americans: The Bridge Generation" by Peter Jamero
"We Have Not Stopped Trembling Yet: Letters to My Filipino-Athabascan Family" by E.J.R. David
Podcasts
Phalvor Profiles   
Websites
Asian Art Museum: Celebrate Filipino American History Month
Carlos Villa Biography and Lesson Plans
Filipino American National History Society
Leo Valledor Biography and Lesson Plans
Sari-Sari Storybooks: Multilingual Filipino Children's Stories