Celebrating School Social Workers
Posted on: March 17, 2022
Summary: In honor of Social Work Month, social workers from Cleveland and Chief Sealth share how their work impacts their school community.
School Social Workers Provide Support, Stability on Campus and in the Community
School social workers are a vital part of SPS schools and our communities. As trained mental health professionals, they work every day with administrators, teachers, families, and students to assist with mental health and behavioral concerns, provide positive behavioral support, classroom support, group counseling, and more.
Although their teams are generally small, school social workers are mighty, and their reach is vast. School social work departments help aid entire student bodies and their families.  
Shanyn Gilio-Tenan and Ariana Nunez at Chief Sealth International High School
"Any crisis that comes up throughout the day, we just respond," Chief Sealth School Social Worker Shanyn Gilio-Tenan said "Think of it kind of like we are the ER triage and [students] triage with us. We contain, hold, and support, and get them long term services and monitor that [students] are following through with those things."
Gilio-Tenan (pictured above on the left) who has be working in the mental health, community resources, and crisis intervention field for about 15 years, started at Chief Sealth in 2017. Her passion for social work began when she was young and pushed her to graduate from University of Southern California with a master's in social work in 2009.
"I grew up homeless mainly," Gilio-Tenan said. "I just felt like I connected to kids who needed extra support and wanted to be there to give back and kind of be a stable person to navigate systems when [students] don't have that person."
Gilio-Tenan's colleague at Chief Sealth, School Social Worker Ariana Nunez (pictured above on the right), was drawn to social work after her mom suggested she consider the profession.
"[My mom] just kind of knew that I really like to help people," Nunez said.
She decided to major in social work in college and grew to enjoy every aspect of it. "I fell in love with the career and [social work] field," Nunez said.
Nunez has been in social work for almost 10 years and at Chief Sealth for two years. She graduated with her master's in social work from the University of Washington (UW) in 2019.
For most of her career she's worked with youth and teenagers and finds that especially rewarding.
"My favorite part of being [at Chief Sealth] is the relationships with young people here," Nunez said. "Just getting to know them and showing them that they can have somebody to trust, rely on, and support them. You really grow to love them and care for them."
Looking ahead, Nunez is hoping to create a group for Latina girls that focuses navigating healthy relationships, boundaries, and consent.
Gilio-Tenan is excited to begin working with Chief Sealth students receiving special education services in a new specialized Multi-Tiered System of Support. She'll be evaluating these students to make sure they're receiving services to help them succeed.
Trisa Ibarra at Cleveland High School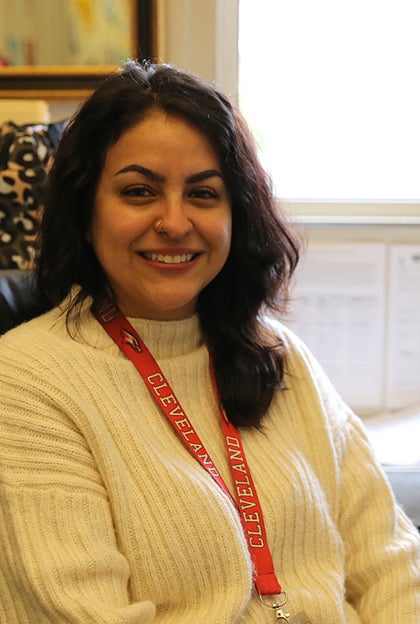 Trisa Ibarra, Cleveland High School counselor and trained social worker feels the same way.
"The partnership is so important for me," Ibarra said. "Whether that's partnering with families or students, or even teachers, I think our role is really special in that way. We can provide a specialized level of care that other providers in a school aren't necessarily trained for or prepared for, in a number of areas."
Ibarra started at Cleveland in 2017 but has worked in the field for almost 10 years. She graduated with a master's in social work from UW in 2016.
"I fell in love with the idea of working alongside families, students, and clients to solve the problems together," Ibarra said. "Social work provided me the opportunity to partner with families and give them the tools to solve their own problems in the future."
Outside of her counselor and social work role at Cleveland, Ibarra helps coordinate school food, gift card, and clothing drives for the community with students at the school.