Celebrating Class of 2022
Posted on: June 29, 2022
Summary: From kindergarten to college, we salute the Class of 2022 for making it to this milestone.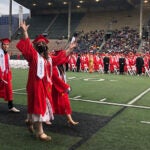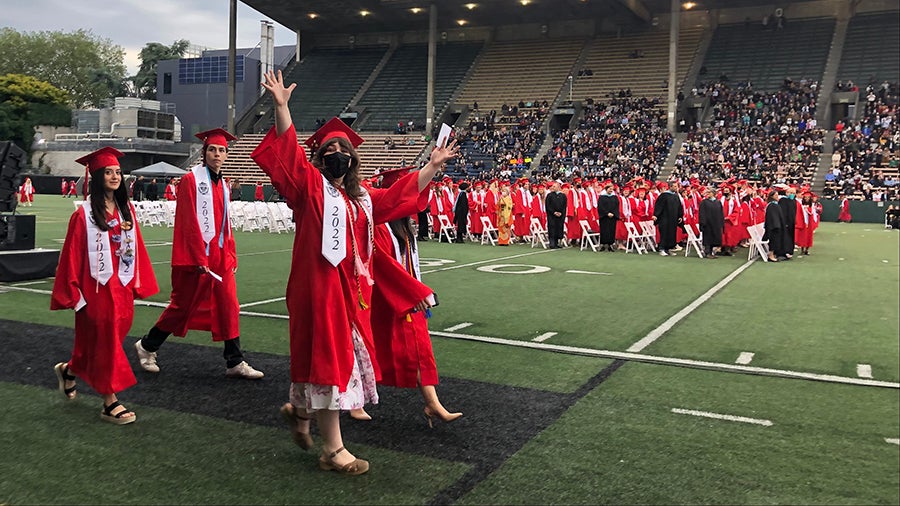 Celebrating the Class of 2022
Graduations may be over, but the joy of commencement season is still alive. From kindergarten to college, we salute the Class of 2022 for making it to this milestone.
Across 17 high schools, Seattle Public Schools celebrated nearly 2,400 seniors.
Lincoln High School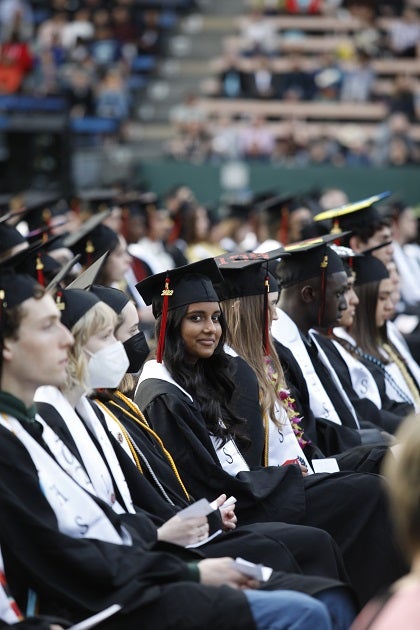 For the 180 graduating seniors in Lincoln High School's Class of 2022, the ceremony was especially poignant. It was the school's first commencement since reopening in September 2019 after a nearly 40-year closure.
Even though the ceremony was held in Memorial Stadium, the event felt intimate and personal. Seniors Nicole Café and Vivian Cody sang the National Anthem, and several of the graduates gave musical performances. Henry Williams played a guitar solo called "Something." Ava Lauer, Jinyu Johanson, Owen Rhew, Sylvia Zerba and Hazel Abrahamson-Amerine performed "Violin Concerto in A Minor."
When SPS Board Director Lisa Rivera Smith took to the podium, she gave the audience the option to choose which speech they wanted to hear – one written by a junior from Lincoln or one written by an SPS kindergartener. The crowd chose the latter. Rivera Smith said the speech was written in red crayon.
"Lincoln, Class of 2022, get a job. Get money. Buy cookies."
Seattle World School
At the Seattle World School 2022 commencement on June 15, students celebrated their years-long educational successes with friends, family, teachers, and peers. The joyous ceremony honored each student's diverse background and exceptional achievements.
Most students' first time in a U.S. school was when they began at the World School — and many came to the school speaking little-to-no English. By graduation day, the 33 seniors were able to give an inspiring speech about their journey and thanked their teachers and family for their support along the way.
Many of the World School graduates are continuing their academic journey in the fall at South Seattle College.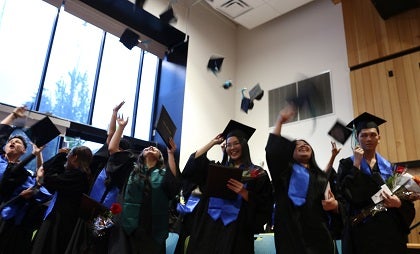 Nova High School
The graduates entered the Quincy Jones Performing Arts Center to Madonna's "Vogue." It was the perfect song choice for Nova High School's Class of 2022 commencement ceremony on June 16.
Donned in different colored graduation gowns, 58 seniors took to the stage to receive their high school diplomas. Through laughter, tears, and excitement, teachers acknowledged each of the graduates individually, and several of them took the opportunity to say a few parting words.
In her commencement speech, senior Syd Walter expressed the beauty of not knowing what's next.
"I don't know how to end a speech about an experience that it barely feels like I've started," she said. "However, congratulations Class of 2022. Never be afraid of naming what it is you do not know because I promise you, your unknown is the truth of your story … and isn't that beautiful?"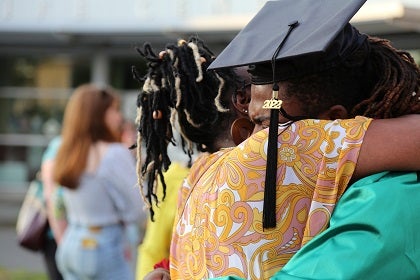 Graduations Held at Memorial Stadium Videos
High school graduation ceremonies held at Memorial Stadium can be viewed on our SPSTV Vimeo channel.