Becky Laird MOHAI Award
Posted: | Updated:
Summary: This year, the Museum of History and Industry named Nova High School's Becky Laird as its Educator of the Year.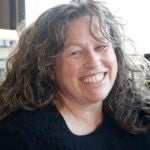 Nova High School Art teacher earns top honors from MOHAI
Every year, the Museum of History and Industry (MOHAI) honors an educator who personifies excellence in education, in the classroom, in after-school programs, in community spaces, or cultural organizations, and who is making a positive impact on students. This year, MOHAI named Nova High School's Becky Laird as its Educator of the Year.
Laird is a celebrated ceramic artist, special education, and art teacher at Nova. She was nominated for the award by a parent of a former student. As someone who shies away from the spotlight, Laird only agreed to accept the award if she could do it on behalf of the Nova community.
"I don't feel like teachers work independent of the community they are a part of," she said.
Like most educators, Laird spent more time bragging about the Nova community than she did herself. She even donated her $1,000 honorarium to the school. Nova principal, Eyva Winet, spoke highly of Laird's constant care for her students.
"Becky doesn't do this for fame or recognition, but because it is the right thing to do," Winet said. "She cares so much for students and families."
According to Winet, Laird puts in consistent and disciplined work and shows up respectfully and lovingly every day, allowing her students to heal and grow their creative gifts.
"Becky listens and stays present with students, especially when things get messy," Winet said. "She holds spaces for students who are … deeply impacted by systemic harm for them to heal and thrive."
Laird earned her master's degree in special education administration and started her teaching career with Seattle Public Schools in 2006. She said the best and most important parts of teaching come with building relationships.
"When you work really hard for students and families in systems that don't always support them, I think that's a good thing to do."