Balkan Foster Golden Apple Award
Posted on: March 18, 2022
Summary: Boo Balkan Foster ia a 2022 Golden Apple Moments recipient, an award that celebrates educators, programs, and schools making a positive difference.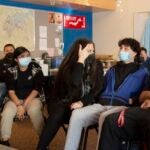 The Apple of Her Students' Eyes: Boo Balkan Foster Earns Golden Apple Recognition
The best teachers are the ones who understand the importance of building meaningful relationships with students. As kids stroll into Boo Balkan Foster's class, she welcomes them with a jovial, "Come on in, baby" or "Have a seat, honey."
The familial way Balkan Foster speaks to her students makes the room feel warm and inviting. They lovingly compare to her an aunt or grandmother. Balkan Foster's relationship with her students is one of several reasons why she was recognized as a 2022 Golden Apple Moments recipient, an award that celebrates educators, programs, and schools making a positive difference within the Washington state education system.
Balkan Foster is the šəqačib (pronounced sha-kah-cheeb) teacher from the Native Education Department housed at Chief Sealth International High School. The leadership class is primarily for Native students and offers them a space to learn more about their identities and grow academically in a safe space. Balkan Foster said she was humbled by the recognition.
"It allows me to stand in a position to bring recognition to my students," she said. "I am fortunate that I get to be the voice for Native excellence. Everything we do in here is to lift students up."
Balkan Foster's students sang her praises, with many of them saying she has given them a sense of confidence in speaking about their experiences as Native Americans. Senior Nayeli Chavez from the Yakama tribe said Balkan Foster takes time to get to know students as individuals and not a collective.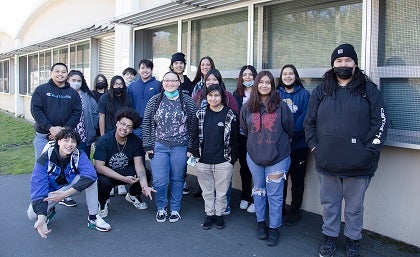 "She gets to know the way you think, the way you learn, and just who you are in general," Chavez said.
When sharing why the class and their teacher was important to them, students shared emotional stories about how Balkan Foster had helped them through hard times.
"Even if it's not school related, Ms. Boo … she'll help you," said junior Abilene Gomez from the Standing Rock Sioux tribe. Gomez said Balkan Foster provides meals, a place to rest, and a place of refuge on difficult days.
"It's like a second home while I'm at school," she said.
Senior Reynaldo Rosario Cronin of the Taino people said one of Balkan Foster's best qualities is her relentlessness.
"If there's a problem that needs to get solved, she's going to constantly try to break through," he said. "If there's a student who needs help, she's not going to give up on that student. She's going to always find a way to elevate them and help them succeed."
Chief Sealth Principal Ray Garcia Morales is in his first year at the school. He said it did not take long for him to see why Balkan Foster is a solid educator. He called her a "fierce advocate for her students."
"In the short time that I've known Ms. Boo, she listens. I think that sometimes we don't give that attribute … the respect it deserves," he said. "If you truly listen to somebody's story, you're able to respond with empathy … Listening with empathy is what I think makes Boo a good teacher."
Balkan Foster downplayed her impact on students, constantly shifting the focus back to their personal experiences. While addressing the class, she reminded them that while she was the award winner, they were the reason why.
"I know that you are smart, you are strong because every single one of you is Native. We are the prayers of our ancestors," she said.
Balkan Foster, from the Apache/Adopted Makah tribe, has been with Seattle Public Schools since 1994. She started at the American Indian Heritage School before moving to Middle College High School. She began teaching the šəqačib class at Chief Sealth in 2016. Balkan Foster believes when education is done correctly, it can be transformative for students.
"If school can remind us to be ourselves, there's nothing greater than that," she said. "If you can be reminded to be yourself and then get excited about learning, there is nothing in my mind that's more important than that."