English Learners
Services and Programs for English Learners
Seattle Public Schools offers a variety of instructional programs and services to help students achieve academic excellence while still learning English. Services are provided at every school with eligible EL students.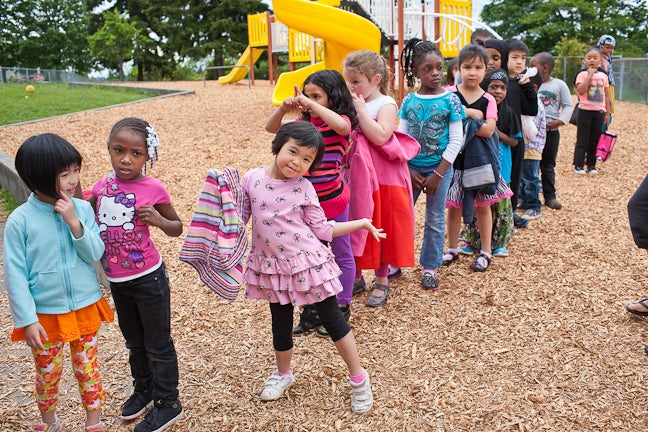 Services that support EL students include
High quality, research-based EL program models at elementary and secondary schools
English language development instruction provided by certificated EL teachers and supported by Instructional Assistants
Elementary and secondary newcomer centers
Proyecto Saber – Denny International School, Chief Sealth International School and Robert Eagle Staff Middle School
Support for migrant and refugee students
Support for exited EL students
Translation and interpretation support for EL students and families
Student placement testing during the enrollment process and annual testing
World language credit and Seal of Biliteracy testing opportunities
Learn how students qualify for English Learner (EL) services.
Translation and Interpretation Services our district provides.
EL Program Models in Neighborhood Schools
Seattle Public Schools uses research-based, high quality instructional models. Program models differ by school.
Elementary Schools:
Students are immersed into general education classes with native English speakers and receive support from EL staff.
During a portion of the day, a certified EL teacher or instructional assistant will provide support.
EL teachers align their instruction with what is being taught in the general education classroom.
Middle & High Schools:
Students are placed into sheltered language arts classes according to their level of proficiency in English.
Students take mainstream courses which increase in language demand as they progress through levels of proficiency.
Newcomer Programs
Students who have been in the US for less than one year AND scored Level 1 on the placement test may be eligible for a newcomer program.*
Newcomer programs are designed to jump-start students new to the American school system. Students receive intensive English language development support while acclimating to the American culture and schools.
The goal is to gain basic English proficiency and then transfer to the neighborhood school with continued English language development (ELD) support.
Newcomer Program Sites
Elementary: Dunlap Elementary, Hawthorne Elementary, Northgate Elementary (Grades 1-5)
Secondary: Seattle World School (Grades 6-12)
Newcomer Program Model
Students are assigned to self-contained classrooms made up of other students who are also new to the United States.
Students receive English language instruction in Math, Reading, Writing, Social Studies, and Science using content based EL instruction.
Students are limited to a maximum of one to two semesters in the Newcomer Program.
The Newcomer program is optional. Parents may choose for their student to receive English LearnerA student learning English whose primary language is not English Services at their neighborhood school.
*During remote learning, eligible students must be new to the country within one year, and SIFE (student with interrupted formal education).
About the EL Department
Vision
We work collaboratively with all stakeholdersThose student, families and community groups impacted by proposed policy, program or to educate, prepare, and support our diverse student population, their families, and communities to thrive in our global society.
Goals
Support student language development that enables meaningful access to grade level curricula and instruction in alignment with Common Core State Standards

Drafted by experts and teachers from across the United States, they are

(CCSS), Science Next Generation Science Standards, and English Language Proficiency Standards (ELPs)
Collaborate meaningfully with district staff, families, communities, and higher education institutions
Hire staff who will be student-centered, racially, culturally, and linguistically responsive
Provide high quality Professional Development for all teachers, instructional assistants, and administrators
Contact us
Visit our Department Contacts page for staff contact information