Van Asselt Interim Site
Addition and Modernization of Historic Van Asselt School
A new classroom and gymnasium addition were constructed and connected to the landmarked schoolhouse. The four-classroom landmarked building was renovated and modernized. The existing 1950s-era school building had some improvements to better serve as SPS's southeast interim site.

Timeline
Predesign phase complete
Schematic design phase complete
Design development phase complete
Construction documents/permitting phase complete
Bid and award phase complete
Addition and landmarked building open
Field lighting project — Summer 2024
Field Lighting Project
Permitting is underway to add field lighting to the interim site to better serve the needs of Mercer International Middle School, community use, and future schools housed at Van Asselt School. Installation is planned for Summer 2024.
The project includes:
Four 70 foot tall galvanized steel light poles.
Six floodlights on each pole include heavy shielding to minimize offsite glare and light spilling to neighboring areas.
Two FAA warning lights on each pole will alert air traffic as to the location.
Light levels will be IES Class 4, which is the minimum required for safe play on the field.
A similar system was recently installed at Roosevelt High School's playfield.
This PDF site plan shows the planned location for the light poles.
Now Open
The Van Asselt Interim site now houses Mercer International Middle School. The new addition and renovated landmarked building were completed in fall 2023.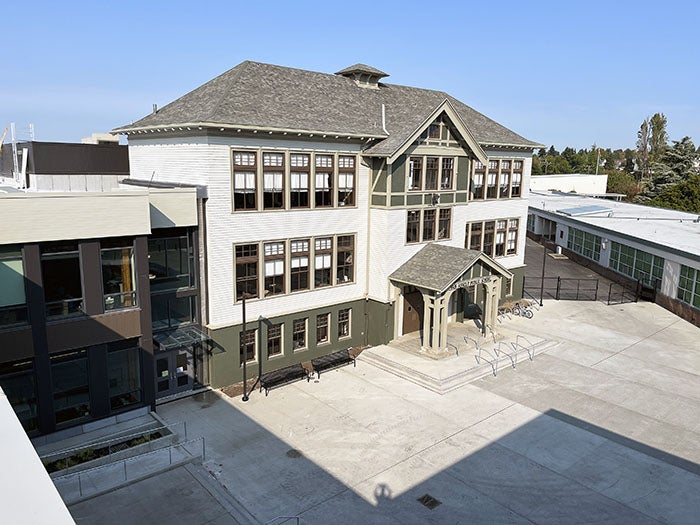 Progress Photos Archive
About the Project
The project at the original Van Asselt School adds a new classroom and gymnasium addition and renovates the historic landmark schoolhouse, which is currently vacant. The project will provide 30 additional new or rehabilitated classrooms on the campus. The 1950s-era, one-story school building will remain and undergo minor modifications.
The two-story school addition will include 26 new classrooms, a new gymnasium, and the support and collaboration spaces that students need for academic success. The space will provide opportunities for schools to customize their environment and showcase their school spirit in their temporary home. The addition is carefully designed to honor the original 1909 building and connect seamlessly with the four existing classrooms.
The Van Asselt site is used as an interim location by the school district. Schools occupy the site as their temporary home during replacement or renovation of their permanent school building. Expanding the Van Asselt campus will provide more capacity and flexibility to house up to 1,000 students — either one middle school or two elementary schools — once construction is complete.
From Fall 2021 to Summer 2023, Kimball Elementary will occupy the main school building. In Fall 2023, following completion of the new addition, Mercer International Middle School will move in for two years. During that time, a new replacement school will be built on the Mercer site.
Sustainable Construction
The new addition will be built using engineered wood known as Cross Laminated Timber (CLT) for the floor panels and roof panels. These materials have carbon reduction and reduced greenhouse gas emissions over traditional steel and concrete. CLT materials use sustainably harvested wood products (a renewable resource).
Based on the Seattle School Board Green Energy Resolution, the addition will use no fossil fuels and rely on electricity for heating.
Features to reduce energy use:
Highly efficient ventilation that recovers heat before air leaves the building
Highly insulated walls and roofs
Energy-efficient LED lighting
Other sustainable design strategies:
Demolition and construction debris sorted and recycled
Shielded site lighting to reduce light pollution
Roof designed to accommodate future solar panels
Storm water management with rain gardens
Native and drought-resistant plantings
Construction Project Manager: Shiels Obletz Johnsen, Inc. (SOJ)
SOJ Construction Manager: Ethan Bernau, ethanb@sojsea.com, 206-838-3705
Designer: Bassetti Architects
General Contractor/Construction Manager: Cornerstone General Contractors
Budget: $50.3M
Funding Source: Building Excellence V (BEX V) Capital Levy project, approved by Seattle voters in 2019.
Contact Us
Please send us your questions or comments using our online feedback form.
Original Van Asselt School Interim Site
7201 Beacon Ave. S
Seattle, WA98108