Northgate
Northgate Elementary School Replacement Project
Building the future James Baldwin Elementary School
The existing school building is being replaced with a new school building on the same site. Northgate Elementary School will remain onsite during construction. Once the new building is complete, the school will move to the new building. The old building will be demolished, and a new field and play areas will be constructed.
Upon opening, the school will be renamed James Baldwin Elementary, a name chosen by the school staff and families.
Timeline

Pre-design phase complete
Schematic design phase complete
Design development phase complete
Construction documents/permitting
Bid and award phase complete
Construction in progress
School opens Fall 2023
Phase II begins Fall 2023 — demolition of old building and playfield/playground development
Recent Progress
Progress updates are posted for the previous month the week after the monthly BEXBuilding Excellence Capital Levy provides resources for school construction, renovations, and additions. More and BTABuilding Renovations, Technology and Academic/Athletics Levy provides resources for seismic improvements, roof More Capital Levies Oversight Committee meetings. These meetings typically take place on the first Friday of each month.
Major Activity in April 2023
Continued site work to prepare for retaining walls, sidewalk, and outdoor spaces
Completed irrigation
Continued plant, boulder, and grass
Continued final painting and cleaning
Building commissioning in progress
Live Webcam and Project Photos
See a live view of the construction site with the web camera!
Project Designs
Architects drawings showing what the school might look like when complete.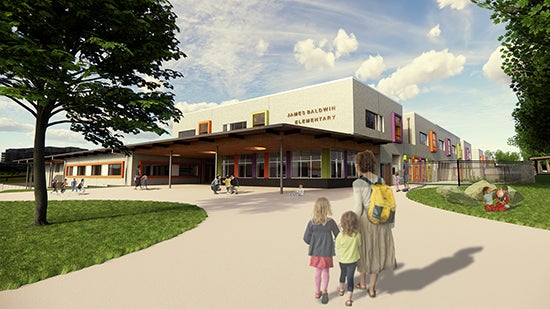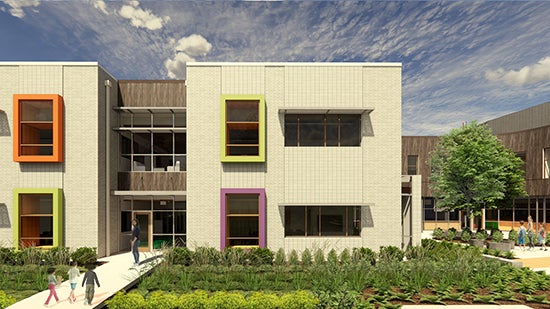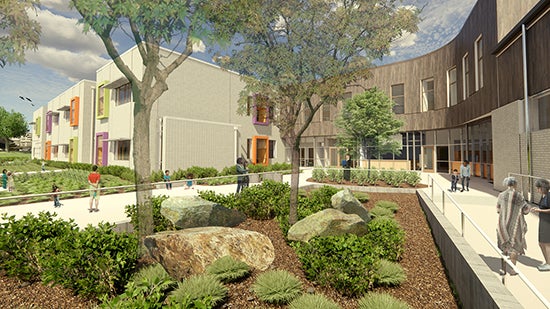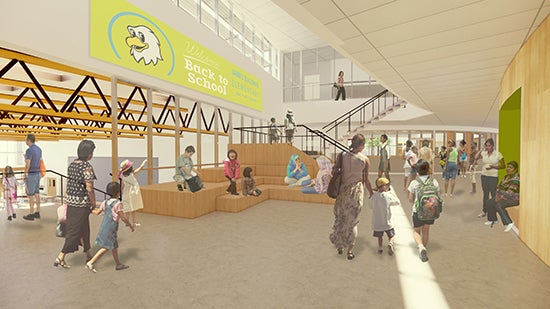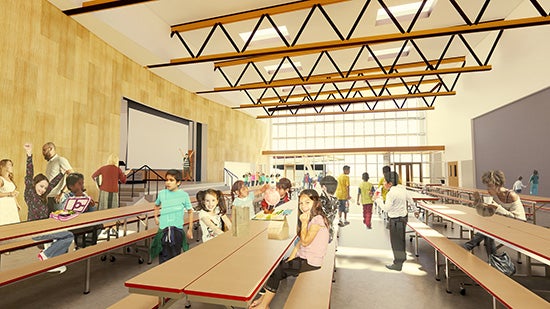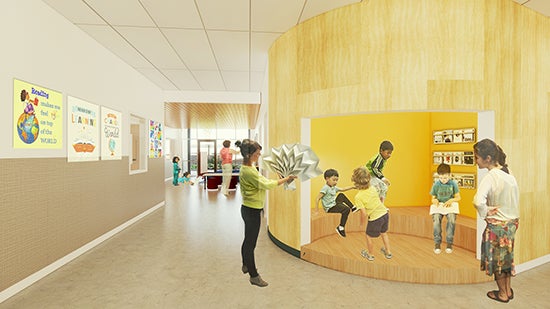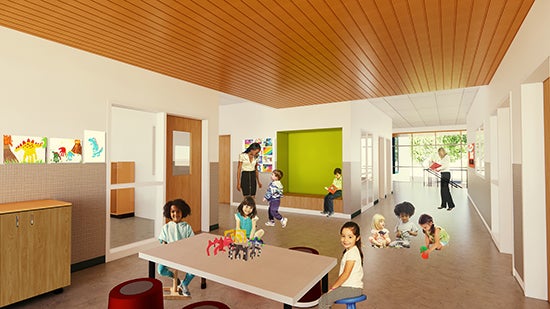 Animated Design Tour
About the Project
The new two-story elementary school building will provide the spaces and resources that students need for academic success. The approximately 95,000 square foot school will meet the district's elementary educational specifications and provide space for up to 650 students. A collaborative process resulted in a building designed to fit into the neighborhood. It will provide outdoor learning, play, and recreation areas.
The new school has been designed to provide an equitable, safe, and inspiring learning environment for the entire school community. Learning clusters will have classrooms surrounding learning commons.
Sustainable Design and Construction
In keeping with SPS's clean energy goals, operation of the new school will not require any fossil fuels. In addition, the roof is designed to accommodate solar panels, which could offset 80% of the building's energy use in the future.
Features to reduce energy use:
Geothermal heating
Highly efficient ventilation that recovers heat before air leaves the school
Energy-efficient LED lighting
Highly insulated walls and roofs
High performance fiberglass windows
Other sustainable design strategies:
Storm water management with rain gardens
Native and drought-resistant plantings
Shielded site lighting to reduce light pollution
Demolition and construction debris sorted and recycled
Projected Energy Use Index (EUI): 17.3
View an animated video tour of the new school building from NAC Architecture.
Design Firm: NAC Architecture
General Contractor/Construction Management: Lydig Construction
Project Budget: $90.3M
Funding Source: Funded by the Building Excellence V (BEXBuilding Excellence Capital Levy provides resources for school construction, renovations, and additions. More V) Capital Levy, approved by Seattle voters in 2019.
School Design Advisory Team: Learn about the School Design Advisory Team (SDAT) process and read meeting minutes.
Contact Us
Let's Talk for Project Questions
Project Manager: Amanda Fulford, asfulford1@seattleschools.org, 206-252-0697
Northgate Elementary School
11725 1st Ave NE
Seattle, WA 98125