Memorial Stadium
Memorial Stadium Replacement Project
Potential Partner Announced
On June 15, Seattle Public Schools and City of Seattle announced One Roof Partnership as a potential partner for the memorial stadium.
As one of the respondents to a recent SPS/City of Seattle-issued Request for Proposals (RFP), One Roof Partnership proposes to build a new $150 million, 10,000-person capacity stadium to host student athletics, community events, arts and culture, with SPS continuing to own the facility and maintain priority use. The new stadium, which is being aimed for completion in 2026, will honor the stadium's rich history and preserve Memorial Wall.
An advisory panel of SPS and City staff and community representatives reviewed the proposals and interviewed the prospective partners before recommending One Roof Partnership.
With this announcement, the parties will continue to discuss the proposal in hopes of a mutual agreement to be considered by the SPS Board of Directors and Seattle City Council later this year.
The One Roof Partnership's involvement will build upon significant public investment which includes $66.5 million approved by Seattle voters in last year's SPS capital levy, as well as $4 million in state funding; $21 million from the city; plus another $19 million which the Seattle City Council expressed its intent to identify no later than 2026. In addition, One Roof Partnership has committed to lead efforts to raise the additional funding needed for the project.
Students and the community will have opportunities to provide input to help shape the planning and design through a community engagement process following partnership negotiation. The process, guided by best practices used in other successful civic and school projects, will be based on a strong commitment to equity, inclusion and access.
A New Vision for Memorial Stadium
Seattle Public Schools (SPS) and the City of Seattle are building on their longstanding partnership by collaborating on the replacement of the school district's Memorial Stadium.
The project will create an innovative new multi-purpose sports, educational, and entertainment venue that will be seamlessly integrated with the Seattle Center campus and welcoming to all.
SPS will continue to own the stadium and retain priority scheduled use of the venue, which will adhere to all athletic league standards.
"An enhanced stadium would allow the district to provide students a modern facility for cultural performances, athletic events, commencement ceremonies and social and educational opportunities. The school district is eager to demonstrate how this public partnership can benefit students and families, while improving the openness and integration of the Seattle Center campus.
"Memorial Stadium — and the Memorial Wall dedicated to honor alumni who lost their lives in World War II — has historical, experiential and emotional resonance for Seattle Public Schools."
– Dr. Brent Jones, Seattle Public Schools Superintendent
"This exciting Memorial Stadium replacement is a win for our students, their families, and our entire community.
Our shared vision for this facility means more than an improved athletic field – it represents developing a state-of-the-art facility capable of hosting a wide array of events and creating countless more Memorial Stadium memories for our communities.
This project captures our One Seattle approach to collaboration, innovation, activation, and opportunity, and I look forward to the work of this partnership moving forward."
– Bruce Harrell, City of Seattle Mayor
Memorial Stadium Partners

Centering Student Opportunities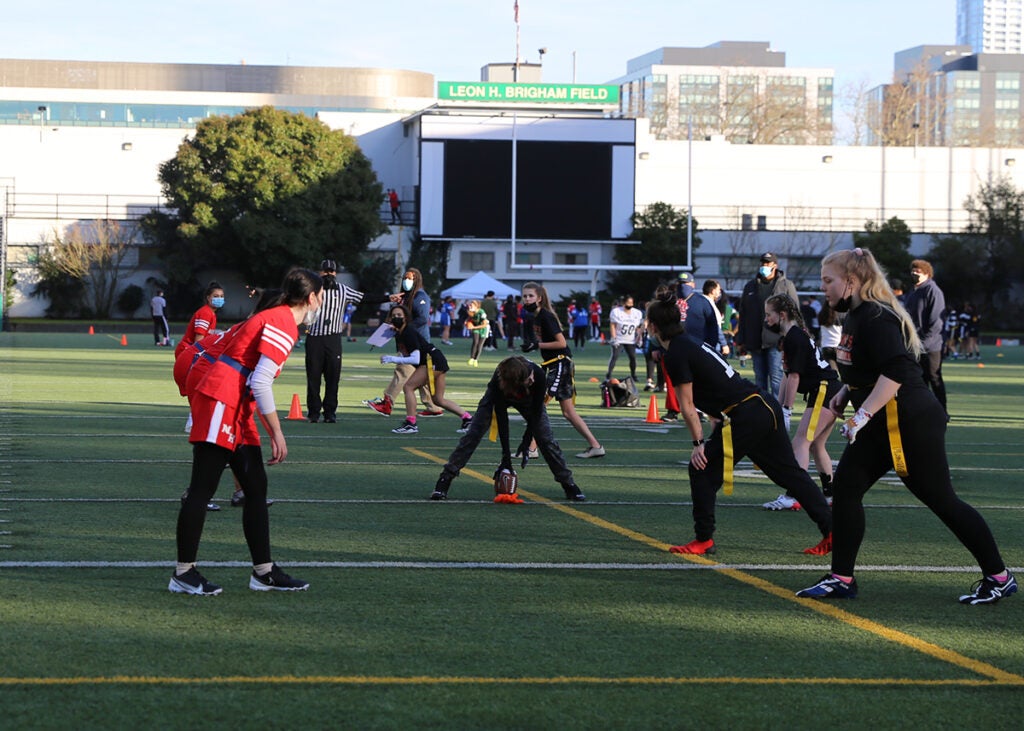 The vision for the dynamic new stadium is to center on students. This includes expanded opportunities for SPS students with new spaces to deepen engagement with Seattle Center's resident arts, cultural, and sports organizations.
The project also provides a valuable opportunity to foster potential workforce development with career and technical training in fields such as cultural, culinary, and performing arts; science; journalism; and sports and sports management with access to skilled workers and professionals on the ground.
Greater Integration with Seattle Center
Reimagining the 76-year-old Memorial Stadium will allow for significantly greater integration with the Seattle Center campus, working toward the goals of Seattle Center's Century 21 Master Plan.
This includes: removing the existing massive walls; completing August Wilson Way with a long-awaited east-west pedestrian and bike connection; and creating new landscaped open space linking the International Fountain with the stadium while also preserving Memorial Wall and elevating its place of honor.
Funding This Project
Public funds for the project currently include the $66.5 million voter-approved SPS capital levy funds, along with $4 million included in Gov. Jay Inslee's proposed capital budget (subject to State Legislature approval), and an anticipated $40 million from the City of Seattle, $21 million of which has been contributed to date.
Seattle Public Schools Budget and Funding
The funds SPS is committing to the project come from capital levy approved by Seattle voters in 2022.
Because this fund is specifically allocated to build or maintain capital assets, it can't be used for operating expenses. The salary and benefits of most employees are paid from the general fund.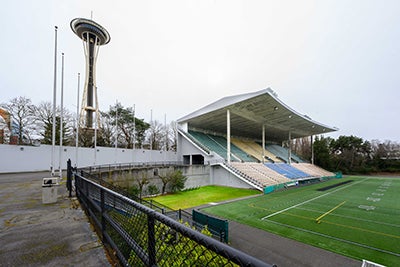 Seeking a Private Partner
To support this shared vision, the partners have issued a request for proposal (RFP) for a private partner to provide the additional capital necessary for this legacy project.
This will elevate it beyond the basic student stadium rebuild approved in SPS's 2022 Buildings, Technology, and Academics/Athletics V Capital Levy (BTA V) to better serve the needs of generations of SPS students and the community in new and exciting ways in the heart of the city.
SPS and the city intend to work with the private partner — with philanthropic support from Seattle Center Foundation — to construct, operate, and manage the new premier stadium, expanding beyond what the school district and the city could afford on their own.
As with other successful public-private partnerships (including McCaw Hall, Pacific Science Center, MoPOP, and Seattle Children's Theatre at the Seattle Center) partnering with a private investor-operator will help ensure the civic investment operates at the highest professional standards without competing priorities or at the whim of budget cycles.
"Community, connections, and opportunities for play and the display of student excellence – these are the things our students and families crave. Fulfilling these needs directly contributes to the success of Seattle's students and the vibrance of our city. I am excited to continue our 76-year-old partnership to rebuild and revitalize Seattle Public Schools' Memorial Stadium at Seattle Center."
– Vivian Song-Maritz, Seattle School Board Director
"As a proud graduate of The Center School at Seattle Center, I know how important accessible, high-quality public facilities are for Seattle's children to succeed. I am proud of the coalition that came together to support my proposal to secure funding for Memorial Stadium in this year's budget. Together, we will meet our commitment to the students of Seattle Public Schools and our community as a whole."
– Andrew J. Lewis, Seattle City Councilmember
"This is our moment to imagine an exciting new future for Memorial Stadium – one which will better serve our students, the public, and contribute to the incredible community here at Seattle Center. Now is the time to seize this opportunity."
-Marshall Foster, Seattle Center Interim Director
"The Seattle Public Schools funding, along with the City's financial commitment mark an important next step toward realizing this visionary civic project. The Seattle Center Foundation looks forward to helping rally philanthropic and private support to achieve our collective vision of a world-class, multi-purpose event facility in the heart of Seattle Center for students and communities in our region."
– Jane Zalutsky, Seattle Center Foundation Executive Director
Collaborative Planning
This work first began in 2017 with a partnership agreement between SPS and the City of Seattle to collaboratively design a Memorial Stadium replacement and coordinate development of the SPS property with the Seattle Center.
In 2021, SPS and the city signed a Letter of Intent outlining the shared goal of replacing the athletic stadium with a more visionary, multi-use facility, which was followed by a Memorandum of Agreement in October 2022. With this agreement SPS and the City will continue their longstanding partnership at Memorial Stadium, with SPS retaining ownership and priority use for student events, while the City would maximize use of the facility through community activities.
In 2022, Seattle voters approved the Buildings, Technology, and Academics/Athletics V Capital Levy (BTA V), which included $66.5 million for the Memorial Stadium project.
Seattle businesses, community organizations and civic leaders are early supporters of this shared vision for a world-class facility which centers on students and equity, including Cornish College of the Arts, Downtown Seattle Association, Greater Seattle Partners, KEXP, Seattle Building & Construction Trades Council, SIFF, Seattle Sports Commission, Uptown Alliance, Uptown Arts & Culture Coalition, Urban League of Metropolitan Seattle, and YMCA of Greater Seattle.
Over time, a number of concepts have been generated to imagine Memorial Stadium's future. A selection of images from these studies are below.
Process and Next Steps
Following the selection of a private investor, the City and SPS, with support from Seattle Center Foundation, will launch an inclusive engagement process, guided by a commitment to racial equity, for input from students, families, and the greater community about the new stadium's programming and design.
This thoughtful process will continue with the design review, aligning with the City's One Seattle focus — to make the city more equitable, livable, sustainable, and resilient for today's communities and future residents — and with SPS's policy for educational and racial equity.
In the meantime, the public will have an opportunity to learn more about the proposals and provide input via public forums to be announced in the coming months.
About Memorial Stadium
Seattle Public Schools' Memorial Stadium is a successor to Civic Field, built in 1927 as part of the City's Civic Complex.
The City of Seattle deeded the land to SPS in 1946 to build, operate, and maintain a new athletic field. Voters approved a school levy and bonds (issued in 1942 and 1944) to provide funding for the improvement of school buildings and the construction of today's Memorial Stadium, which was completed in 1947.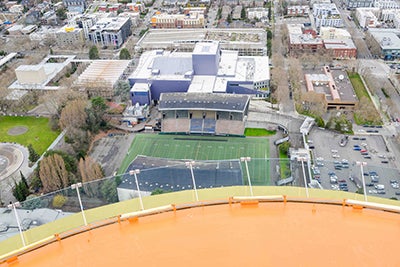 The stadium was selected as the site for a war memorial by a group of community leaders, appointed by Seattle Mayor William Devin following World War II, to pay tribute to the nearly 800 SPS alumni who lost their lives in the war.
The Memorial Wall was designed by Garfield High School student Marianne Hanson. Revenues from Thanksgiving Day football games played in the stadium from 1947-49 paid for construction and installation of the Memorial Wall.
Throughout its history, Memorial Stadium hosted the opening and closing ceremonies for the Seattle World's Fair and tens of thousands of concerts and community events.
Today, the 75-year-old Memorial Stadium is used for numerous school events each year — attracting hundreds of thousands of students and community members for high school athletic events, graduation ceremonies, and community events.
Seattle has been named an official host city for the FIFA World Cup 2026™, so advancing quickly with the project could provide another new facility to support associated events and activities.
---
Contacts and Resources
Media Contact: SPSmedia@seattleschools.org
Request for Proposal for Development Partner Please note: This document provides access to a courtesy copy of the RFP. It is not the official RFP registration page. Potential proposers must register with the City of Seattle's procurement portal.