We are SPS
Posted: | Updated:
Summary: We want everyone to know the people who make our school district so unique!
We Are SPS: It's Your Time to Shine!
Our students are the pride and joy of SPS. Learn how a student firefighter and a cyclist from Cleveland STEM High School are preparing for their future. From students to support staff and everyone in between, we're putting YOU in the spotlight!
Coming Full Circle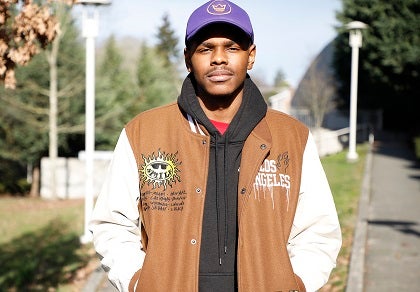 Trevon Mitchell is everywhere. The Cleveland STEM High School senior has become the face of the Kingmakers program and has made a name for himself as a cyclist on the rise. Now, as he prepares for life after high school, Mitchell is ready to inspire other Black males by becoming a mentor himself. 
"I'm growing up … hitting the peak of getting out of childhood," Mitchell said. "It's my first time seeing with my raw eyes that I'm inspiring little kids … my actions really matter."
The Kingmakers program has opened doors for Mitchell that he never imagined. Having entered high school as a shy freshman, Mitchell is now vice president of Cleveland's student government, lends his voice to School Board meetings, and regularly serves as a spokesperson for Kingmakers. That doesn't mean he's not ready to pass the torch.
"Instead of being so much in spotlight, I want to be in the background helping somebody else," he said. "I want them to take away that it's cool to be the good person, it's really cool to get schoolwork done, and I really want them to understand the value of being together as Black people."
Mitchell has already received several college acceptance letters, but he's still weighing his options. He is grateful for the education he has received at Cleveland and the teachers who have helped him along the way.
"The amount of dedication these teachers and staff have … they're really here," he said. "There are really people who really care about you outside of school and really want to see you thrive." 
Learn more about Kingmakers and other Office of African American Male Achievement initiatives on our AAMA webpage.
Burning Through Stereotypes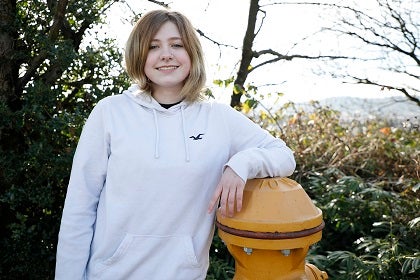 As one of only two female students in the Seattle Skills Center's First-In Training and Education (FITE) program last year, it took some time for Cleveland STEM High School senior Ireland Skoglund to recognize how much she has grown. Now, there are four girls, and for Skoglund, the program has benefited her in multiple ways.
"I've gotten stronger and more confident; I have pushed myself and grown my leadership skills," she said. "Going into the class, I was a little shy, I didn't speak up, and I was the last to volunteer to do anything that wasn't strictly academic."
This year, Skoglund is a company officer leading other peers in her group, making sure they know how to stand up for themselves and to try new things. Last fall, she earned her Wildland Red Card, which means she has the option to apply to be a wildland firefighter. On the field day for the Red Card, Skoglund was the only girl out of a large group of guys.
"A year ago, that would have seemed incredibly daunting," she said. "But here I am fully certified with my Red Card."
Fighting fires is in Skoglund's blood. She comes from a long line of firefighters. Her father was a volunteer firefighter, and her great grandfather worked as a firefighter at a station near the University of Washington.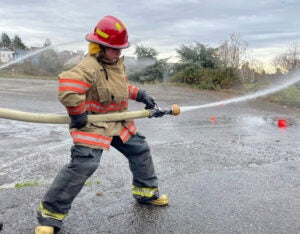 "Just hearing about him and seeing his fire helmet and cool things like that solidified that career choice for me," she said.
Skoglund has been accepted into her first-choice school – the University of Alaska Fairbanks which has a stellar firefighter program. Her goal is to leave in July to attend their summer fire academy to earn her Firefighter 1 status.
The Seattle Skills Center has helped set Skoglund on the path to her dream career. She wants all students to know the benefits of taking Skills Center classes.
"Because of how this class impacted me, I now have a direction in life and a plan after high school that I'm looking forward to." 
Learn more about the firefighter classes and other summer and school-year classes on the Skills Center website.
---
Posted January 31, 2023
No Shortage of Cool Shirts
Cedar Park Elementary Principal Andrew Zillig loves a good shirt. With his extensive cool shirt collection, he can go a whole month without wearing the same one twice. But it can't be any shirt. Principal Zillig has his own style.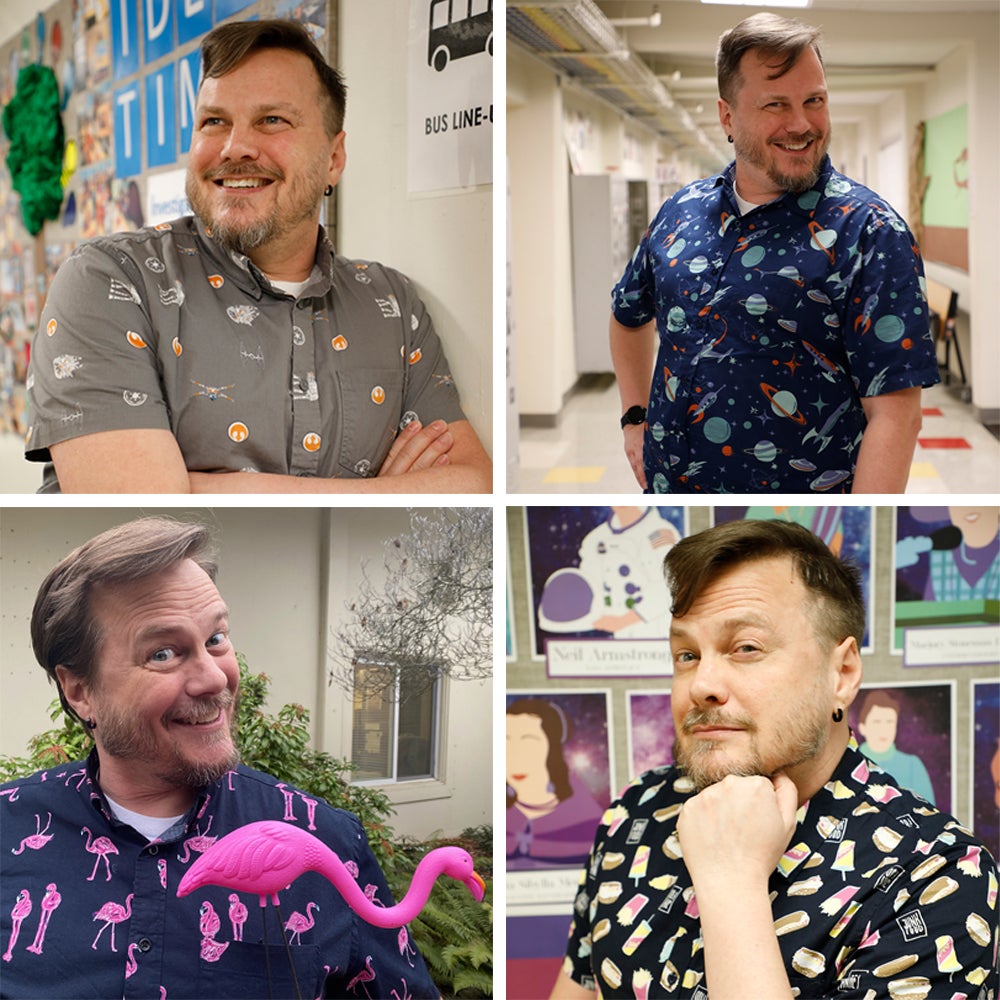 "I'm not the Hawaiian print person or the person who likes the big print … I like a scattering of things," he said. "I like things that are fun to look at."
Principal Zillig has more than 25 cool shirts printed with everything from Super Mario to math symbols, rockets to rock-paper-scissors hand gestures. The shirts make great conversation starters with students.
"I've got one covered in donuts, and one covered in bacon and eggs. I've got one covered in pizza," Zillig said. "The kids will say, 'Oh, that makes me hungry,' or 'I love Mario, too.'"
It's hard not to notice Principal Zillig's shirts – so much so that families are now gifting him patterned button-downs.
"What I love about this particular shirt is … a family picked this shirt out for me and gave it to me as a gift at the end of the year, so they completely know me."
Opportunity Begins Here
When Tonja Davis first started working in Seattle Public Schools, her job was with Gear Up, a college readiness program for seventh and eighth graders. Now, as a student family advocate, Davis is putting those skills to use to expose Black students to careers where they may not see themselves.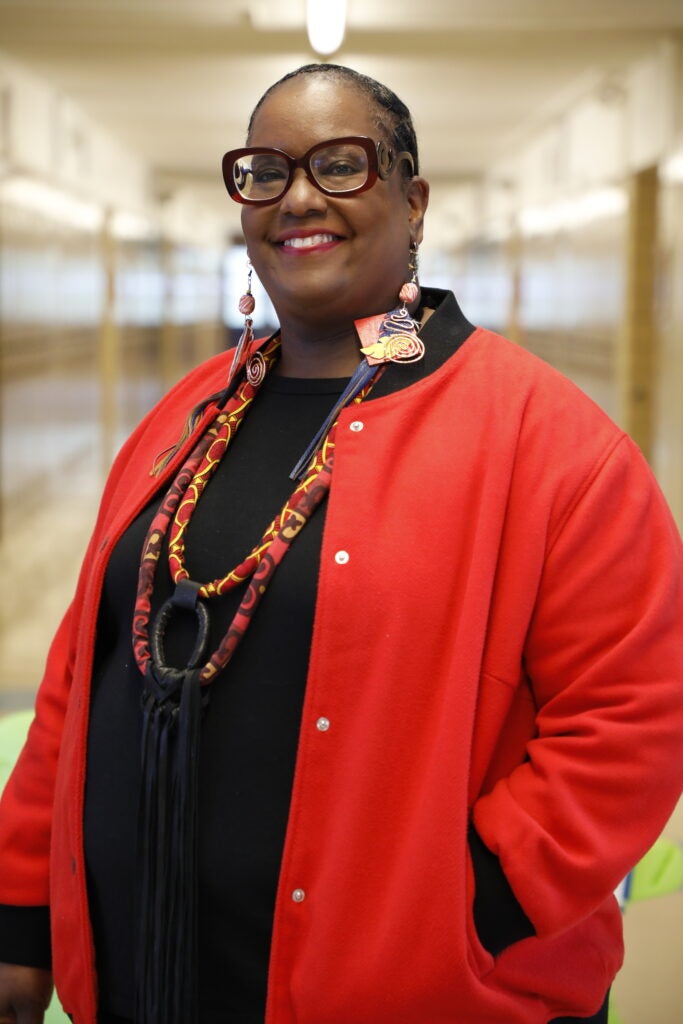 At Mercer International Middle School, Davis leads an empowerment group for Black and Brown eighth grade girls. She works tirelessly to introduce her students, as well as the boys in the school's Kingmakers program, to careers in areas like fine arts, medicine, and culinary arts.
Over the past few months, Davis has had doctors from MEDEX Northwest present about becoming a physician's assistant, a presentation by a Black chef who makes chocolate, and a guest speaker who works with the University of Washington's Brothers Teacher program, which support Black male students preparing for early-childhood teaching careers.
"I think that there should be windows and sliding doors to the school where the community comes in, and the kids are able to get out in the community," Davis said. "I think when they see adults – especially that reflect them – it opens a door to their mind, and it helps them to see the opportunities that are available to them."
Davis also took a group of students to see "The Wiz." Later, the students got a chance to learn choreography from the musical when two actors led a workshop with their class.
"It just expands their knowledge, so they know what's available," she said. "… All of that cultivates an interest in everything in the world, in careers, in higher education. That's why I think it's really important."