Walk to School Day at Dunlap
Posted: | Updated:
Summary: Seattle receives national recognition for child pedestrian safety work.
Superintendent and Mayor Celebrate Walk to School Day at Dunlap Elementary
Dozens of students and their families trekked to school with Superintendent Brent Jones and Mayor Bruce Harrell for Walk to School Day on Oct. 12.
Students from Dunlap Elementary School and South Shore PK-8 all gathered on the corner of South Rose Street and 46th Ave South to make the two-block walk to their schools. Seattle Department of Transportation (SDOT) Director Greg Spotts, and National Center for Safe Routes to School Director Nancy Pullen-Seufert also walked with the crowd.
Students were full of energy and enthusiasm as they received gift bags with safety gear and treats. After being led through a quick stretching exercise, the group took to the pavement with Dr. Jones and Mayor Harrell leading the way.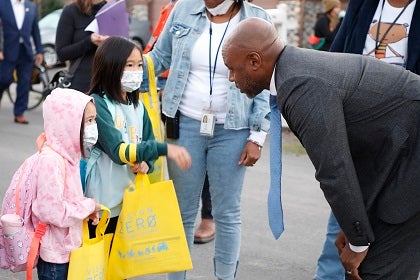 Vision Zero Award 
After arriving at Dunlap, Dr. Jones and Mayor Harrell were presented with the 2022 U.S. Vision Zero for Youth Leadership Award.
The National Center for Safe Routes to School named the City of Seattle the recipient of the award for the impressive work of SDOT and Seattle Public Schools, distinguishing itself as a leader in youth walking and biking safety.
"Seattle is working hard to prioritize safe walking and biking for the city's youth," said Pullen-Seufert. "This award recognizes the commitment of Seattle's local government, its transportation department and public school system to lead community-engaged, equity-focused efforts geared toward making a great impact on walking and biking safety for its youngest residents."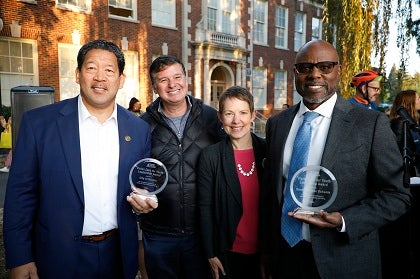 Pullen-Seufert said the Award Committee was impressed by the creation of School Streets and Stay Healthy Streets that prioritize people rather than cars, citywide speed reductions and traffic calming measures, and creating a community-engaged equity plan specifically for the Safe Routes to School Program. SPS also plays a critical role in assuring that every elementary and middle school student receives walking and biking safety education.
"It is an honor to be recognized for our investments in safe routes to school and Seattle's safety education program for public school students," said Mayor Harrell.
Director Spotts, who recently moved to Seattle from Los Angeles, said he has joined families and teachers on neighborhood walks and bike rides around schools.
"While people appreciate the safety upgrades we've built so far, they've also shown me that there is still a lot of work to do so that every family has a safe path to school," he said.
The Let's Go Bicycle and Pedestrian Safety program teaches bicycling and walking safety skills to about 10,000 SPS students. SPS is one of the only districts in the country with a robust bike skills program.
"Our teachers help students become more comfortable with biking," said Dr. Jones. "These students get to experience the freedom and confidence that comes from learning how to safely ride a bike. That work – paired with safer streets for pedestrians and bicyclists – makes walking and biking to school a healthy and viable option for more families."
The U.S. Vision Zero for Youth Leadership Award, now in its fourth year, recognizes cities that are leading the way in prioritizing children's walking and biking safety.