Student Visit to Microsoft for Career Exploration and Mentorship
Posted on: January 4, 2023
Summary: Students in the WHOLE Mentoring Program traveled to the Microsoft campus for a lesson in career exploration and the benefits of mentorship.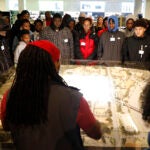 A WHOLE Lot of Surprises
Students visit Microsoft campus to learn about representation in careers, mentorship
On what was supposed to be the first day of winter break, a group of nearly 50 Black boys and teens traveled to the Microsoft campus in Redmond for a lesson in career exploration and mentorship – and received some surprises along the way.
The field trip was organized by With Hope Our Lives Excel (WHOLE) Mentoring, a Seattle Public Schools program that provides 9th and 10th grade Black male students with culturally responsive mentorship. WHOLE is a mentoring program under the Office of African American Male Achievement (AAMA).
Blacks at Microsoft (BAM) and the Seattle Seahawks Organization also sponsored the event.
The cold and snow didn't dampen the mood. The students were excited as they exited the bus onto the Microsoft campus. After a quick photo in front of the company's logo, the group headed inside for a tour.
As they learned about the evolution of Microsoft, the Seahawks' new offensive lineman, Charles Cross, slipped into the room. He was selected ninth overall by the Seahawks in the 2022 NFL Draft. Cross stayed for the duration of the tour, engaging the boys in questions about football, music, and video games. He told the boys he was there to learn alongside them.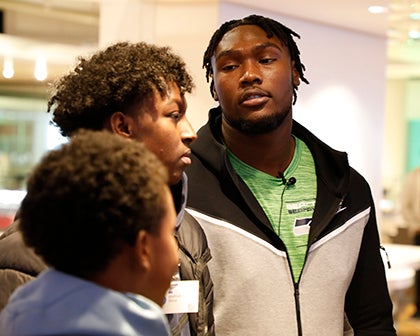 "This was important to me because I see myself in a lot of these kids," Cross said. "I'm still working on myself … so [I want] to help any way I can … just talk to them or give them advice or answer any questions that they have. I'm here to learn, too."
Getting to interact with a professional football player was just the beginning of the highlights. As the boys sat down for dinner, Cross, along with members of BAM, gifted each student a new Microsoft Surface Go 2 laptop. As the surprise turned to excitement, the room burst into applause.
Making the Most Out of Mentors
After dinner, Jayden Siner, Terrell Glenn, and Olu Akande – all Black male Microsoft engineers and marketing strategists – sat for a panel where they talked about everything from mental health to finding your passion. They all agreed that having a mentor was crucial to their success. Siner encouraged the students to seek a mentor while they are in high school to help guide them in the right direction.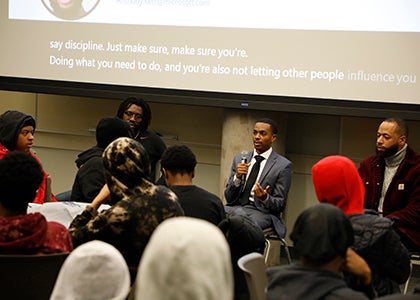 "I wish I would have taken having a mentor more seriously," he said. "I was told that a lot, but I didn't really listen … if I had a teacher or even an older friend – it doesn't have to necessarily be an authority figure – to lean on for certain things … I might not be where I am now."
Kelvin Dankwa, the mentoring program coordinator for AAMA, facilitated the discussion. He commended the men for their honest transparency about their experiences and encouraged the boys to be curious and ask lots of questions.
"For students to hear information that transfers into college and career readiness is imperative. We just spoke to three Black male Microsoft employees that graduated college and through them, students see the bar is pretty high," Dankwa said. "We're hoping that translates; we're hoping these students take heed to the stories and advice of the panelists, so they understand the steps they need to take to get here one day."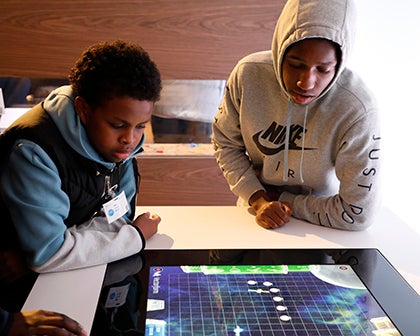 Planting Seeds of Possibility
La Shanda Hurst, the business program manager for Microsoft Philanthropies, is a part of BAM. The group is committed to developing and strengthening a strong network of Black leaders at Microsoft, which enhances the company's diverse and inclusive culture.
As the students moved throughout the campus, a group of all Black facilitators – most of them wearing gear from Black fraternities and sororities or Historically Black Colleges and Universities (HBCU) – shared their experiences about working at Microsoft and the importance of finding a mentor. The move to represent HBCUs and wear their Greek letters was intentional.
"I believe when you speak about HBCUs and/or mentor young people, it's important to share the Black sorority or fraternity experience," Hurst said. For me personally, my high school counselor was a member of Alpha Kappa Alpha Sorority, Inc. To see her on a regular basis, help develop young minds with style and grace while rocking pink and green was so motivational to me."
Because most HBCUs are located on the East coast or in southern states, Black students in Seattle don't get much exposure. Glenn, a Microsoft hardware engineer who attended Morehouse College in Atlanta, said attending an HBCU helped shape his way of thinking.
"I feel like Morehouse allowed me to be able to not just see people – professionals – who look like me, who talk like me, who grew up in similar pathways as I did, but also allowed me to envision myself in doing something even better," Glenn said.
William King, the program coordinator for AAMA said college and career readiness begins with exposure.
"The more exposure students have to the plethora of college/career opportunities and the pathways that lead to them, the more they can dream and make connections with interests that resonate with them."
Learn more about AAMA and WHOLE mentoring.