SPS Fest: Showcase of SPS Artists at The Vera Project
Posted on: May 18, 2023
Summary: Join us for a celebration of Seattle Public Schools students and alumni on May 21.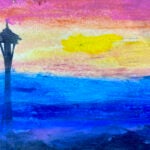 SPS Fest is a Showcase of Visual and Performing Arts from Current SPS Students and Alumni
When: May 21, 2023, 6:30 – 9 p.m.
Where: The Vera Project, 305 Harrison St, Seattle, WA 98109
Cost: Free
SPS Fest will showcase the talent of current and former Seattle Public Schools students!
Artists including Cork, Dexter Shack, Arlo Wallis Bond, Rowen Morales, Nardo Dick, youth poets, artwork from the Naramore Art Show, and more.
Franklin, Chief Sealth, Lincoln, Cleveland, Rainier Beach, Ballard, and Roosevelt high schools are all represented at SPS Fest.
Artwork Credit: Tiffany Nguyen, Cityscape