Celebrating School Librarians
Posted:
Summary: April is School Library Month, and this week (April 3-9) is National Library Week. 
Beyond the Books: District librarians pulling double duty
From Olympic Hills to Rainier View and every school in between, Seattle Public Schools librarians are taking on innovative roles in their schools.
Gone are the days when librarians simply checked out materials and hosted book fairs. Today, librarians play a pivotal part in supporting classroom teachers and helping students discover the joys of reading.
In March, SPS libraries hit the 1 million mark for checkouts since the beginning of the school year.
April is School Library Month, and this week (April 3-9) is National Library Week. The annual celebration highlights the valuable role libraries, librarians, and library workers play in transforming lives and strengthening our communities.
For the Love of Books: Chris Robert
Chris Robert has divided his day between Roxhill and Highland Park elementary schools for six years.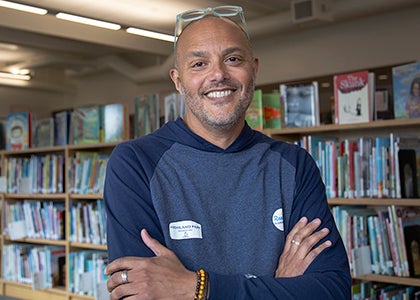 He is one of 13 librarians who splits their time between two schools. Having spent 20 years in the classroom, Robert is in his 8th year as a teacher-librarian at Roxhill Elementary and his 6th at Highland Park.
His experience as a teacher has served him well in his role, as he is able to help his colleagues in several ways. 
"One important part of my job is collaborating or assisting teachers with units they may be doing in their classrooms," he said. "It might be in the form of making teachers aware of hard copy and online materials that they might want to use, or it might be a teacher asking me to gather materials for an upcoming unit of study."
Robert spends several hours a week gathering resources to put together lessons about a variety of topics. From Black History Month to Earth Day, he has made it a point to find ways for students to see themselves reflected in the books the library offers.
Robert sees seven to eight classes a day for 35 minutes each in the Highland Park and Roxhill libraries. He starts each session with the "library song." He takes a one-minute snippet of a popular song and rewrites the lyrics to something that has to do with books, the library, or reading. He has a different tune every two months.
"Our library song right now is to the tune of 'We Don't Talk About Bruno' from the movie 'Encanto," he explained. "It's called 'We Go to the Library.'"
Robert said he – like most librarians – wants his libraries to be a place where students feel joy around books.
"Here, it's about the love of books."
More Than Books: TuesD Chambers
At Ballard High School, TuesD Chambers can barely contain her excitement.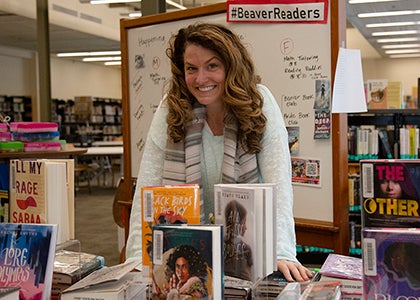 Her love for her role as teacher-librarian is evident throughout the library. She has made the room a place where students can connect. There is a room for arts and crafts, areas for clubs to gather, and spaces for classes to meet.
"What I believe is with any library it has to be more than books," she said. "Your library has to be the heart of the school for everyone."
When the pandemic forced schools to close for nearly a year, Chambers had to get creative to attract students to check out books.
She organized curbside book checkouts – but with a twist. Students with a green thumb could pick up plant starters. One check-out day had a pet parade, and another had a band playing. The excitement around the library continued once schools reopened.
With the help of students, she created a group called Library Leaders. The goal is to build a community where everyone can be included, even if they don't like to read. 
"We've done everything from 'Blind Date with Books' to podcasts to playlists to decorating the library … I learned pretty quickly that a library can't exist with just one person."
Like Robert, Chambers also spends the bulk of her day supporting classrooms. Her library opens early and is usually packed with students before she even arrives. Once school begins, Chambers will spend four or five periods a day co-teaching a class.
"I'm constantly doing the things teachers don't have time to do," she said. "I'm supporting staff in a way that I hope makes their lives easier and makes it more seamless for students to get resources."
Chambers knows the value of her role as Ballard's teacher-librarian and others throughout the district. She is proud of the way students have found their place and built a community in her library.
"To me, this is the biggest classroom in the school."
Coming up later this month: Learn how Lincoln High School's student volunteers keep their library running smoothly. And read shout outs to librarians around the district.