Safe and Successful Start of School for Student Transportation
Posted on: October 19, 2022
Summary: All bus routes are up and running for the school year!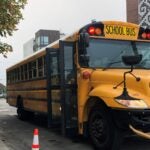 SPS Transportation Department off to safe, successful start to the school year
Strong partnerships and heavy recruiting enabled the Seattle Public Schools Transportation Department to cover all bus routes for the 2022-23 school year. With a coverage area of nearly 85 square miles and a two-tier bell schedule that requires more drivers, this was no easy feat.
Dr. Marni Campbell, interim executive director of operations, said after a tough spring due to a driver shortage that forced route cancellations, contracted student transportation providers First Student and Zum worked well together to combat a nationwide bus driver shortage and to make students a priority.
Both contractors, who provide the district with its school buses and transportation services said they focused heavily on recruiting drivers. (SPS does not own or operate school buses.)
"Our First Student Seattle team's sole focus has been recruiting since the shortage last year, so we would not let down Seattle Public Schools and the students and families," said First Student Senior Location Manager Donna Sansoterra. "The biggest action was to raise our wages to $31-$36.40 per hour to be competitive in the Seattle market. We also increased our sign-on and referral bonuses and implemented a retention bonus for all drivers who returned for this school year."
Zum Founder and CEO Ritu Narayen said, "We are proud to serve the students, families, and community of Seattle. Our best-in-class drivers, training program, and technology allow us to deliver safe, reliable transportation for the students of Seattle."
Although the district has more than 400 routes each morning and each afternoon for a combined total of more than 11,000 miles traveled, Dr. Campbell and Transportation Manager Joe Hebert said most routes are running on time with a very small percentage late – usually due to traffic congestion or new drivers. To make sure each student is receiving the best service possible and every decision that is made by the Transportation Department is in the best interest of district students, the department is in constant contact with both contractors, monitoring the service and working together to make the service more efficient, effective and equitable.
"Route on-time performance is always challenging at the beginning of the school year," First Student's Sansoterra said. "In Seattle, traffic, construction, and neighborhoods with tight roads and precariously parked private vehicles are among the daily challenges drivers must work through."
To achieve the best performance possible, transportation contractors First Student and Zum both have recurring daily meetings scheduled with district Transportation Department staff to discuss challenges, request route timing changes, and to make adjustments. The contractors also provide new drivers with ride-along trainers to show them techniques and build their confidence and efficiency.
Both companies said they leverage training and technology to keep routes running smoothly with safety at the forefront of their work. For example, Zum uses real-time tracking, classroom and behind-the-wheel driver training, on-vehicle cameras, the latest learning technology to allow for coaching and training of drivers, as well as additional training for transporting students with disabilities, safety protocols, and inspections.
"I know there is nothing more important than getting our children to and from school safely," said Narayan, a mother of two children and the CEO of Zum. "Our commitment to safety, along with shorter bus rides and less pollution, provides an opportunity to have a broader positive impact for Seattle students, families, and the entire community."
National School Bus Safety Week
National School Bus Safety Week, which runs Oct. 16-22, aims to call attention to bus safety and promote school bus transportation.
According to the National Highway Traffic Safety Administration, "The school bus is the safest vehicle on the road. Students are about 70 times more likely to get to school safely when taking a school bus instead of traveling by car."
Although school bus transportation is the safest method of travel for students, drivers can do their part to make the roads safer by not illegally passing buses or ignoring the red flashing lights when students are being picked up or dropped off.
Bus Monitors and Crossing Guards
Another way SPS is working to keep students safe on their journey to and from school is through bus monitors and crossing guards. Both are in short supply this year.
Bus monitors implement district standards for safe and orderly conduct of transporting students with disabilities and assist students on and off the bus while crossing guards ensure students safely cross various locations on their way to and from school.
To address the vacancies, some First Student drivers have served as bus monitors to ensure students safely get to school. Those interested in these much-needed roles can find out more about these jobs.
Job Vacancies
Bus Monitors and Crossing Guards
By the Numbers
84.7: Square miles of Seattle Public Schools
199: Alternative transportation morning routes
456: First Student morning routes
168: Zum morning routes
823: Total morning routes
5,678: Miles covered of morning routes*
205: Alternative transportation afternoon routes
446: First Student afternoon routes
169: Zum afternoon routes
820: Total afternoon routes
5,752: Miles covered of afternoon routes.*
*Miles covered do not include the travel to and from the bus yard or between first-tier and second-tier routes.
Contacting the Transportation Department