XIP-eXploratory Internship Program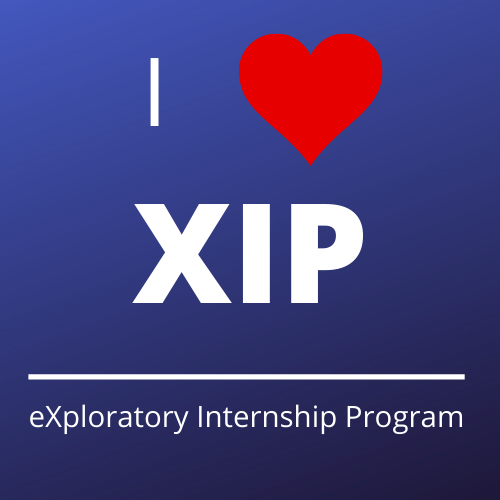 Jobs and internships for high school students, specializing in students with disabilities
About XIP and Contact Teachers
Contact: Get the contact information for the XIP teachers & which high schools each of them serve
Program: About XIP, the eXploratory Internship Program
What is XIP Worksite Learning?
Students with IEPs have access to XIP, the eXploratory Internship Program. XIP teachers help students apply for/develop jobs and internships in the community. Students get coaching and help to support their IEP Transition Plans and earn high school credit toward graduation.
Students work or volunteer independently in the community (without school staff). The worksites relate to each student's career path. Most students work or volunteer after school or on weekends. Sometimes students work or volunteer during the school day, or in the summer.
Who can do XIP Worksite Learning?
To qualify for XIP, students need to be age 16 or older. Students need to have passed a qualifying CTE (Career and Technical Education) class. Or, students may be currently taking a CTE class.
For XIP, students work or volunteer 180 hours in the semester (10-15 hours per week) at their worksite. The XIP teacher meets with the employer to create Learning Goals for the student at work. If a student has Extra Time Accommodations in the IEP, they might get more than one semester to finish 180 hours.
How does it work?
The XIP teacher checks in weekly with each student at school. The student does a career assignment every week, like a journal, skill tracker, career assessment or resume. If the student already has a job, it may qualify for XIP; contact your XIP teacher for more information.
Some of our partnership sites where students have earned XIP credit:
Alki Bike and Board assembly and sales intern
All About Kids Infant and Childcare child care assistant
Asadero Ballard dishwasher
Associated Recreation Council school age counselor
Bangbar Thai hostess
C89.5 disc jockey
Cafe Flora steward and support staff
Camp Crockett dog wrangler
Camp Korey camp counselor
Capitol Cider dishwasher
Chevron cashier
Clear Sky Urban Native Education Alliance program co-coordinator
Coastline Burgers cook
Coldwell Banker marketing and research assistant
Commercial Filter office and warehouse assistant
DO-IT intern
Ezell's Chicken cashier
Freedom Schools WA-BLOC junior educator
Garden House Playschool teacher assistant
Hiawatha Community Center school age counselor and student intern
Jersey Mike's Subs crew member
Kathy's Studio of Dance assistant teacher
KFC crew member
Kumon assistant
Luna Park Cafe dishwasher and prep cook
Macha Theatre Works production intern
Marshall's sales associate
McDonald's cashier, crew person and prep cook
Mercedes Benz of Seattle lot attendant
Observe Inc (CenturyLink Field) supervisor
Papa John's Pizza cashier and pizza maker
Platform Inc marketing intern
Popeyes Louisiana Kitchen crew member
Rainier Beach Pool lifeguard
SAARS Super Saver Grocery courtesy clerk
Safari Play Place daycare worker
Safeway cashier and courtesy clerk
Seattle Aquarium Café, café worker
Seattle Bouldering Project youth instructor
Seattle Public Library student assistant
Seattle Seahawks stadium retail sales associate
Seattle Urban Artworks intern
Shiekh Shoes sales associate
Skate Church intern
Sound Theatre Company production assistant
Starbucks barista and clerk
Student Conservation Association crew member
Taco del Mar cashier and front-end server
Taco Time crew member
Target guest advocate
The Dish Café hostess
The Kenney Retirement Home server
The Lakeshore Retirement Home food server
The Salvation Army academic mentor
The Whale Trail volunteer
Trader Joe's my first jobber
Tully's Coffee barista
Wedgwood Swim Club instructor and office assistant
West Seattle Lawn and Garden groundskeeper
Westside Presbyterian assistant teacher
Woodland Park Zoo, Zoo Corps volunteer
WSHS Cheer manager
Yesler Community Center Green Team member
Young Shakespeare peer mentor
Youth Career Training Program assistant
XIP Mailroom
What is the Mailroom?
The XIP Mailroom is a student worksite at JSCEE, the Seattle School District office in SoDo. The Mailroom shifts are two hours long, overseen by the XIP Job Coach (Instructional Assistant).
Students typically use school transportation to get to the Mailroom and back to school. The AM (morning) crew sorts the district mail (envelopes, letters & packages), and the PM (afternoon) crew delivers the mail using carts in the JSCEE building. After finishing mail duties, the crews do other tasks at JSCEE like sorting, stapling, setting up conference rooms, cleaning tables, delivering supplies, etc.Students are expected to have excellent attendance, keep a professional attitude & appearance and participate fully in crew duties.
Every week there is a seminar (class) with the XIP Mailroom Teacher (Katherine Meyer) where we discuss important things like goals, career prep, workplace success, online safety and money management. Students also get a chance to create and present their professional portfolio and earn an IRC (Industry Recognized Credential).
Who Can Apply to the Mailroom?
To apply for the Mailroom for Fall 2021, students must:
Be at least 16 years old (by Sept 1st)
Have taken (or take during Fall 2021) Career Connections class at their high school
Have an IEP
Be best served in a group worksite situation (for students who are interested in this program, but are able to work completely independently, please email the Mailroom teacher at kemeyer@seattleschools.org for other options)
Apply here
**IMPORTANT**NEW**
The XIP Mailroom is now part of a CTECareer and Technical Education programs provide academic and technical skills for students. Grad Pathway ( remember, access to the graduation CIA, Certificate of Academic Achievement ends with class of 2021these are the new grad pathways). Mailroom Pre-Requisite:Career Connections class (taught by your school's CCLC) is now a prerequisite for XIP Mailroom. Students can take Career Connections class at their high school during the same semester they're enrolled in the Mailroom.
After completing both Career Connections & XIP Mailroom (listed as Career Launch on your transcript), students can take XIP Worksite Learning, Career Connections 2, Skills Center or possibly an advanced CTECareer and Technical Education programs provide academic and technical skills for students. course to earn their 2.0 CTECareer and Technical Education programs provide academic and technical skills for students. credits needed for the CTECareer and Technical Education programs provide academic and technical skills for students. Grad Pathway. There are other SPS Grad Pathways, as well. See XIP Teacher & School Counselor for more info.
How to Apply?–Student
Next steps are for students to fill out the online Student Application, with the help of their Parent/Guardian and/or IEP Teacher/Case Manager. Then they can prepare for an interview & skills assessment with the XIP Mailroom teacher.
**Students should be ready to upload their Resume & Reference List at the end of the Student Application (from Naviance, from Career Connections class or a basic one that they created on their own).**
How to Apply?–Teacher Referral
After that, the IEP Teacher/Case Manager fills out the IEP Teacher/Case Manager Student Referral for XIP Mailroom, eX-PASS.
**The IEP Teacher/Case Manager should be prepared to upload the student's current IEP, any BIP (Behavior Intervention PlanA plan for reducing problem behaviors while increasing desired behaviors) and any Health Care Plan for the student
XIP Mailroom Application Process:
Student completes online Student Application Form (including uploading Resume & Reference List from Naviance, Career Connections class or a basic one they created on their own)
IEP Teacher/Case Manager completes eX-PASS/Referral (including uploading current IEP, any BIP and any Health Plan)
Student Interview & Skills Assessment with Mailroom Teacher (Katherine Meyer)
Students chosen for AM & PM Mailroom crews
Chosen students complete, with the help of their Parent/Guardian, official SPS

Seattle Public Schools

CCL paperwork before Summer Break
IEP Teacher/Case Manager registers student for Career Connections, if needed (student needs to have already passed or take concurrently Career Connections class with the XIP Mailroom)
XIP Mailroom Teacher officially registers students for XIP Mailroom & arranges for Transportation
The XIP team hopes to fill Mailroom spots for Fall 2021 this spring Students who are chosen for the Mailroom will need to complete, with the help of their Parent/Guardian, official SPSSeattle Public Schools CCL paperwork before Summer Break
Questions? More info?
Questions can be directed to Katherine Meyer, XIP Mailroom Teacher at kemeyer@seattleschools.org or 206-252-0744
Find an internship and job
Refer a Student to XIP
Tips Resume, Reference List and Interview