Curriculum Division Strategies
Cross-cutting Goal Strategies for Academic Strategic Initiatives
In Seattle Public Schools, the Curriculum, Assessment, and Instruction (CAI) division does work in three of our academic strategic goal initiatives based on our five year Seattle Excellence Strategic Plan.
CAI has refined cross-cutting strategic categories that help focus our Seattle Excellence work across all three goal initiatives.
We will help students become confident early readers in the 3rd grade
We will have strong mathematicians in middle school math
We will build strong pathways to college and career readiness during high school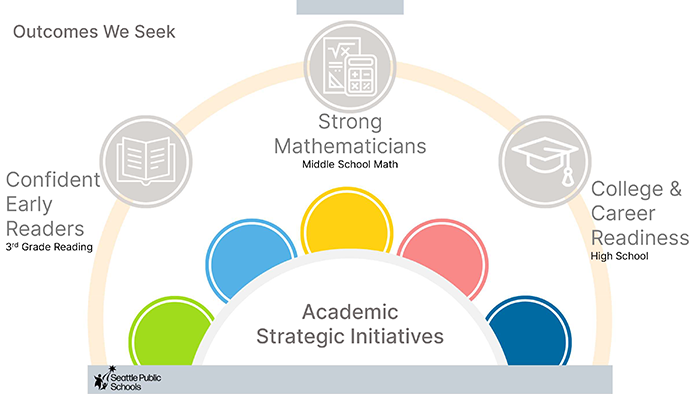 Strategic Goal Strategies
The cross-cutting strategy categories are:
Excellent Teaching and Joyful Learning
Strong Relationships and Connected Families
Equitable Measures and Student Supports
Opportunity Pathways
Expanded Learning and Enrichment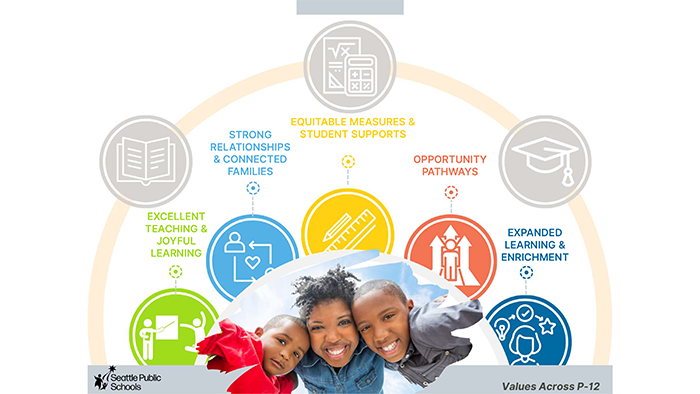 Cross Cutting Strategies for Achieving the 7th Grade Math Goal
We are already starting to improve math instruction and the systems shaping math education in SPS by focusing on five strategic areas. Each area has been informed by specific research and engagement, including National Council of Teachers of Mathematics' (NCTM) Principles to Action: Ensuring Mathematical Success for All and Catalyzing Change in Middle School Mathematics, Initiating Critical Conversations; Our Voice, Our Vision published by the SPS Office of African American Achievement, and the 2016 Gap Narrowing Study from the SPS Research and Evaluation department. Our strategies have also been modeled on the 3rd Grade Reading Goal strategies. In summary, these five strategic areas are a blend of the basic elements of a successful math program and new, innovative practices.
We have identified action steps in each of the five areas below to illustrate some of the what and why of this work. At the same time, we continue to co-develop the implementation of these specific initiatives with five middle schools (Denny, Aki Kurose, Mercer, Washington, Meany) and one PreK-8 (South Shore) in central and south Seattle using a targeted universalism approach, the how of this work.
Excellent Teaching and Joyful Learning – Teacher professional development and ongoing job-embedded coaching is focused on equitable math teaching practices. Recent research illustrates how educators can help African American boys and teens develop strong, powerful mathematical identities. NCTM's guidance also highlights the importance of having students engage in mathematical discourse to develop deep conceptual understanding. We have started professional development and coaching for math educators in the six schools in summer 2022 on equitable math instruction, strategies for identifying and developing the mathematical brilliance of African American males through the "ICUCARE framework" developed by Pamela Seda and Kyndall Brown. This builds upon our investment in newly adopted and aligned K-5 math instructional materials, which is a critical foundation to improving math outcomes in middle school over time
Strong Relationships and Connected Families – We are increasing capacity of school-family partnerships to support the mathematics learning and mathematical identify of African American boys and teens and their families. As a first step, we began one-hour home visits for incoming 6th grade African American males at the six schools this past summer and are partnering with colleagues in the Office of African American Male Achievement and Family Engagement to develop scaffolded supports to our educators and families.
Equitable Measures and Student Supports – We will develop supports for culturally responsive and asset-focused tools to measure student math learning, including formative, interim, and summative measures. Educators will engage in a cycle of teaching and learning using these measures to improve instruction. We are starting this work by implementing MAP (Measures of Academic Progress) in Fall 2022 in Grades K-8 and have begun to study examples of AAM student math success. Over 80% of middle school students took this assessment and the Curriculum, Assessment, and Instruction (CAI) team has issued guidance to leaders and educators on how to use this data to guide their planning, particularly in their Professional Learning Communities (PLCs).
Opportunity Pathways – Middle schools are collaborating with their feeder schools to support African American boys and teens as they enter middle school to be successful in grade-level mathematics and to have the opportunity to enroll in Algebra 1 in 8th grade and advanced coursework in math. We have relaunched math empowerment program through summer PD, cross-school collaboration, and facilitated lab days in classrooms to foster success of African American males.
Expanded Learning and Enrichment– We will engage African American boys and teens in mathematical endeavors beyond the school day to deepen foundational skills, build grade-level proficiency, supply math acceleration, enrichment, and/or STEM/career-connected opportunities in partnership with community-based organizations. We are working on systematizing summer bridge programs with our Expanded Learning Colleagues and City of Seattle partners for incoming 6th grade African American male students at the six schools focused on strengthening foundational skills, pre-teaching of key grade-level concepts, and supporting identity development