Culturally Responsive Professional Practice
Goal: Educators will improve their culturally responsive instruction to make sure every student at Seattle Public Schools feels safe, valued, and ready to learn.
Every student can achieve and every student is valued. To ensure our students feel safe, valued, and ready to learn, we will make sure all teachers and staff have the skills to make learning more culturally relevant.
We will focus on making sure our teachers recognize and celebrate the unique gifts of each student. This culturally responsive practice helps reduce gaps in opportunity for students and creates a warm, welcoming environment for students, families, and staff.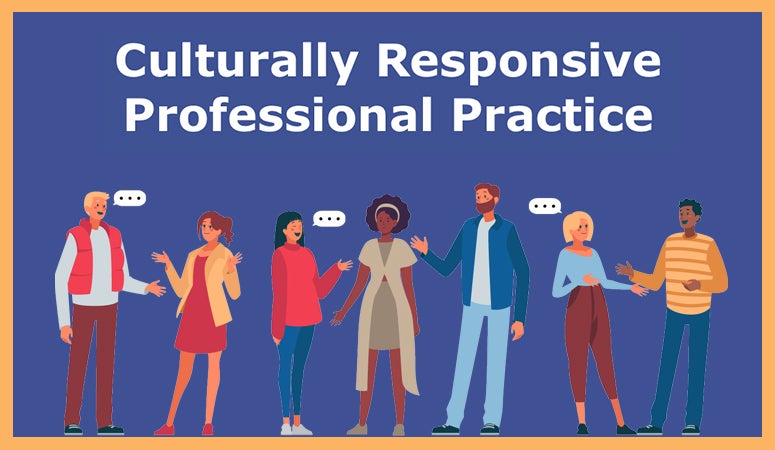 Culturally Responsive Professional Practice Infographic
Culturally Responsive Professional Practice Initiatives
Requiring Foundational Coursework
We will implement specific training for teachers and school-based staff to become culturally responsive practitioners. Educators will learn a common language and shared vision of practice for culturally responsive instruction and anti-racist teaching practices. Teachers will foster a classroom environment where students develop their full academic and social potential.
---
Supporting Building Leadership Teams (BLT)
School-based teams include teachers, support staff, families, and school leaders working collaboratively to make decisions about school-based functions. New training will be developed that focuses on decision making using an equity lens as teams develop budgets, professional development, and Continuous School Improvement Plans (CSIP).
---
Establishing Teacher Leadership Core Teams at Every School
Teacher leaders will be identified at each building to support coaching, mentoring, and professional development. This program enables teachers to lead in their schools and across the district while continuing their roles in the classroom.
---
How We Measure Progress
Continued professional development
School-based staff working condition surveys
Student and family culture and climate surveys
Equitable access to services (i.e., special education, English language learners, and highly capable)
Progress Toward Our Goal
In addition to recruiting and attracting educators of color, we are working to provide our staff with training that fosters a learning environment where students thrive. From the books in our libraries to building off of the cultures and customs of all of our students and families, this goal is aimed at ensuring our schools are welcoming and safe for every student.
Currently we are in year two of the foundational coursework (Seattle 101), with the rollout of the next two (Seattle 201 and 301) over the next two years. Work completed so far:
Professional development around cultural competency.
Seattle Teaching 101 with first year teachers, 76% completed at least four of the five modules.
Seattle Teaching 201 with a focus on educator racial equity literacy, relationships for communities of practice, and conditions for culturally responsive instruction – grounded in the SPS Foundational Beliefs. 34% of 2nd and 3rd year teachers participated.
The Racial Equity Literacy (REL) trained 1,355 educators across 25 schools this year. There were a total of 20 teacher leader facilitators for this series.