District 7
Brandon K. Hersey District 7 School Board Director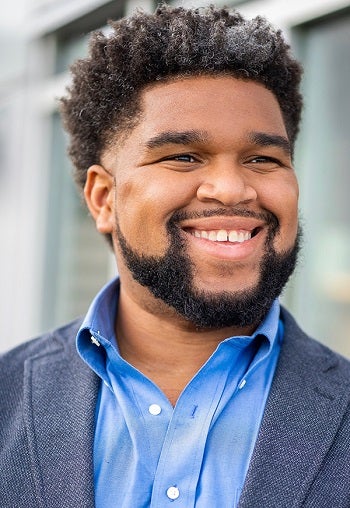 Brandon Hersey (he/him)
School Board President
Director Hersey represents District 7, which includes Southeast Seattle.
Director Hersey was appointed to the District 7 position in 2019 and was elected to a four-year term in November 2021.
Committee and Liaison Assignments
School Board President
Ad Hoc Community Engagement Committee (Chair)
Council of Great City Schools Liaison
Schools Represented
Beacon Hill International Elementary
Kimball Elementary
John Muir Elementary
Hawthorne Elementary
Graham Hill Elementary
Maple Elementary
Dearborn Park Elementary
Martin Luther King Jr. Elementary
Wing Luke Elementary
Rising Star Elementary
Dunlap Elementary
Emerson Elementary
Rainier View Elementary
South Shore K-8
Orca K-8
Aki Kurose Middle School
Mercer International Middle School
Interagency Academy at Columbia
Alan T. Sugiyama High School @ South Lake
Cleveland STEM High School
Franklin High School
Rainier Beach High School
About Brandon K. Hersey
"I was raised in a family of proud black educators. Before she passed away, my mother taught history at my hometown high school where my sister currently serves as assistant principal. Throughout my childhood, I saw the lifelong impact that a teacher of color can have on students from marginalized communities.
"Like many families of color, education was our sole means of mobility and opportunity. As an educator myself, I work to provide that same access and opportunity to my students. However, factors such as institutional racism, income inequality and inequitable practices, place students of color further away from educational equity and justice.
"March 2019, the Seattle School Board approved a strategic plan that sets the goals and vision of our district. It codified the commitment to narrowing opportunity gaps, ensuring access and providing excellence in education for every student, especially boys of color. To fully realize this vision, we need leadership that reflects the communities it aspires to serve and to hold itself accountable to its mission.
"As a black man, educator, and union member, I humbly seek this opportunity to advocate for the students and families of south Seattle as the District 7 Board Director.
"In the classroom, I have learned the profound effect that leadership and policy founded in equity can have on students. The students in our district need curriculum that reflects their culture, identity and lived experiences. I have learned that if our state continues to fail to fully fund education, we must go to Olympia and fight for it.Our community needs leaders with classroom experience who are willing to advocate for the students, families and educators of south Seattle. I will bring these lessons to the Seattle School Board in order to create effective policy to fully accomplish the vision of the Strategic Plan. As a former policy analyst for the U.S. Department of Health and Human Services, Administration for Children and Families, I'm uniquely qualified to develop and evaluate policy in the interest of our students.
"South Seattle is my home. I'm committed to ensuring that all of our kids have bright futures. I serve as a scoutmaster to Troop 008 in Rainier Beach, an African American scout troop. I've watched these young men develop into future leaders. I want that same vision of opportunity and prosperity for every child in District 7 and beyond.
"I will work with my fellow board directors to narrow the opportunity gap, champion an ethnic studies curriculum that details the rich history of the communities in our city and develop both social and fiscal policy that supports our students, as well as their families and educators.
"As a board, we have the responsibility to improve the educational outcomes for our students. I will be a leader who brings the experience of working directly with students and families, the experience of developing complex policy and who is a member of the communities most deserving of educational justice. I would be honored to have your support."
– Director Hersey
Contact Director Hersey
Brandon K. Hersey
School Board Director
brandon.hersey@seattleschools.org
Please be aware that written communications sent to Board Directors, including emails sent to this email address, are potentially subject to public disclosure, in whole or in part, pursuant to the Washington Public Records Act, RCW 42.56.